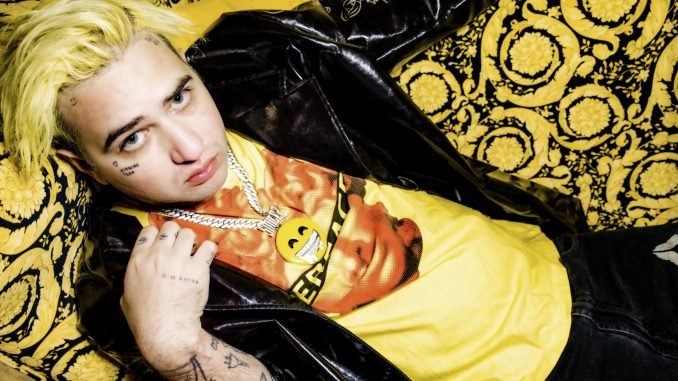 Los Angeles-based artist SMILEZ is breaking boundaries with his vibrant, yellow presence and a genre-bending sound that merges grungy punk catharsis with unrestrained hip-hop bravado. His debut album, "Ur in My World," is a 15-track release that showcases his unique style and creative vision.
With a seamless blend of hip-hop and punk rock, SMILEZ creates a sonic experience that resonates with listeners. The album features the new single "Someday," which samples The Strokes and instantly grabs your attention with its infectious hooks. This track is a certified hit that will stay in your head long after the song ends.
But "Ur in My World" is more than just catchy tunes. It's a personal journey for SMILEZ, who poured his heart and soul into the project. The album reflects his experiences and the challenges he has faced, all while striving to make the best out of tough situations. Tracks like "Mentally I'm Somewhere Else" delve into the mental struggles of losing a loved one, while "Party Party Party" blends modern hip-hop production with classic pop-punk vibes, creating an energetic and rebellious anthem.
SMILEZ has already made waves in the music industry, touring with renowned artists like Trippie Redd, Wiz Khalifa, and JuiceWRLD. He has also gained a significant following on social media, with 368K followers on Instagram and a strong presence on platforms like TikTok and YouTube.
With "Ur in My World," SMILEZ solidifies his position as a disruptive force in the RAGE space. His dynamic performances and raw talent have captivated audiences worldwide. Don't miss out on this explosive debut album that pushes the boundaries of music.
Watch the music video for "Someday" on YouTube:
Follow SMILEZ on social media:
Instagram: https://www.instagram.com/smilez/
Twitter: https://twitter.com/smilezsmilezzz
TikTok: https://www.tiktok.com/@smilez
Facebook: https://www.facebook.com/smilezalot
YouTube: https://www.youtube.com/c/SmilezMusic
Review written by Anissa Boudjaoui Sutton