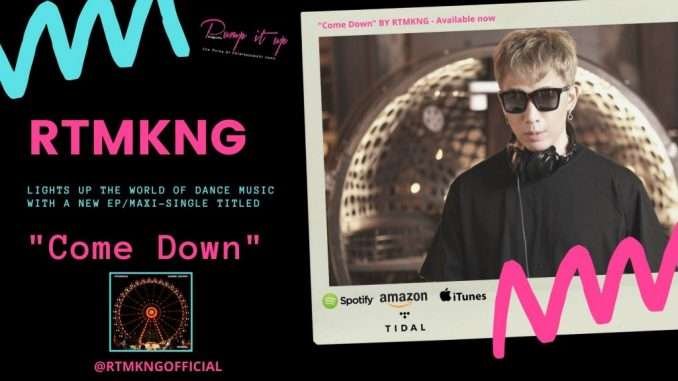 Originally from South Korea, composer, producer, and musician extraordinaire RTMKNG lights up the world of dance music with a new ep/maxi-single titled Come Down .
The project consists of a radio vocal version, a club remix, and acapella and an instrumental track. RTMKNG is an amazing producer whose sound is forever evolving and Come Down is another brick on the road of artistic validation. Come Down opens with a radio version of the composition which features the vocal expertise of the talented singer Lumin.
Come Down's driving beat and synth bass immediately captivate the attention of the listener. Lumin adds a soulful edge to the track's vibe. RTMKNG makes skillful use of the song's free space and contributes greatly to Come Down's vocal terrain for an exhilarating sonic adventure.
Come Down's "extended mix" keeps the party vibe flowing with an organic drum beat that sets the mood for this exotic groove to sweep you off of your feet while dancing to the rhythm. The track is further enhanced by its intricate use of voice samples and the elegant touch of Lumin's voice.

Come Down keeps the listener's attention with its intense song structure, breaks, and drops. RTMKNG has certainly put together a masterpiece as Come Down is set to touch music lovers from all walks of life.

BUY AND STREAM RTMKNG NEW SINGLE "COME DOWN:

To Know more about RTMKNG, please read our exclusive interview on the CHRISTMAS PRINTED EDITION OF PUMP IT UP MAGAZINE, available December 1st.

Visit RTMKNG Website: http://room24ent.com/
Follow @RTMKNGOFFICIAL on social media