Mitchell Coleman – Gravity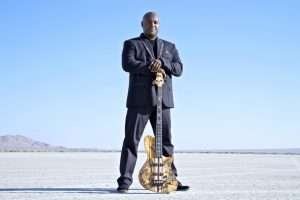 His most recent release, "Gravity" is aptly titled, because Mitchell's own bass playing seems to defy the law of physics, with mind-blowing phrases, complex, yet appealing grooves and amazing melodies that are inspired by genres as diverse as funk, pop, rock, and jazz. Mitchell Colman Jr. is a masterful bass player, but his music is not just about showing off sheer musicianship and technical proficiency. The songs featured on "Gravity" are actually full of passion.
I've always believed that great music should be a combination of heartfelt performances and great skills because music is not just a craft: it is also a way for people to share stories, feelings, and ideas. Mitchell is a true master of his craft, but also a natural born storyteller who loves to connect with his audience.
This is Mitchell's third studio album, and it features many outstanding songs, including the excellent "Euphoria", which also features collaborations with talented musicians such as Hiroshi Upshur (keyboards and synth wizard) as well as Josh Sklair (guitarist extraordinaire). Last but not least, Mitchell also teamed up with  Michael B. Sutton who produced and play the keyboard, as well as singer Dionyza Sutton, who provided some amazing background vocals.
MICHAEL B. SUTTON (A veteran Motown producer,  who wrote and produced countless songs for artists such as Michael Jackson, Stevie Wonder, Thelma Houston, and Smokey Robinson, Mike became known for his behind-the-scenes efforts more than anything else.) also being the producer of the album, really helping the album "Gravity" shine. The tracks on the album are particularly appealing for their clean and crisp sound, with a truly vibrant edge and stellar engineering!
On this album, Mitchell Coleman Jr. sets out to collaborate with many other stunning musicians, including Kim Richmond and Llia Skibinsky, two true sax legends in their own right, as well as Gregory Moore, who already provided excellent guitar work for established performers the likes of Kendrick Lamar, Snoop Dog or Earth Wind and Fire, just to mention but a few.
These are only some of the musicians who took part in this project, which highlights the great chemistry between these true pros.
The song is certainly an insight into Mitchell's most playful songwriting side, as the groove is absolutely enticing and upbeat, going for a dance-friendly vibe. This song is light-hearted, yet it is also spiritually deep, as it truly creates a connection between the artists and the people who listen!
Find out more about Mitchell Coleman Jr. and listen to "Gravity". The album is currently available through the artist's official website https://www.mitchellcolemanjr.com/ as a pre-order for only $9.99
 Keyboard Hiroshi Upshur, Michael Norfleet, Michael B Sutton
Guitars Gregory Moore, Josh Sklair
Saxophone Kim Richmond, Fernando Harkless,
Trumpet Paul Salvo
Percussion Timbali Caldwell
Bass: Mitchell
Produced by Michael B. Sutton, Gail Jhonson
Co -Produced by Mitchell Coleman Jr
Engineer: Jason Anderson
Mastering Engineer : Joel Soyffer