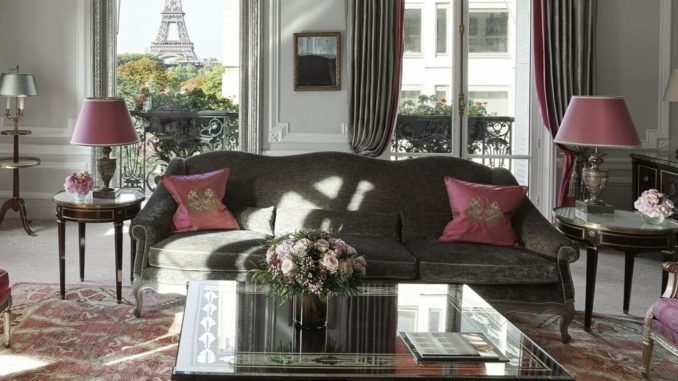 Indulge in the yearning for a luxurious travel experience amidst the world's most iconic destinations. Elevate your vacation to new heights and unlock a realm of unforgettable memories. Embark on an unforgettable journey filled with luxury, adventure, and everlasting moments that will leave you in awe. Treat yourself to an experience like no other, where your dream vacation becomes a reality.
Indulge in Luxury at Four Seasons Hotel London at Park Lane
Begin your journey in the heart of the Four Seasons story at Four Seasons Hotel London at Park Lane. Recently renovated, this lavish hotel boasts newly enhanced rooms and suites. As you step into the award-winning Spa, an astonishing view of the city's skyline will greet you. Moreover, brace yourself for an extraordinary culinary experience at Pavyllon London, headed by the multi-Michelin-distinguished Chef Yannick Alléno. A stay at Four Seasons London promises memories that will stay with you forever.
Timeless Heritage and Impeccable Service at Mandarin Oriental Hyde Park, London
Situated between the picturesque Royal Parkland and the fashionable Knightsbridge, Mandarin Oriental Hyde Park, London, perfectly blends timeless heritage with contemporary flair. Offering unrivaled service in the heart of the city, this hotel is a gateway to bespoke experiences tailored to your interests. Whether you seek cultural adventures, shopping escapades, or serene walks in Hyde Park, this splendid hotel will cater to your every desire.
Bulgari Hotel London – Where Serenity Meets Luxury
Step into a haven of calm and sophistication at Bulgari Hotel London. Nestled in Knightsbridge, right at the edge of Hyde Park, this hotel offers a seamless blend of tranquility and proximity to landmarks like the renowned Harrods department store. With their commitment to individually tailored service, Bulgari Hotel London promises an unforgettable stay, creating cherished memories.
Parisian Elegance at Hôtel Plaza Athénée
Paris, the city of love, beckons you to Hôtel Plaza Athénée, a hotel that embodies the spirit of the City of Light. Located on the prestigious avenue Montaigne, where French fashion flourishes, this legendary hotel welcomes you with the best that Paris has to offer. Seize every moment, indulge in the finest experiences, and celebrate life at Hôtel Plaza Athénée.
Four Seasons Hotel George V.- A Timeless Parisian Experience
In the Golden Triangle of Paris, steps away from the historic Champs-Elysees, stands an art-deco landmark – Four Seasons Hotel George V. With oversized suites offering views of the Eiffel Tower, this hotel presents a picture-perfect Parisian experience. Treat your taste buds to a culinary adventure at the three restaurants boasting five Michelin stars among them. Prepare to be enchanted by the charm of France during your stay at this exceptional hotel.
Bulgari Hotel Paris – Italian Savoir-Faire in the City of Light
Discover Italian flair in the heart of Paris at Bulgari Hotel Paris. Located on Avenue George V, near the iconic monuments, this hotel blends Milanese style with the enchantment of the City of Light. Whether you're a Parisian or a first-time visitor, Bulgari Hotel Paris offers a new dimension of hospitality that promises to leave you in awe.
Milan's Iconic Elegance at Four Seasons Hotel Milano and More
Heading to Milan, the fashion capital of the world? Immerse yourself in the iconic elegance of Four Seasons Hotel Milano, a 15th-century convent turned into a sophisticated garden retreat. Amidst frescoes and high-ceilinged rooms, you'll be enchanted by the charm of Milan's Fashion District.
Mandarin Oriental, Milan – A Charming Mix of Milanese Style
Step into a charming mix of Milanese style at Mandarin Oriental, Milan. Set in elegant 18th Century buildings, this hotel offers a delightful experience a few steps from the Duomo. Delight in the exquisite dining at the two-Michelin-starred restaurant Seta, or bask in the tranquility of the Mandarin Garden – the hotel's green oasis.
Bulgari Hotel Milano – A Serene Oasis in the Heart of Milan
Discover the Bulgari Hotel Milano, a tastefully renovated 18th-century Milanese palazzo nestled in the cultural and commercial heart of the city. Escape the bustling pace of Milan as you unwind in the luxury hotel's 4,000-square-meter private garden – a serene oasis of relaxation.