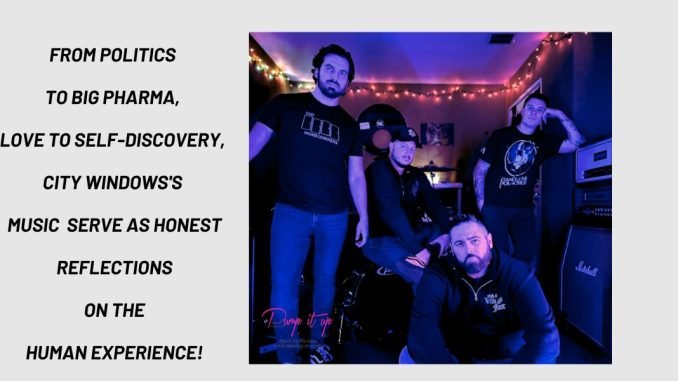 City Windows' sophomore release, "Velvet Divorce," is a melodic punk rock album infused with a hint of rock 'n' roll. The San Diego-based band, known for their energetic live performances, has taken their music to new heights with this self-released album on their own label, Midwest Migration Records. With eight new tracks, City Windows showcases their growth and evolution as a band.
Lead vocalist and guitarist Lyle Pavuk brings a raw intensity to the record, creating a powerful foundation for the songs with his searing guitar rhythms and emotive voice. Bassist Sean Sullivan provides a driving and thunderous low-end tone, skillfully intertwining his rhythms with the album's melodies. Ryan Steele, handling gruffer vocals and lead guitar duties, delivers tasteful playing and blistering solos throughout the album. Aaron Weislogel, the powerhouse drummer, propels the band's music forward with a relentless beat.
"Velvet Divorce" draws inspiration from punk rock and hardcore, resulting in a sound that combines classic and modern influences. The album features anthemic choruses that invite listeners to sing along, as well as introspective slower tracks. City Windows takes listeners on an emotional journey, capturing their attention from start to finish.
The album explores a range of themes, including politics, big pharma, love, loss, and self-discovery. City Windows demonstrates their unique ability to craft infectious hooks while addressing thought-provoking and socially conscious lyrics. The songs serve as honest reflections on the human experience, offering a cathartic release for both the band and their audience.
The first single, "The Price to Pay," is a powerful political rally cry. It sheds light on the corruption and anti-democratic nature of the United States government and urges people to take action and elect leaders who are responsive to the needs of the people. With its compelling message and energetic performance, the song leaves a lasting impact.
The album was recorded at Singing Serpent Studios with Ben Moore, known for his work with bands like Hot Snakes, Pinback, Angels & Airwaves, and Rocket From The Crypt. The vocals were recorded at Signature Sound with Matt Pav, while the mixing was done by Dave Holdredge. The mastering was handled by Brad Boatright at Audiosiege. Additionally, the album art by Justin Santora adds a visually striking element to the release.
City Windows' "Velvet Divorce" is an impressive sophomore effort that demonstrates their growth as a band and their ability to create melodic punk rock with a rock 'n' roll edge. With their engaging lyrics and infectious hooks, City Windows captivates listeners and invites them to join their musical journey. Fans of punk rock and those seeking socially conscious music will find much to appreciate in this release. Be sure to pre-order the album and check out the powerful single, "The Price to Pay.
Review written by Anissa Sutton
Pre-Order "Velvet Divorce" and stream "The Price To Pay" HERE.
Watch the video HERE.
Shot & edited by City Windows