Dear Readers,
I hope this letter finds you well as we dive into the vibrant summer edition of our magazine. It's a joy to bring you a collection of captivating content that celebrates the spirit of the season and embraces the power of resilience, authenticity, and soulful melodies.
As you turn the pages of this edition, you'll embark on a soulful musical journey with NES POWERS, an artist whose talent and unwavering authenticity take center stage. Her latest album, available on Spotify, will enchant your ears and touch your heart.
In the spirit of fun and self-discovery, we invite you to participate in our engaging quiz. It's a chance to explore what your personal journey says about you and celebrate the unique path that has led you to this moment.
Fashion lovers, get ready to express your emotions through style. Discover how clothing can become a canvas for your feelings, allowing you to wear your heart on your sleeve and showcase your authentic self to the world.
Wellness enthusiasts, we've tailored our fitness section to cater to your individuality. Unlock the secrets to a healthier lifestyle by embracing your fitness personality and finding joy in staying active in a way that resonates with you.
For aspiring musicians and performers, our essentials section is a valuable resource. From showcasing your talent to booking gigs, we'll provide you with practical steps and insights to help you shine on your artistic journey.
Prepare to be inspired by our exclusive interview with Grammy winner Felton Pilate. From his humble beginnings to his iconic contributions, Felton shares his remarkable story, offering valuable advice for aspiring artists and reflecting on the ever-evolving music industry.
Travel enthusiasts, join us as we explore the hidden treasures of Los Angeles. From secret beaches to charming neighborhoods, we invite you to embark on an adventure and uncover the lesser-known gems that make LA a captivating destination.
Finally, we tackle an important humanitarian issue: child sex trafficking. We shed light on the heartbreaking reality, but also unite in the fight against exploitation. Let's raise awareness, support survivors, and work together to create a better world for our future generations.
I want to express my deepest gratitude for being part of our community and supporting the artists who make our world more vibrant. The July edition of our magazine is a celebration of resilience, authenticity, and the soulful power of music. Together, let's embrace the beauty of our personal journeys and revel in the melodies that touch our souls.
Wishing you a summer filled with joy, inspiration, and unforgettable moments.
Anissa
ORDER YOUR PRINT AND DIGITAL COPY HERE: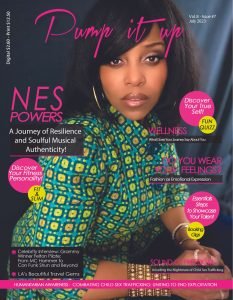 🟩 Cover Story: Discovering Resilience and Soulful Musical Authenticity: NES POWERS Takes Center Stage in Pump it up Magazine!
In this captivating cover story, we delve into the world of NES POWERS, a rising star who has taken the music industry by storm with her soulful melodies and raw authenticity. Join us as we explore her musical journey, from her early influences to her latest album, which is now available for streaming on Spotify. Don't miss the opportunity to be swept away by her enchanting voice and powerful lyrics.
🟩 Fun Quiz: What Does Your Journey Say About You?
Take a break from the everyday hustle and engage in our fun quiz that will reveal what your personal journey says about you. Explore the depths of your experiences and uncover the hidden messages behind your adventures. It's time to reflect, embrace your uniqueness, and celebrate the twists and turns that have shaped you into the amazing person you are today!
🟩 Fashion: Do You Wear Your Feelings? Fashion as Emotional Expression
Express yourself through fashion and discover the fascinating world of emotional expression through clothing. Dive into the realm of colors, textures, and styles that can reflect your mood, personality, and innermost emotions. From bold statements to subtle nuances, our fashion section will inspire you to embrace your authentic self and let your wardrobe speak volumes.
🟩 Wellness: Your Fitness Personality – Unlocking the Secrets to a Healthier Lifestyle
We all have different approaches to fitness, and in this wellness feature, we unlock the secrets to a healthier lifestyle by exploring your unique fitness personality. Whether you're a thrill-seeking adventurer, a mindful yogi, or a high-energy dancer, we've got tips, exercises, and expert advice tailored to your individual fitness style. Get ready to discover the joy of staying active in a way that aligns with your personality.
🟩 Essentials: Steps to Showcase Your Talent and Book Gigs
Are you an aspiring musician or performer? Our Essentials section provides you with valuable insights and practical steps to showcase your talent and book gigs. From creating an impressive portfolio to networking effectively, we've got you covered on your journey to success. Unleash your potential and get ready to shine on stage!
🟩 Celebrity Interview: Grammy Winner Felton Pilate: From MC Hammer to Con Funk Shun and Beyond
Join us as we sit down with Grammy-winning artist Felton Pilate for an exclusive interview. From his early days with MC Hammer to his iconic contributions to the legendary Con Funk Shun, Felton shares his remarkable journey, valuable advice for aspiring artists, and his thoughts on the evolution of the music industry. Get ready for an insightful conversation with a true music industry veteran.
🟩 LA's Beautiful Travel Gems: Exploring Hidden Treasures
Are you planning a trip to the City of Angels or simply looking to explore your own backyard? Our travel feature takes you on a journey through LA's beautiful and often overlooked travel gems. From hidden beaches to charming neighborhoods, we reveal the secrets that make Los Angeles a captivating destination for adventurers and culture enthusiasts alike.
🟩 Sound of Freedom: Unveiling the Nightmare of Child Sex Trafficking
In this thought-provoking article, we shed light on the heartbreaking reality of child sex trafficking. Join us as we unveil the hidden nightmare that plagues our society and explore the efforts being made to combat this heinous crime. Together, we can raise awareness, support survivors, and work towards a future free from exploitation.
🟩 Humanitarian Awareness: Combating Child Sex Trafficking – Uniting to End Exploitation
Building upon our previous article, we delve deeper into the subject of child sex trafficking, focusing on the importance of humanitarian awareness and collective action. Learn about organizations and initiatives that are dedicated to making a difference, and discover how you can contribute to this vital cause. Together, we can be agents of change and create a better world for future generations.