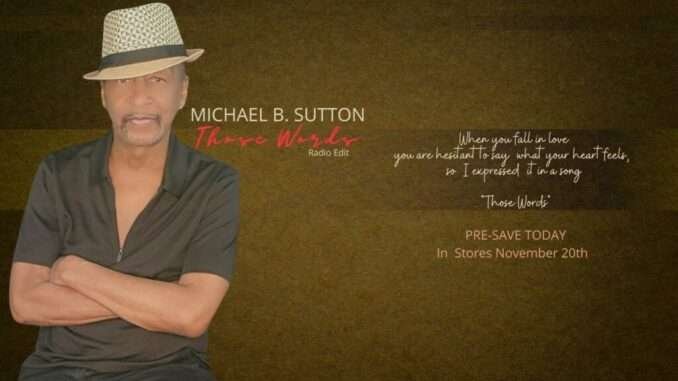 Michael B Sutton' s latest release "Those Words" is utterly breathtaking.
The emotive anthem is the perfect soundtrack to anybody going through the trials of love and life.
It's a spellbinding ballad that takes us on a journey through the challenges faced when falling in love and the reluctance to say those oh so special words. Truly a masterpiece that will have you feeling deep emotions once thought long gone. The seasoned hit-maker brings us right into his world in this highly intimate ballad that explored the depths of human emotion.
Opening up with a luscious selection of orchestral strings, the stage is set for what's to be a truly touching journey through the world of adult contemporary and beyond. Michael B. Sutton's rich, honey-dripped vocal soars over authentic instrumentation as we are whisked away through bliss-dripped soundscapes. The tension build up throughout is truly magnificent, as Micheal says the iconic words "I'm falling, I'm falling" a show stopping crescendo builds. We feel as if he's right here with us in the midst of a heart wrenching relationship as he smoothly sings "Oh don't you say those words", a truly timeless hook that will have you singing the song over and over again for months to come. All in all the song is a soothing anthem. "Those Words" covers a lot of ground invoking feelings of love, hope and joy.
The instrumentation compliments the vocals perfectly and continues to build up and become more complex as the song develops. From the mystifying guitar plucks, to the soft organ sounds and steady rhythms; it truly is a slow jam to be enjoyed again and again. Michael B. Sutton's voice is simply stunning and is further amplified by the incredible production value on the track. The songwriting is spectacular, bringing us right into the story. It feels like we're right there with him, feeling the same pain and emotions he is.
As always, Michael B. Sutton shows his knack at connecting with his listeners through profound lyricism which sums up often complex emotions.
Truly a song to be enjoyed again and again, no matter what you're going through in your life.
Available Nov 20th,2020 – pre-order / save today >> https://backl.ink/143135656
on Spotify – Amazon – Apple Music – Deezer – Tidal
Connect with  Michael B. Sutton on Social Media: https://www.facebook.com/MichaelBSutton
https://www.instagram.com/SuttyMichael
To know more about Michael B. Sutton
Please visit www.Thesoundofla.com/MichaelBSutton