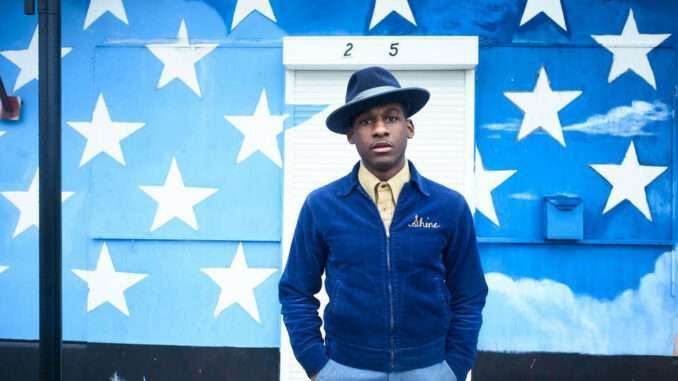 Finding your look and connecting with a photographer who can capture it are key to leaving an impression.
When people utter the names of certain artists, you see them in your mind's eye before you hear the songs they made famous. A very limited list might include the chameleonic David Bowie, whose personas were downright extraterrestrial; avant-pop artist Grimes, who's as unpredictable as the weather—sometimes alien, sometimes robotic, and always otherworldly; and soul queen Erykah Badu, with her supernatural, larger-than-life style. These artists are etched upon our memories via the visual as well as the aural, and they all understand or understood the added power those creative statements can make in tandem.
There are two steps to building a visual identity that's as memorable as the music you're making. The first is simple—you have to craft one.
"For me, if you want to be an artist, you figure out a custom look, something [where a fan can] aspire to that level of creativity," country musician Nikki Lane says. "For me, that's how I started building my record covers—a little bit untouchable so that you want it for yourself. Build a dream."
Look like you and only you
Lane practices what she preaches. Her looks are one of a kind, which she meticulously puts together by combining vintage and custom pieces (she also owns High Class Hillbilly, a vintage shop in Nashville). She always ups her game—style and concept-wise—for album covers. For Highway Queen, she draped herself across a Texas Longhorn wearing a sheer dress and wide-brimmed hat, and All or Nothin' imagines her as an old-school motorcycle daredevil, posed in front of a stage in the middle of a field.
Nikki Lane, All Or Nothin' album cover; Nikki Lane, Highway Queen album cover
That's the trickier second step: figuring out how to express the identity you have in mind. And press photos are the most direct and far-reaching medium to express it with. Social media gives you an immediate line to your fans, but press photos wind up there plus everywhere else, ideally—newspapers, magazines, TV, posters, billboards, etc. They're the images that introduce you to people and hopefully compel them to check out your Instagram.
When Lane thinks of music photos she considers iconic, she's quick to note The Beatles' Abbey Road cover, but then expands her scope. It's people like Bowie, she says, who were "creating those characters. It's thrilling, and you can't pin down someone who's like, the other version of them." The uniqueness of those images—the four distinct personalities in harmony on Abbey Road, Bowie's otherness—is what makes them resonate.
"There's a model photo we have that keeps popping up on the screensaver in the studio, and she's in a leopard top and leopard pants against a leopard backdrop," Lane says. "The consistency of that is ludicrous! In that room, somebody probably should've said, 'Okay, that's enough leopard.' But thank god they didn't! It was counterintuitive to go that far into it, but it's a very eye-catching, permanent image. You're not gonna forget it."
Bob Gruen, the photographer responsible for dozens of iconic images of artists like John Lennon, KISS, Blondie, and the Sex Pistols, lays out the importance of the press photo in very simple terms.
Led Zeppelin Photo by Bob Gruen
"People don't understand that a picture is worth a thousand words," Gruen says. "You put a picture at the top of an email, you're either gonna read the email or not. If the picture is terrible, you're not gonna waste time reading it. If the picture grabs you and you wanna know something about the people in the picture, then you're gonna read."
Getting the feeling in the photo
So how do you make people read your press release or convince them they want to hear your tunes?
"The thing about an iconic picture is that it's something people relate to in a very personal way. It's something you feel a part of," Gruen says. "You can feel the feeling from it. It's not just a picture that shows the facts of what color shirt somebody's wearing or where they were, but one that actually conveys a feeling that's kind of universal."
Danny Clinch, Bruce Springsteen's go-to photographer, shares that sentiment, and stresses the importance of capturing a moment, both in the zeitgeist sense and the immediate, slice-of-life sense. "Technically it could be not that great of an image," Clinch says. "But if the moment is there, it's incredible, because it gives you a feeling."
Bruce Springsteen by Danny Clinch
Clinch's talent for capturing a moment is nearly unparalleled. He made photos for Nas' Illmatic and Kanye's The College Dropout, and has shot Björk, Willie Nelson, and Tom Waits. Some artists, Clinch says, are already so iconic that you just have to get them in the frame. But a collaboration between the musician and the photographer is a great way to create something memorable.
That involves both parties feeling excited to be there and coming up with ideas. One of Clinch's greatest collaborators is Springsteen. The Boss will call him, tell him what he's working on, and send over some songs. Clinch will send back a mood board. "He shows up, he cares, he brings different clothes to choose from, and is participating," Clinch says.
Clinch adds that the thing that's absolutely essential to the success of a collaboration is communication. "All photographers are different," he says. "Some are loose and able to turn on a dime and change direction. Some are very rigid and conceptual about their ideas.… If you like their work and you see something in their work that you like, you can show them the images of theirs that you like, and you could create a mood board as well with some ideas."
Preservation Hall Jazz Band by Danny Clinch
Lane understands how important that collaboration is—she's even one of the artists Clinch has captured with his lens—and she has some insight into what makes them work.
First, Lane says, your vibe has to mix with the vibe of the photographer. If the interactions are awkward and the photographer is putting you in poses that don't feel right, speak up. Second, she says the lens is nothing to be afraid of. Move naturally, maybe put on one of your favorite records. "Those couple things," Lane says, "paired with the fact that these people are gonna take 500 photos and only two are supposed to be good—if you can listen to that and not forget it, you're photogenic." The right photographer will tell you what's working and what isn't, too. And finally, in the case that you're hiring someone to capture a tour or to shoot studio sessions, Lane points out that their ability to be a fly on the wall helps lead to the most memorable, intimate photographs, which is why lately she's has been stoked to work with Joey Martinez.
Nikki Lane Photo by Eden Tyler
Just remember, ultimately, your collaboration is meant to achieve one thing. "They're helping you create the character that's in the back of your head," Lane says. "That's what your goal should be."
—Matt Williams