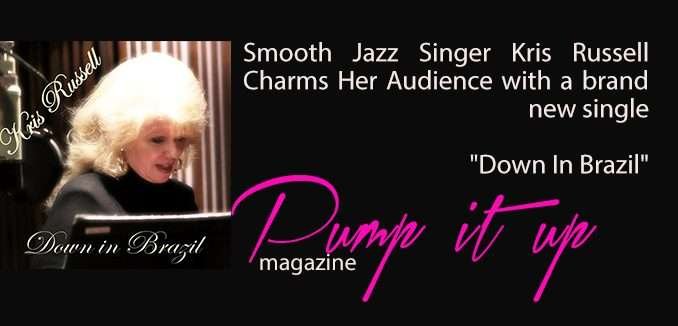 Kris Russell is driven, passionate and charismatic artist with a passion for upbeat, warm and sultry smooth jazz vibes. Her recent single release, "Down In Brazil" is a lush and charismatic single that offers a sunny and playful atmosphere, over an elegant groove and timeless smooth vibes. The track was received really well from the get-go, as it managed to reach number #6 on Billboard's prestigious smooth jazz charts in May 2017.
Hailing from Las Vegas, Kris knows a thing or two about the music world. As a veteran of the contemporary jazz scene, she has developed a wide array of skills and a proficient level of musicianship, but it is not just all about dazzling the audiences with technical bells and whistles. As you probably might understand, music is all about the emotional response. Technique is quite pointless without a true emotional connection that can inspire and engage the audience. Kris managed to bridge the gaps between her technical expertise and naturally emotional performances in order to create something truly special.
"Down In Brazil" is a charming, captivating and memorable piece that stands as a true testament to the creativity and sincerity of this talented performer. Kris Russell curated the arrangement of this song herself, in collaboration with the Mystery Jazz Ensemble. On the other hand, lyrics and melodies were written by the gifted Michael Franks. The song immediately stands out for its great production value. The mix is crisp and bright, with a really great clarity that makes each instrument highly intelligible and well-organized within the context of the entire song. Kris Russell and The Mystery Jazz Ensemble did an outstanding job on this number, offering a performance that feels dynamic and full of life. In my opinion, smooth jazz is really all about great dynamics, and that's something you just can't manufacture in a studio – you need a great cast of performers who are able to "feel it" and perform the music just the right way, to create the perfect atmosphere.
Find out more about Kris Russell and do not miss out on her excellent brand new single release, "Down In Brazil"
http://www.krisrusselljazz.com/
https://www.facebook.com/krisrusselljazz
'Down in Brazil' made#6 on BDS Billboard's SmoothJazz most added chart for radio on May 15, 2017

'Down in Brazil' made Radiowaves Prime Movers Chart for 5/12/2017 to 5/18/2017

'Down in Brazil' made the Radiowaves SmoothJazz/Fusion Chart at #69 for the weeks of 6/9/2017 to 6/15/2017, 6/16/2017 to 6/22/2017

And also made that same chart for 6/23/2017 to 6/29/2017

'Down in Brazil' made #5 on the Groove Jazz Chart for most increased play for Radio on June 12th 2017
.