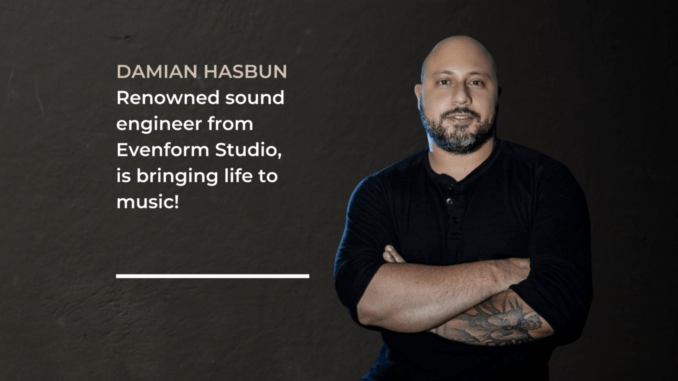 1.Tell us a little bit about the day-to-day life of a sound engineer
Sure! Most of my day consists of recording artists.
I see myself as a musical scientist, and I play the
role of a psychological motivator. Taking on projects
to mix and master are always a joy to me. I'm
truly passionate about my work and I love a
great challenge!
2.Who are some of the artists you've worked with?
I've worked with a lot of great artists over the years
but I would have to say my biggest achievement was
working with the band A Flock Of Seagulls. I was lucky
enough to be one of the engineers of their latest album.
This was the first time my parents said they were proud
when it came to my career as an engineer haha. They
were huge fans growing up. The studio I work for, Evenform, has worked with the biggest artists in the world from DMX, French Montana to Alesana, so i've been incredibly fortunate to have found myself in the position to work the great clientele they provide me.
Artist: A Flock Of Seagulls
Album: Ascension
Artist: Omar Oropesa
Single: El Señor Reína
Artist: Shame Gang
Album: No Safe Haven
3.What kind of training do you have? 
Initially my training had begun from learning under Jesse Clark, Evenform owner and founder. Before knowing who he was I used to listen to his productions and were amazed by the musicality of the records he had worked on. My mentor now Is King James who has worked with countless big artists such as Biggie Smalls and P Diddy. It's been such an honor to be able to learn under people I look up to and respect.
4.When did you know you wanted to become a sound engineer?
I didn't know I was going to be a sound engineer but I always knew that my career would be involved in creating music. Since high school I had such a strong desire to surround myself with the art of music and I've always been extremely competitive. It is definitely my calling.
5.How did you get your first SR gig?
Evenform Studios in Raleigh NC gave me my first gig. Ever since then it's been uphill for me and I'm extremely grateful!
6.How do you find work?
I find most of my work through word of mouth and client recommendation. It also helps that the studio I work for is the highest rated recording studio in my city. We are rated 5 Star and have been around for over 15 years so we have a long history.
7.What separates a good sound engineer from a bad one?
I don't believe in good sound engineers. I believe in great sound engineers. Great sound engineers are able to make the listener feel the soul of the music. Some songs require a more skilled sound engineer to bring the life out of the music. That's where my role comes into play. I'm the person they hire to bring the music to life and make it sound the way it's intended to sound on a spiritual level.
What would be the major reasons to go into your professional studio (EVENFORM) over a home-recording set-up? 
Hmm, I mean technically if an artist wanted me to record in a bathroom I would. Maybe even in a haunted house, I would find that cool and interesting. I wouldn't be able to bring all the expensive gear that Evenform has at the studio though haha
Any specific genre of music you like to work on – do you accept any genres?
I'm not picky with genre but I love working on songs that are emotional and have an element of dance to it. Even if it's a sad dance where you just nod your head. Absolutely love those!
10.What is the toughest lesson you ever learned in the recording setting?
The toughest lesson I've learned in the studio is to make sure the refrigerator coolness is set correctly or else the freezer will build up with ice preventing the door from fully closing. Unfortunately I've had to learn this lesson several times.
11.What is your favorite DAW to work with when recording
My favorite DAW is protools! I grew up using FL Studio and that is great too.
In your opinion, what classifies as a good mix and a good master? ​
A Good mix and master means that the mission is complete. Whether it sounds like a billboard hit or whether it needs to be an underground indy vibe, whatever the demand is, a good mix and master has hit it's mark. No further changes need to be made. At the end of the day we are creating art and we want the listener to feel that magic.
What projects are you working on now? 
Right now I'm working with an artist named Shame Gang. We completed an album called No Safe Haven. It's incredible! He came out with a music video recently for the song "What's Good" Ft. Kourviosier.
1. Recording
2. Mixing
3. Mastering