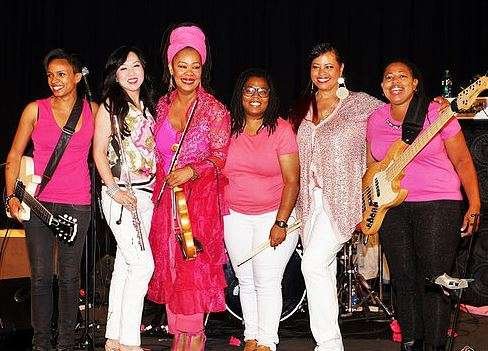 How did the concept Jazz In Pink come to fruition?
I was on the Smooth Jazz Cruise with Norman Brown and saw another woman artist on one of the other stages. I introduced myself and wondered why I didn't know about her. She reminded me that we briefly met in Detroit when she was performing with a band named STRAIGHT AHEAD. Her name, Althea Rene, flautist from Detroit MI. I also met Kyna Hubbard, a management consultant. I invited them to come have lunch together and figure out a way for women like me and Althea to get more performance opportunities and gain more recognition in the smooth jazz genre. The name "Jazz in Pink" seemed appropriate, and by Sept we had our first gig in San Diego, a manager, a road manager….complete with a full band ready to go!
Could you please let us know the names of each member and their instrument.
We are an ensemble of musical women. So, we have a basic rhythm section that plays consistently for the various featured artists that come and go, as their schedule permits. The present rhythm section consists of:
Darlene "D'Love" Moreno/guitar
Danielle "DeeSimone" Thompson/drums
Tomoka/sax and flute
Robin Bramlett/bass and music director
Gail Jhonson/leader and keyboards and vocals
You are celebrating ten years as an all star all female jazz band. What is your secret to you staying together for so long ?
Everyone wanted to come together and impress the smooth jazz community with their artistry. So, the core instruments were: piano, harp, violin and flute. When I wrote the music for our 1st Collection CD, I had these instruments and these fantastic musicians in mind: Karen Briggs/violin, Althea Rene/flute, Mariea Antoinette/harp, myself-Gail Jhonson on synths and piano. Through the years musicians and artists wanted to play with us, and so we kept an open door policy for all emerging and established women; my daughter Tamina sings with us too! Our conception on the cruise was in Feb 2008, our first gig was Sept 8, 2008….if fact my son's birthday…..4 years later I lost my son.
Who decides on the music for recording or a performance?
For years I was doing it all from interfacing with the manager, scouting for gigs, creating flyers, writing and producing the music, recording the radio drops, in charge of marketing, promotion, budgeting payroll and music directing-which included scheduling, music choice and putting the show in order…whew, finally Robin Bramlett said she would take over that position; and has been doing a great job!
Do you find an all female band to be competitive with male jazz bands?
Of course. At the end of the day, a good musician or band is as good as the players within it. We still have very few female bands compared to male. But when Jazz in Pink is on the bill, we hold our own, give a great show and sometimes have fan lines as long as 2 hours, waiting to meet us, sign CD's, posters, and T-shirt's.
Can you tell us about your new single "Back and Forth" Who wrote it or was it a group effort in production , arrangements and composing .
Back & Forth was written by my longtime musician bassist/producer-Charles Jefferson. He submitted several tracks to us and we all loved this one. Robin, DeeSimone, D'Love, Tomoka and myself all contributed to its production and arrangement.
Will you be touring anywhere soon ?
East coast tour to my hometown-Philly! Then on to Maryland. Later we perform Omaha Jazz Fest, Oakland and back to the City of Carson for the Breast Cancer Awareness Festival and then our 10-year Anniversary event…."Women, Making Music a Choice". We are having a Conference/Workshop/Jam Session/Concert, all day starting at 9:30a-8p at FBC No-Ho 11210 Otsego St, N. Hollywood 91606.
Is there anything else you would like to share with our readers ?
My tag line has been: "Moms, the music lessons will pay off and Dads, its ok to let your daughters play jazz" I am very proud of all these women, in what we have done collectively and the exciting things that are going on with them individually. We are a platform for young artists coming into the business and a support system for those that are transitioning to becoming a pro. We play each other's music with zeal and respect, and love what we do. Together we are musicians, composers, arrangers, producers, authors, and educators; with awards, alcaldes and honorary recognition from here at home and abroad. When fans show up wearing pink…it means a lot to us, it means we have their love and support~