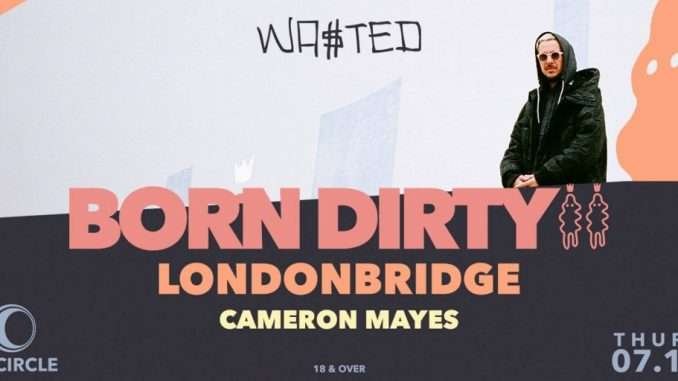 When you're feeling yourself, everything seems to go right. Your new clothes fit like gloves, you're hitting all the green lights on the way to the club, and when you get there, the bouncer lets you skip the line. That's "Badass," and you can cop the vibe for yourself with Born Dirty and Anna Lunoe's cool house collaboration.
The Australian DJ and producer met the funky Londoner after she started playing Born Dirty tunes on her radio show HYPERHOUSE. She felt "compelled" to tweet about how Born Dirty was "the most interesting house" she had heard in a while, and that started a friendly back-and-forth over DMs. Eventually, Lunoe invited him over to work on music, and a true friendship blossomed.
"We instantly hit it off as we're similar and like-minded humans," she says. "We actually started a few demos when I was pregnant, but it was too hard writing for me then, so we waited and re-approached [it] this year. After a few attempts, the vocal for the track burst out one day. It was a total team effort. I love how cheeky the track turned out."
The fun the friends had in the studio oozes out of the track. "Badass" is the sound of a confident smirk, but it hits you with the unexpected at every turn. It's what Born Dirty calls a "perfect blend of fun, quirkiness, good vibes and club heat," and we have to agree.
"My favorite tracks are the ones with a sense of humor," Lunoe says. "Yes, they are bangers, but it's lighthearted. That is what is behind this track; having a moment, thinking you're the shit — for a moment. It just basically encapsulates how I want people to feel: free, bold, spirited and enjoying the hell out of every moment they have on this planet."
Both Born Dirty and Lunoe are currently on tour, and we've got their complete dates as announced below. "Badass" is out everywhere on Mad Decent Friday, July 13, but you can get into the groove a day early, exclusively on Billboard Dance.
Born Dirty Tour Dates:
July 15 — Mountain View, CA @ Audiotistic
July 19 —  Huntington Beach, CA @ Circle OC
Aug 5 — Fontana, CA @ HARD Summer
Aug 9 — Salmo, BC @ Shambhala
Aug 12 — Baltimore, MD @ Moonrise Festival
Aug 18 — Salt Lake City, UT @ Das Energi Festical
Anna Lunoe Tour Dates:
July 13 — Scranton, Pennsylvania @ Camp Bisco
July 20 — Sydney, Australia @ Chinese Laundry
July 21 — Byron Bay, Australia @ Spender in the Grass
July 27 — Belgium @ Tomorrowland Boom
Aug 3 — Boston, MA @ Royale
Aug 4 — Toronto @ Veld Festival
Aug 11 — Baltimore, MD @ Moonrise Festival
Aug 18 — Salt Lake City, UT @ Das Energi
Aug 19 — Los Angeles, CA @ All My Friends
Aug 31 — New York, NY @ Electric Zoo
Sept 2 — Philadelphia, PA @ Made in America