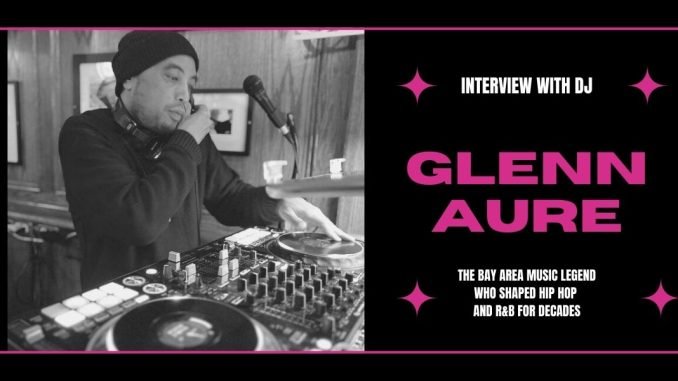 Are you ready to learn about a Bay Area music legend who has helped shape the sound of hip hop and R&B for decades?
Look no further than Glenn Aure, a renowned DJ, music director, and radio personality who has worked with some of the biggest names in the music industry, from Jay Z, Snoop Dogg, Ice Cube, Mary J. Blige, and countless others.  Glenn's journey started with a love for music and an early talent for drumming, which eventually led him to win the "Battle of the DJs" contest and become a fixture on the 106 KMEL radio station.With a career spanning over 30 years, Glenn has broken countless artists and songs both locally and nationally, and he continues to share his passion for music through his weekly radio mix shows and guest appearances.
Get ready to discover the fascinating story of Glenn Aure and his impact on the Bay Area music scene.
How did your upbringing and early exposure to music shape your career as a DJ and music director?
I credit my older siblings for exposing me to music and vinyl at an early age.  They collected records from all the different genres of music (Soul, R&B, Funk, Pop Music, Jazz, etc.).  I just gravitated to the music as they played it on our home stereo system.  All those early years of hearing and listening to these genres definitely shaped my musical palette.  Little did I know, it would later spawn my interest in DJing, and become a strong foundation of my musical knowledge and taste, while serving as Music Director at KMEL.
Can you tell us about your experience winning the "Battle of the DJs" contest and how it led to your role at 106 KMEL?
It was a dream come true.  Growing up as a local DJ in the Bay Area, KMEL was the iconic and legendary station we all listened to.  Every local DJ dreamt of being on KMEL.  After submitting an entry demo tape for the contest, I was picked as a finalist to battle amongst a few other DJs at a local nightclub.  I ended up winning the DJ Battle and won a pair of Technics 1200s Turntables.  KMEL also let me do a few initial guest DJ spots on the air.  After airing those, they gave me a permanent time slot every Saturday Night on the legendary "Club 106" Mixshow.  I was part of the original KMEL All Star DJs crew created by DJ Alex Mejia. It got my foot in the door and I wasn't going to give up that opportunity of a lifetime!
What was it like working with Sway on the "10 o'clock Bomb" show and later as his Morning Show DJ?
Those were some of the best years of my life.  I was in my younger 20's and Sway and I were just having fun exposing new hip hop and other dope music during the 10 o'clock Bomb Show.  We had artists, Mc's, and other influential people come up to the show every week.  We had a great platform to expose the Bay Area to dope upcoming music projects well before they were released.  The chemistry and bond that Sway and I developed during this show made it a natural fit for us to later do mornings at KMEL. Sway wanted to keep that energy we had prior, so he had me mix 3 times every morning (5:30am, 7am, 9am), as well as being interactive with the morning show.  I also helped with production elements for the show.  At the time, we hadn't realized the impact and influence we had on the listeners, other DJs, and fans in the Bay Area.  We were just doing what we loved to do. It was a great experience and it also helped groom me for my later roles at KMEL.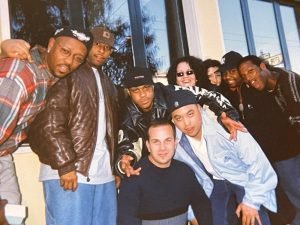 As the Music Director for KMEL, how did you approach choosing and programming the music for the station?
As Music Director for the station, your job is to pick and program the best music that caters to your audience.  So you have to take different things into consideration.  I may have liked a record personally, but I still had to decide if it is right or ready to play for our listeners.  I would look at metrics like phone requests, sales, reaction in the clubs, feedback from others in the station, and most importantly, trusting my gut!  A lot of times I would let our mixshow be the ones to first break new songs in the mix and then develop it so that I could then put that song in a regular all day rotation.  End of the day, my job was to make sure what I was programming on air would generate the most listeners in the Bay Area.  The better the overall listenership we had, the trickle down effect would lead to better ratings and revenue for the station.
What do you consider to be your biggest accomplishment during your time at KMEL?
I think for me, it's not just a particular accomplishment or moment.  I feel honored and blessed that I was part of KMEL during a time when Hip Hop Music and Culture was in its infancy stage at commercial radio in the early 90s.  KMEL was a progressive station and was an early blueprint for other stations locally and nationally for the Hip Hop & RnB format.  We were pioneers in the Hip Hop/RnB format in the 90s, when most stations were still playing Top 40 music. Being able to DJ every week and expose those golden classics that DJs still play today is crazy to me, to later becoming Asst Program Director / Music Director of KMEL and being the gatekeeper of the music product we gave the Bay Area.  Helping expose, develop, and break artists was so gratifying.  At the time, I just did what I loved to do, DJing and being a part of Music Programming at KMEL.  Looking back at it now, I'm proud that I helped shape the music landscape of the Bay Area during my time, as well as helping break records and artists on a national level.
Can you tell us about your transition from radio to the music industry and your role as National Director of Promotions at Capitol Records?
I was ready for a new challenge in my life so I left KMEL in 2001 and moved to LA to work Promotions at Capitol Records.  My job was to help promote our artists to Radio and to get airplay on the different radio stations around the country.  I had to develop relationships with all the different Program Directors, Music Directors, DJs, Radio Hosts, etc at the different radio stations across the country, then try to find effective ways to promote and pitch our artists for potential airplay.  Since I already had radio programming experience, it was an easier transition for me since I already knew how most PDs/MDs think and operate.  At the end of the day, those relationships that I developed and fostered over the years have been very key to my longevity and success in the music industry. Some of these relationships are well over 20+ years which no one can take away from me.
What was your experience working with artists like Snoop Dogg, Chingy, and Letoya Luckett at Capitol Records?
It was a great experience. Stressful at times!! LOL.  First and foremost, the stress of getting airplay on the radio was one thing. Second, traveling to the different cities and stations across the country with these artists to bring them to radio station meetings, meet and greets, events, promotional station events, etc.  I was almost like a road manager, making sure all the details for everything are squared away, as well as making sure these things happened.  There were many times, things didn't go as planned, so I was always the person getting yelled at if the Artist didn't do what they were supposed to do!  In the end though, to be a part of helping take these artists to #1 on the Music Charts was very special to me.  More accomplishments that I can say I was a part of.
How has the Bay Area music scene evolved over the years, and what role have you played in that evolution?
From Hip Hop to RnB and other genres, the Bay Area has always been a melting pot of great talent.  I was fortunate enough to be a part of that early 90's Bay Area Hip Hop scene at KMEL. Being able to help break and play the early music of the likes of E-40, Too Short, Luniz, Dru Down, Rappin 4tay, and many other local acts on KMEL is something I am very proud of. Some of these acts got major label record deals because of our airplay at KMEL, so it's humbling to look back at it now and say I had a part in this era of music in the Bay.
Can you share any upcoming projects or collaborations that you're currently working on?
I currently still do Independent Promotions for Epic, Def Jam, and Republic Records.  I help promote their current artists to radio, helping secure airplay and other promotional opportunities.  I also do a weekly syndicated mixshow for some FM Radio markets (Sacramento, Portland, Austin, Fresno, Monterey, Oxnard).  If time permits, I stream on the Twitch platform, doing live DJ sets for the viewers.  Lastly, I still stay busy recording remixes and production work.
What advice would you give to aspiring DJs and music industry professionals?
As with anything in life, the more you put into something, the better off things can be.  Practice Practice Practice!!  Never settle for being just ok. Strive for greatness!  Be a sponge!! Absorb all the knowledge you can get from your peers, elders, and even youngsters.  Apply that knowledge you learn and turn that into something positive that you can benefit from. Continue to make and foster those relationships!!  You never know if that person you met years ago, who was just an intern, is now a President of a company. I've seen it happen!