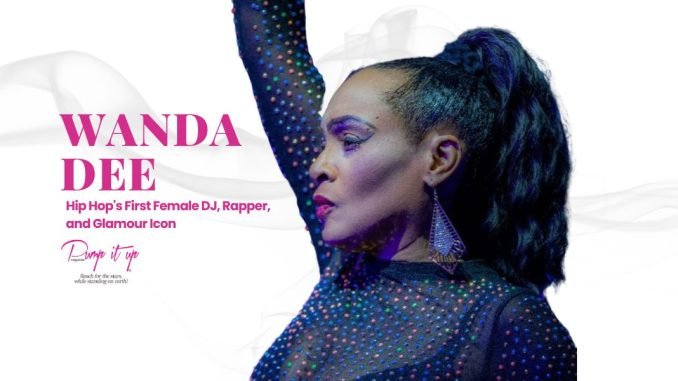 In celebration of Women's History Month, we have the privilege of speaking with the one and only Wanda Dee – the Goddess of hip hop and the Empress of EDM. Born in Harlem and raised in the Bronx during the birth of hip hop, Wanda made history as the first female inductee into the Universal Zulu Nation, the first female hip hop DJ, and the first female rapper to go platinum. She has worked with legends like Harry Belafonte, The KLF, and many others, selling over 3 million records in the rap game and achieving multi-platinum success as a solo artist. With a 10-month-a-year intercontinental concert schedule and a new album on the horizon, Wanda Dee remains a force to be reckoned with in the music industry. Today, we have the opportunity to dive into her incredible journey and learn from her experiences and insights.
 What inspired you to become a DJ and rapper in the early days of hip hop, and how did you get your start in the industry?
 WHAT INSPIRED ME WAS MORE LIKE, "WHO" INSPIRED ME… BEING FROM THE BRONX, I WAS BLOWN AWAY BY THE EARLY INROADS MADE BY THE FATHER & GODFATHER OF HIP HOP, KOOL HERC & AFRIKA BAMBAATAA (WHO WOULD LATER BECOME MY DJ MENTORS & PROTECTORS), BUT IT WAS GRAND MASTER FLASH WHO MADE ME SAY "I CAN DO THAT & BE THE 'FEMALE FLASH'".   LOL!   GOD BLESS EM ALL, FOR THEY OPENED THE DOORS FOR ALL OF US.  IN FACT, THERE'S A VERY FAMOUS MURAL VOTED ON AND PAINTED BY THE STUDENTS OF JAMES MONROE HIGH SCHOOL IN THE BRONX.  IT'S A BREATHTAKING PAINTING OF WHO THE STUDENTS CONSIDER TO BE THE FOUNDATIONAL (5) FIVE FOUNDERS OF HIP HOP… IT'S FATHERS & MOTHERS… AND I AM HUMBLED & HONORED TO BE DEPICTED AMONG THOSE (5) FIVE  & GRATEFUL WE'RE ALL STILL ALIVE & KICKING.
WE ARE ON THIS WALL HANGING IN THIS HIP HOP 'MOUNT RUSHMORE' TOGETHER IN THIS ORDER
    1    KOOL HERC – 'The Father Of Hip Hop

    2    GRANDMASTER FLASH

    3   AFRIKA BAMBAATAA – 'The Godfather of Hip Hop'

    4   MC SHA-ROCK – 'Hip Hop's 1st Female MC'

    5   WANDA DEE – 'Hip Hop's 1st Female DJ'

I WAS SO HUMBLED & HONORED BY THIS MOVING TRIBUTE THAT ERIC & I ORGANIZED A GROUP OF HIP HOP PIONEERS TO VISIT JAMES MONROE HIGH SCHOOL, INCLUDING AFRIKA BAMBAATAA, MY FORMER PARTNER, THE LATE RICHARD SISCO, FULL FORCE'S BOW LEGGED LOU & PAUL ANTHONY; JUST TO SAY "THANK YOU" FOR THE ILLUSTRIOUS HONOR.  I'D ACTUALLY LOVE TO RETURN THIS YEAR WITH ALL (5) FIVE OF US DURING THIS 50th ANNIVERSARY OF HIP HOP CELEBRATION, ALTHOUGH TRUTH BE TOLD, IT'S REALLY ONLY THE 49th YEAR OF HIP HOP… JUST AS THE DAY YOU'RE BORN INTO THE WORLD IS NOT CONSIDERED YOUR 1st BIRTHDAY, THE FOLLOWING YEAR WOULD ACTUALLY BE YOUR 1st BIRTHDAY!!!   AND I WOULD KNOW BECAUSE I WAS THERE WHEN HIP HOP WAS BORN, AS I WAS, ALONG WITH MC SHA-ROCK, ONE OF IT'S MIDWIVES DURING ITS BIRTHING PROCESS!
You're often credited as the first female DJ and rapper to bring glamour and sex appeal to hip hop. How did you approach creating a unique style and persona in a male-dominated genre?
BEING HIP HOP'S 1st FEMALE DJ WAS JUST SIMPLY A TIMING ISSUE… I DIDN'T SEE ANYONE WITH A VAGINA DOING IT WHEN I STARTED IN 1977.  I'M SURE THERE WERE OTHERS, BUT I QUICKLY ROSE TO THE TOP OF THE FOOD CHAIN 1st IN BOTH PROMINANCE, DOMINANCE AND NOTERIETY.  HARRY BELAFONTE' CAST ME IN "BEAT STREET", WHICH WAS ANOTHER FIRST, AS I WAS THE 1st FEMALE DJ (OF ANY COLOR, BLACK OR WHITE) DEPICTED IN A MOTION PICTURE, AND UNDER MY REAL NAME (DJ WANDA DEE) TO BOOT.  SALT-N-PEPA EVEN ASKED ME TO BE THE DJ FOR THEIR FLEDGLING GROUP AND I TURNED THEM DOWN, WHICH MADE WAY FOR BOTH THE ORIGINAL SPINDERELLA AND THE 2nd SPINDERELLA THAT EVENTUALLY REPLACED HER.
You made history as the first female rapper to go platinum with your single "To The Bone." How did you feel about that achievement, and what impact did it have on your career?
ACTUALLY I WAS 1st HIP HOP FEMALE ARTIST TO GO PLATINUM GLOBALLY WITH "BLUE EYES" (
https://youtu.be/ZT1fplC3L_w)
 IN 1986 ON PWL / CRITIQUE AND THEN AGAIN I WAS THE 1st FEMALE IN HIP HOP TO GO PLATINUM IN 1989 WITH "TO THE BONE" ( 
https://youtu.be/_6m65MD-nYo
) ON
 TUFF CITY RECORDS.  SO WHEN I READ THAT DA BRAT WAS THE 1st FEMALE IN HIP HOP TO GO PLATINUM SOMETIME IN THE 90's, I'M LIKE "EXECUSE ME, THAT IS NOT AT ALL HERSTORICALLY ACCURATE"!
IN FACT, IT WAS WITH MY HIT; "TO THE BONE" THAT I MADE HERSTORY WHEN TV PRODUCER / PROMOTER, VAN SILK INVITED ME TO BE ONE OF THE 40 BIGGEST ARTISTS IN HIP HOP HISTORY AT THAT TIME (1990) TO BE ONE OF THE HEADLINING PERFORMERS AT THE PAY-PER-VIEW TELECAST; "RAPMANIA" TAPED @ THE LEGENDARY APOLLO THEATER. MY HUSBAND / MANAGER, ERIC FLOYD, IS ALSO MY CHOREOGRAPHER, AND HE PUT TOGETHER SUCH AN ELABORATE EXOTIC, EROTIC & HYPNOTIC NUMBER FOR ME COMPLETE WITH 2 HIP HOP / JAZZ DANCERS, 6 AFRICAN DRUMMERS & DANCERS, OUR LATE, GREAT AFRICAN SPIRITUALIST & SHAMAN & 10 G-MEN (who brought me in atop their naked shoulders and hot bodies, clad in only g-strings & coconut oil).  THIS ACT WAS SO HUGE, THAT WE HAD TO RESPECTFULLY ASK OUR NEIGHBORS @ OUR RIVERSIDE DRIVE APARTMENT IF THEY WOULD ALLOW US TO HAVE THE FINAL DRESS REHEARSAL IN OUR MASSIVE LOBBY BEFORE LOADING UP INTO THE TOUR BUS TO HEAD TO THE WORLD FAMOUS APOLLO.  THEY AGREED AND ERIC WENT TO DO THAT VOODOO THAT HE DO… SO WELL.  LOL!   
WHEN I TELL YOU THAT I COULDN'T EVEN HEAR MY OWN MUSIC WHEN I TOOK TO THE STAGE @ THE APOLLO, IT'D BE AN UNDERSTATEMENT.  THE CROWD LEAPED TO THEIR FEET AND SCREAMED, HOOPED & HOLLOERED THROUGH MY ENTIRE PERFORMANCE.  I MEAN, JUST THINK ABOUT IT… THIS WAS 1990 AND NOBODY IN THIS VERY NEW YOUNG MEDIUM CALLED 'HIP HOP' HAD EVER SEEN A ELABORATE PRESENTATION LIKE THIS BY A MALE OR FEMALE… AFRICAN DRUMMERS / AFRICAN DANCERS / HIP HOP DANCERS / G-STRING CLAD MUSCLE MEN WITH THEIR ENTIRE MUSLCE BUTTS ENTIRELY OUT AS THEY BOUGHT ME IN, SAT ME DOWN AND BOWED TO ME ON ONE KNEE / AN AFRICAN SHAMAN w/A LIVE BOA CONSTRICTOR (whose head he actually put into his mouth before dragging him offstage).  IT WAS A SPECTACLE IN ANY GENRE OF MUSIC, BUT DEFINETELY A 1st IN HIP HOP AND THE CROWD WENT ABSOLUTELY BONKERS… NUTS… STARK RAVING MAD.  ONE OF THE STAFF LATER TOLD ME THAT HE HAD NEVER SEEN OR HEARD THAT KIND OF AUDIENCE RESPONSE IN HIS ENTIRE 20+ YEAR TENURE @ THE APOLLO THEATER.  AND WHEN I FINISHED, I GOT A 3 MINUTE STANDING OVATION (something of course, that was edited out of the final edit of the telecast), BUT MARCH 9, 1990, USA TODAY PUT ME ON THEIR COVER LABELED AS SUCH; "WANDA DEE WAS THE HIGHLIGHT BREAKOUT PERFORMANCE OF THE ENTIRE RAPMANIA TELECAST"!   ERIC & I READ IT TOGETHER WHILE GOING THROUGH THE McDONALD'S DRIVE THU THE NEXT MORNING DOWN THE STREET ON 125th STREET IN THE CAR AND WE SCREAMED, LAUGHED & CRIED TEARS OF JOY AND PRIDE BECAUSE WE KNEW HOW HARD WE WORKED TO PULL OFF A 4 MINUTE PERFORMANCE THAT WE BOTH KNEW WOULD CHANGE MY LIFE FOREVER… AND IT DID.
IT INSPIRED OTHER RAP PERFORMERS TO DO BETTER… REACH HIGHER… TAKE CHANCES… GIVE MUCH MORE CREATIVE THOUGHT WHEN IT CAME TO THEIR LIVE PERFORMANCE PRESENTATIONS.  OH YEAH, THERE WAS A NEW SHERRIFF IN TOWN LADIES & GENTLEMEN AND THAT WOULD BE ME… AND MY NAME IS WANDA DEE.  LOL!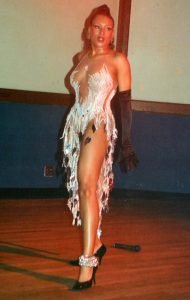 You've transitioned from DJ and rapper to international pop/dance diva and singer. What inspired you to make that shift, and what have been some of the biggest challenges and rewards of that transition?
TO DATE, I AM STILL THE FIRST AND ONLY ARTIST IN RECORDED MUSIC HISTORY TO HAVE MULTI-PLATINUM SUCCESS AS A DJ (I did my own scratching on my 1st recording / platinum single; "BLUE EYES" & my groundbreaking appearance in "BEAT STREET"
Your husband Eric Floyd has been your manager, choreographer, and producer for 40 years. How has your working and personal relationship evolved over the years, and what have been some of the keys to your success as a team?
OMG, I DON'T HAVE ENOUGH TIME OR SPACE TO EVEN REMOTELY EXPRESS HOW MUCH I LOVE, ADORE & CHERISH THIS AMAZING MAN IN MY LIFE!  I'LL SIMPLY SAY THIS, "TRUST" IS THE BIGGEST COMPONENT OF ANY RELATIONSHIP, IN PERSONAL OR BUSINESS… AND WE TRUST ONE ANOTHER.  PERIOD.  WITH MY LIFE… MY LOVE… MY CAREER… MY SPIRIT… MY HEART…!  WHEN I THINK OF ALL OF THE AMAZING GREAT LADIES OF THE STAGE THAT I KNOW AND/OR HAVE KNOWN THROUGH THE YEARS AND HOW MUCH EASIER THEIR LIVES WOULD HAV BEEN IF THEY HAD THE TRUE LOVE & "TRUST" OF THEIR CHOSEN SPOUSE (albeit male or female partners) OR LIFE PARTNER.  
OUR RELATIONSHIP HAS NOT "EVOLVED", IT WAS STEADFAST & STRONG FROM DAY 1 AND REMAINED SUCH FOR 4 DECADES.  I KNOW THAT WE WERE DIVINE DESIGNED MUTUALLY FOR EACH OTHER BY GOD'S PERFECT HANDS HERSELF… AND I AM ETERNALLY GRATEFUL.  ALL OF THE ICONIC PERFORMANCES, FASHIONS, DANCERS, CHOREOGRAPHY, SUPERSTAR CELEBRITY COLLABORATIONS AND RELATIONSHIPS, MARKETING, PROMOTION, PUBLIC RELATIONS, POWER, PRESTIGE & A LIFETIME OF PROFITABLE INTERNATIONAL ENDEAVORS; ARE ALL ATTRIBUTED TO ONE TALENTED, LOVING, GENEROUS & (might i add) GOOD LOOKING INDIVIDUAL AND HIS NAME IS ERIC FLOYD!
PEOPLE OFTEN MISCONSTRUE MY DEVOTION TO MY HUSBAND AS A SIGN OF WEAKNESS, BUT THEY'RE WRONG… DEAD WRONG!  EVERY ACTRESS KNOWS WHEN YOU KNOW YOUR ROLE, THERE'S NO NEED TO OVERPLAY YOUR PART.  MY ROLE IN OUR MARRIAGE IS DIFFERENT THAN HIS.  WE'RE BOTH LIFELONG NON-DRINKERS, NON-SMOKERS & NON-DRUG USERS WHO MUTUALLY AGREED THAT 'HOW YOU TREAT YOUR BODY UP TO AGE 40 IS HOW YOUR BODY WILL TREAT YOU AFTER 40″, SO THAT IS THE REASON NOW AT 60 & 57 YEARS OLD TODAY, WE ARE NOT ON ANY MEDICATIONS (hyper tension / high blood pressure / diabetes, etc.) AT THIS AGE & STAGE OF OUR LIVES.  BERRY GORDY ONCE SAID OF HE AND DIANA ROSS; "WHATEVER I THINK OF, SHE HAS THE TALENT & TENACITY TO PULL IT OFF"; AND THAT SEEMS TO BE @ THE CORE OF OUR RELATIONSHIP.  ERIC THINKS IT UP AND PULL IT OFF!  LOL, SOMETIMES LITERALLY!  WE'RE BOTH FEARLESS & PEERLESS BECAUSE WE'RE BOTH COGNIZANT THAT 'TRUE ARTISTS NEVER COMPETE WITH EACH OTHER, THEY INSTEAD, INSPIRE ONE ANOTHER… AND THE ONLY ONE WE EVER COMPETE WITH IS OURSELVES.  NOTHING IS MORE POWERFUL IN LIFE THAN A POWER COUPLE FULLY IN TUNE AND IN SYNC WITH ONE ANOTHER.
You've performed all over the world to sold-out crowds, including in Europe, Asia, and beyond. What have been some of your most memorable experiences and performances, and how have those experiences influenced your music and artistry?
I AM ALWAYS HUMBLED AND HONORED WHEN I THINK OF MY HUMBLE BEGINNINGS FROM THE SOUTH BRONX WHEN I STEP ONTO AN ARENA, STADIUM AND/OR HEADLINING FESTIVAL STAGE.  MY SPIRIT SOARS AND MY HEART BURSTS WITH SHEER JOY WHEN I SEE THE TENS OF THOUSANDS AND EVEN HUNDREDS OF THOUSANDS OF PEOLPLE WHO SPENT THEIR HARD EARNED MONEY (and often waited years) TO SEE ME.  SOME OF THE HIGHLIGHTS THAT STAND OUT ARE:
I RECENTLY HEADLINED FOR A RECORD BREAKING 200,000 PEOPLE IN TALLINN, ESTONIA 
https://youtu.be/3d2IzK-olIg
AND WHAT  MADE IT ALL THE MORE MAGICAL WAS THAT THE OLDEST DANCER (36 years old) OF MY 8 DANCERS HAD ACTUALLY MET ME 25 YEARS AGO (also) IN TALLINN, WHEN HE WAS JUST 11 YEARS OLD AND A GUEST AT MY FIRST CONCERT THERE IN A5,000 SEAT THEATER BACK IN THE EARLY 90's, AND NOW HERE HE WAS PERFORMING WITH ME IN FRONT OF 200,000 PEOPLE.
IT WAS IN RIGA, LATVIA THAT "THE HEAD OF THE RUSSIAN MAFIA" (which was how he introduced himself to me) ASKED TO DANCE WITH ME AFTER MY HEADLINING ENGAGEMENT IN THIS LUXURIOUS CASINO (where he and his henchmen held court in the center front row booths while i performed).  WHILE WE WERE SLOW DANCING CLOSE TO ONE ANOTHER, HE BEGINS WHISPERING IN MY EAR ABOUT HOW HE "WANTED TO TAKE MY BACK TO MOSCOW AND WOULD TREAT ME LIKE A QUEEN, GIVE ME AN ALLOWANCE OF $100,000 A MONTH (and I'm thinking to myself amidst his death breath; "shit, that ain't no money, I make more than that for one nights work), DIAMONDS, FURS & BLAH, BLAH, BLAH.  SO WHILE ERIC & MY DANCERS ARE SITTING WITH THE OWNER OF THE CASINO AT HIS TABLE, I GIVE ERIC THE DISTRESS HAND SIGNAL WE HAVE AMONGST US.  HE SEES IT AND ENLISTS THE HELP OF "DEATH WISH" MOVIE FRANCHISE STAR AND LEGENDARY ACTOR, CHARLES BRONSON; WHOM ERIC GOT TO WALK OVER TO US AND BUT IN TO HAVE THE REST OF THE DANCE WITH ME.  BECAUSE CHARLES HAD THE MEDIA CAMERAS WITH HIM, THE 'RUSSIAN MOB BOSS' RELENTED AND RELEASED ME.  AS SOON AS HE TURNED ME LOOSE, ERIC & MY DANCERS HIGH TAILED IT BACK TO MY DRESSING ROOM (which he had filled with 2 dozen bouquets of red roses) PACKED ME UP AND WE GOT IN OUR STRETCH LIMO AND RACED BACK TO THE SAFETY OF OUR HOTEL & THEN OFF TO THE AIRPORT WITH OUR SECURITY TO LEAVE THE COUNTRY WITH A QUICKNESS.
IN PERTH, AUSTRALIA WE SWAM WITH DOLPHINS
IN SYDNEY, AUSTRALIA THEY CLOSED DOWN A NATIONAL PARK SO ME AND MY CREW COULD HAVE PRIVATE TIME WITH THE KANGEROOS, WOMBATS, WALLABEES AND TASMANIAN DEVILS… THE KANGEROOS WERE HILARIOUS, FOR ONCE THEY ATE ALL OF THE FOOD FROM OUR BROWN PAPER BAGS, THEY THEN TURNED AROUND AND ATE THE BAG AND THEN BEGAN TO PAT OUR POCKETS DOWN SEEKING MORE FOOD.
IN DORF MUNSTERLAND, THE ROOMS WERE SO HAUNTED THAT ALL OF MY HUGE MUSCLE-BOUND MALE DANCERS ONE BY ONE, CAME RUNNING TO ME AND ERIC'S PRESIDENTIAL SUITE TO CLIMB IN BED & SURROUNDING AREAS TO OUR BED WITH US TO SLEEP THORUGH THE NIGHT… IT WAS HILAROUS.
IN L.A. WHERE I HEADLINED A RAVE IN THE BALLROOM OF THE LAX HILTON, STAN LEE OWNER OF MARVEL COMICS CONTACTED ERIC & HAD ME SCREEN TEST FOR THE PART OF 'STORM' IN THE VERY FIRST X-MEN MOVIE, AND MEETING HIM IN HIS OFFICES WAS ABSOLUTELY MAGICAL.  EVENTUALLY OF COURSE, HALLE BERRY WAS CAST BY DIRECTOR BRYAN SINGER (who was later accused & charged with multiple sexual harrassment cases against young actors & actresses, I'm just saying).
IN SAN FRANCISCO AT THE COW PALACE ON NEW YEARS EVE 2005, WE WERE HEADLINING FOR A CROWD OF 40,000 PEOPLE… NOT ONLY DID I TRIP AND FALL ONSTAGE & BOUNCE BACK UP (when I got up I comically said into the mic; "had a nice trip, see you next fall" & the crowd collectively laughed), BUT THE CROWD WAS SO FREAKY AND HIGH THAT NYE, THAT TO OUR SHOCK, HORROR & AMAZEMENT, 75% OF THE CROWD WERE HAVING FREAKY CIRCUS SEX IN THE AUDIENCE… SO WHILE WE WERE PERFORMING FOR THEM, THEY WERE TRULY "PERFORMING" FOR US!   LMAO
IN MY TOKO, JAPAN TV SPECIAL (seen by an estimated 100,000 people throughout Japan, China & Southeast Asia), I JUST SO HAPPEN TO COINCIDENTALLY PICK 2 DIFFERENT BEAUTIFUL YOUNG JAPANESE MEN (in their early 20's) OUT OF THE AUDIENCE TO COME UP AND DANCE WITH ME AND AS IT TURNED OUT, THEY WERE IDENTICAL TWIN BROTHERS AND BOTH WERE MAJOR JAPANESE SOAP OPERA STARS.  WHEN I PLANTED A KISS ON ONE OF THEM AFTER THEIR ONSTAGE INTERACTION WITH ME, HE BLUSHED AND CRUSHED SO HARD, MY RATINGS WENT THROUGH THE ROOF, AS EVERYONE CALLED THEIR FRIENDS AND FAMILY TO TUNE IN.  IT WAS ONLY AFTER MY CONCERT WHEN IN MY DRESSING ROOM, I WAS TOLD BY MY SHOWS PROMOTER / SPONSOR, WHAT I HAD DONE AND HOW IT POSITIVELY IMPACTED MY RATINGS TO THE #1 SPOT.   
https://youtu.be/lDtDXO9r3aE
WHILE PLAYING MY HOMETOWN OF NEW YORK CITY & DINING AT SYLVIA'S SOUL FOOD RESTAURANT, MY HUSBAND ERIC'S GOOD FRIEND TONY BENNETT (someone he met working with the late great LENA HORNE in the early 80's) CAME OVER TO MY TABLE TO SAY "HELLO" AND TOLD ME AND MY PARTY WHAT A DYNAMIC PERFORMER & RECORDING ARTIST I AM AND AFTER INSISTING ON MY AUTOGRAPHING MY NEW ALBUM TO HIM, WE EXCHANGED HUGS / KISSES & TOOK AN AMAZING PHOTO TOGETHER.
IN LONDON, MY FRIEND & FEMTOR CHITA RIVERA CAME TO MY SHOW AND I, TURN, WENT TO THE WEST END WHERE SHE WAS STARRING IN "KISS OF THE SPIDER WOMAN".
You've been recognized by MTV and other global media outlets as a trailblazer and living legend in hip hop and dance music. What does that recognition mean to you, and how do you hope to inspire future generations of artists and performers?
I'M NOT A NARCISSIST NOR DO I OPERATE FROM EGO, WHICH I FEEL MEANS, Easiing God Out… SO ALHTOUGH I MAINTAIN A PERPETUAL ATTITUDE OF GRATITUDE FOR ALL OF THE PAST & CURRENT RECOGNITIONS AND TO FINALLY SET THE RECORD STRAIGHT THAT MY GIRL LIL KIM WAS NOT "THE BLUEPRINT" WHEN IT CAME TO RAPPING, BRINGING OR SINGING SEX & GLAMOUR TO THE HIP HOP GENRE.  IT WAS ME, MYSELF & I ALONE WHO DID THAT.  AND TRUST & BELIEVE, CERTAIN OTHER FEMALE RAPPERS BACK IN THE DAY (like Harmony & a host of others) WERE NOT AT ALL HAPPY ABOUT IT, CITING THAT "YOU'RE MAKING US LOOK LIKE SLUTS WHO SELL RECORDS WITH OUR BUTTS"!   LMAO!  BUT LIKE MY LEGENDARY FEMTORS BEFORE ME, SUCH AS JOSEPHINE BAKER / LENA HORNE  / DAME SHIRLEY BASSEY / CHITA RIVERA / EARTHA KITT / TINA TURNER / DIONNE WARWICK / MY LEGENDARY 'SHOWBIZ' MOM, FREDA PAYNE / ERNESTINE JACKSON / DIANA ROSS / VIVIAN REED / IRIS CHACON / GRACE JONES, ETC.; I UNAPOLOGETICALLY DARED TO BE DIFFERENT.  IT HAS WORKED OUT FOR ME, GLOBALLY; BECAUSE CAN'T NOBODY BE ME BUT ME!
You've worked with many legendary performers and icons, from Harry Belafonte to Lena Horne to Eartha Kitt. Who have been some of your biggest influences and mentors over the years, and how have they impacted your artistry and career?
HARRY BELAFONTE' HAD HEARD FROM SEVERAL SOURCES (Kool Herc / Afrika Bambaataa / Whiz Kid / etc.) WHEN PRODUCING "BEAT STREET" THAT HE NEEDED TO GET A HOLD OF "HIP HOP's 1st FEMALE DJ", WANDA DEE; AND SO HE SOUGHT ME OUT AND SET UP A PERSONAL AUDITION FOR ME AT A REC CENTER IN THE BRONX ONE FATEFUL AFTERNOON.  HE CAME IN, I CUT, MIXED, SCRATCHED ON MY TURNTABLES AND WHEN I FINISHED I SHEEPISHLY ASKED; "IS THERE A PART FOR A FEMALE DJ IN YOUR MOVIE, MY BELAFONTE'" & HE REPLIED; "THERE IS NOW"!  I SCREAMED WITH EXCITEMENT!
EARTHA KITT WAS SOMEONE THAT MY HUSBAND, ERIC HAS TOURED WITH SINCE AGE 16 AND HE LATER PRODUCED IN CONCERT IN NYC AT THE TUNNEL & THE BALLROOM NIGHTCLUBS, SO HE'S KNOWN HER LONGER THAN HE'S KNOWN ME.  SO WHEN HE INTRODUCED HER TO ME, SHE IMMEDIATELY FELL IN LOVE WITH ME AND TOOK ME UNDER HER WING AND TAUGHT ME TO SING IN 7 LANGUAGES.  WE USED TO ALSO WATCH HER 2 BLACK POODLES, MATTIE & NEWMIE (who understood commands in 5 languages) WHEN SHE'D GO OVERSEAS AT OUR RIVERSIDE DRIVE APARTMENT.
EACH OF MY MENTORS & FEMTORS HAVE POWERFULLY IMPACTED MY LIFE IN PROFOUND AND PASSIONATE WAYS THAT HAVE LED TO ME BEING A BETTER PERSON / PERFORMER / WIFE / MOTHER.  I AM TRULY GRATEFUL FOR THEIR PRESENCE IN MY PAST, PRESENT & HOPEFUL FUTURE.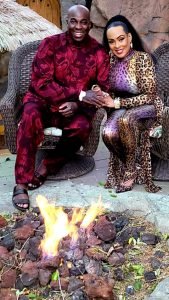 You own and operate a multimedia production company, Goddess Empire Entertainment, and Goddess Empire Record Label.
YES, ERIC & I CO-OWN THESE ENTITIES AND HAVING OWNERSHIP OF OUR FOOTAGE, OUR MUSIC, OUR CONTENT, OUR PUBLISHING & OUR WORLD TOURS IS 75% OF OUR WEALTH, INDEED!
 What inspired you to start your own company, and what are your goals and aspirations for the future of the company and, your music?
WHAT INSPIRED ME WAS FREEDOM.  MY TALENT IS A GIFT FROM GOD HERSELF TO ME, SO NOBODY GETS TO SHAPE, HONE, FORM, PACKAGE AND/OR PACKAGE IT FOR PUBLIC CONSUMPTION BUT ME AND ERIC.
What advice would you give to aspiring artists and performers, especially young women and people of color who are looking to break into the industry and make their mark?
STOP WASTING TIME TRYING TO BE LIKE SOMEONE ELSE, THAT JOB & POSITION HAS ALREADY BEEN FILLED & TAKEN.  BE YOURSELF BECAUSE GOD ONLY MADE ONE.  I'D RATHER BE HATED FOR WHO I TRULY AM THAN BELOVED FOR SOMEONE I'M PRETENDING TO BE!  
What inspired you to become the first female DJ in the hip-hop industry?
I DIDN'T SEE ANYONE ON THE DJ SCENE WITH A VAGINA & I WAS DETERMINED TO BE A FEMALE GRANDMASTER FLASH.
How did it feel to be the first female inductee into The Universal Zulu Nation?
AFRIKA BAMBAATAA BESTOWED THAT BLESSING UPON ME BY ALWAYS MAKING A WAY FOR ME.  WITHOUT BAM, I WOULDN'T HAVE EVER PLAYED THE T-CONNECTION AS A SOLO DJ NOR RETURNED WITH MY OLD HIP HOP PARTNER, DEBBIE-D WITHOUT HIM.  I JUST SPOKE TO HIM THIS MORNING WHEN HE CALLED ME AND ERIC AND WE CHATTED FOR OVER AN HOUR.  HE IS A FREQUENT OVERNIGHT GUEST AT OUR VEGAS HOME AND HE WILL FOREVER BE A POSITIVE PART OF MY LIFE!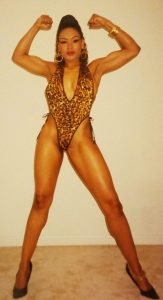 Can you tell us about your experience as a rapper, and what led you to transition to singing?
AS A KID, SINGING & DANCING FOR MY FAMILY (imitating James Brown & Tina Turner @ 4 & 5 years old) WAS HOW IT ALL STARTED AND THAT WAS LONG BEFORE I EVER DJ'D OR RAPPED.  IT'S ALWAYS BEEN IN MY BLOOD, AFTERALL, THE LEGENDARY LATE, GREAT PEARL BAILEY IS MY 3rd COUSIN.  THE TRANSITION TO SINGING CAME DIRECTLY FROM MY MANAGER / HUSBAND, ERIC FLOYD, WHO TOLD ME "IT'S TIME"!  SO TODAY, I SING IN 7 DIFFERENT LANGUAGES & IT HAS REALLY OPENED THE WORLD UP TO ME.
How did it feel to go platinum as a female rapper in the 80s, a time when there were few female rappers in the industry?
I AM SO USED TO BEING THE 1st IN SO VERY MANY CATEGORIES, I JUST KEEP IT HUMBLE AND PUSHING.  I DON'T PERFORM TO WIN AWARDS AND ACCOLADES, I PERFORM BECAUSE IT IS WHAT I WAS PUT HERE TO DO.  BEING AN ENTERTAINER IS A GIFT THAT I WISELY USE TO IMPROVE THE LIVES OF OTHERS & DELIVER MILES OF SMILES IN AND AROUND THE WORLD.
Could you walk us through your experience with the controversy surrounding your performance at Eastside High School in Patterson, NJ, and how it impacted your career?
MY HUSBAND AND MANAGER, ERIC FLOYD, HAS BEEN PUTTING ON ANNUAL FREE CONCERTS AND HIGH SCHOOLS SINCE THE 80's AND MANY OF TODAY'S BIGGEST STARS HAVE BEEN A PART OF HIS ERIC FLOYD'S ALL-STAR CAVALCADE EXPRESS SHOWS, SUCH AS; MC LYTE, CHRIS ROCK, BEVERLY JOHNSON, MARC ANTHONY (who my husband also discovered, theatrically trained & cast in the film he wrote, "East Side Story" –   
https://youtu.be/5VGPQCa34Hg
), 
FULL FORCE, SAPHIRE, CYRE', IRIS CHACON, etc.  WELL, FAMED PRINCIPLE OF EAST SIDE HIGH SCHOOL, JOE CLARK, WAS A LONGTIME FRIEND OF OURS AND WE HAD BEEN TO SCHOOL SOME 3 YEARS IN A ROW, WELL ON THIS PARTICULAR YEAR, MY NEW SINGLE; "THE GODDESS" HAD JUST COME OUT AND ERIC PUT ME ON 6th IN THE LINE UP OF STARS (in fact, Marc Anthony had just performed) & I DID THE NUMBER AS I ALWAYS DO IT.  4 HOT BODIED SHIRTLESS & SHOELESS MUSCULAR 'G-MEN' CARRIED ME OUT ONTO THE STAGE AND I SAT ME DOWN TO START RAPPING.  I WAS WEARING A FLOOR LENGTH WHITE CHINCHILLA CAPE THAT ERIC HAD JUST GOTTEN FOR FROM ALEXANDROS FURS OF NYC AND I QUICKLY WHIPPED OFF MY COAT TO REVEAL MY BLUE & SILVER LAS VEGAS STYLE DRESS WITH BOTH MY BACK & LEGS OUT.  HALFWAY THROUGH MY NUMBER, I TURN MY BACK TO THE AUDIENCE AND PROCEED TO GO TO EACH DANCER (who has their backs to the audience) AND I RIP OFF THEIR VELCRO ATTACHED BLACK SATIN FRINGE PANTS ONE BY ONE TO REVEAL EACH DANCER IN SILVER LAME' G-STRINGS WITH THE MOST INCREDIBLE FIRM MUSCLE BUTTS ON THE PLANET!   
THE CROWD OF UPPER CLASSMAN (juniors & seniors) WENT BANANAS, JOE CLARK WAS AWAY ON A SPEAKING ENGAGEMENT THAT DAY & SO HIS VICE PRINCIPAL, JULIAN JENKINS TOOK IT UPON HIMSELF TO RUN DOWN THE AISLE FROM THE BACK OF THE HOUSE, FLIP UP ONTO THE STAGE AND PULL THE HEAVY RED VELVET CURTAIN CLOSED IN MY FACE.  I WAS ANNOYED AND EMBARASSED AND ERIC WAS ECSTATIC STATING THAT "WE'RE GONNA SELL MILLIONS OF RECORDS AND MAKE MILLIONS OF DOLLARS", AND IT TURNS OUT THAT HE WAS RIGHT ABOUT BOTH!
THE REST OF THE SHOW WAS CANCELED AND ERIC & GOT ABOUT $40 MILLION DOLLARS WORK OF MULTI, AND MEDIA PUBLICITY ON THE LIKES OF CNN, LARRY KING, GOOD MORNING AMERICA, PEOPLE ARE TALKING, MORTON DOWNEY JR., A CURRENT AFFAIR (where I was the 1st & only rap artist to play Grand Central Station @ rush hour), ETC. & WE INDEED SOLD, MILLIONS OF RECORDS "THE GODDESS" b/w "TO THE BONE", WHICH IS WHY I WAS THE 1st FEMALE RAPPER TO GO PLATINUM, BACK IN 1989 – 
https://youtu.be/eQG9kooddfk
https://youtu.be/VBbKAkpWlBQ
Can you tell us about your experience working with KLF producers and your time touring with them as "The KLF featuring The Goddess, Wanda Dee"?
THE 2 KLF PRODUCERS, JIM CAUTY & BILL DRUMMOND ARE MUSICAL GENIUSES BUT WE'VE NEVER TOURED TOGETHER, NOT EVEN ONCE!  THE KLF PRODUCERS & THE KLF PERFORMERS ARE 2 DIFFERENT ENTITIES, AS BILL & JIMMY DO NOT SING, DANCE NOR RAP.  UNLIKE OTHER 90's EDM GROUPS, THE KLF  & ONLY HAD ONE SHOW REPRESENTING IT AROUND THE WORLD AND THAT HAS BEEN ME.   C & C MUSIC FACTORY HAS SEVERAL DIFFERENT SHOWS, REPRESENTED BY EITHER FREEDOM WILLIAMS OR MARTHA WASH OR ZELMA DAVIS, AND SNAP IS THE SAME THING WITH EITHER SHOWS BY PENNY FORD OR TURBO B.   
AS I CO-WROTE THE BIGGEST SONGS ON "THE WHITE ROOM" ALBUM, I HAD A VESTED INTEREST IN MAKING SURE THAT THOSE SINGLES / ALBUMS SOLD, SO CLIVE DAVIS AND I MADE A PACT (since KLF was distributed by Arista/BMG) TO MAKE SURE THAT I'D HIT THE ROAD & STAY OUT THERE MIXING MY KLF MATERIAL WITH MY OWN SOLO MATERIAL., AND IT'S BEEN WORTH IT!  WE ALL EAT QUITE NICELY EACH QUARTER DUE TO OUR COMBINED TEAMWORK TO KEEP THE KLF LEGACY, MAJESTY & MUSIC ALIVE.  I AM, QUITE SIMPLY, THE ONLY KLF SHOW THE WORLD HAS EVER KNOWN.
How have you managed to stay relevant in the music industry for so long, and what have been some of the biggest challenges you've faced along the way?
RELEVANT TO WHO?  I'M ALWAYS RELEVANT TO MY FAMILY.  LOL!  AS LONG AS I'M PUTTING ASSES IN STADIUM, FESTIVAL & ARENA SEATS AROUND THE WORLD, I GUESS I'LL ALWAYS BE "RELEVANT".  MY BIGGEST CHALLENGES ALONG THE WAY HAVE OFTEN BEEN JUST TIME, TRAVEL & ENERGY TO BE SO MANY THINGS FOR SO MANY PEOPLE… BALANCING THAT IS STILL MY GREATEST CHALLENGE.  BALANCE.
Can you tell us about your creative process when it comes to writing and producing your music?
MY CREATIVE PROCESS IS SIMPLE… WHEN WRITING, IT'S JUST ME AND THE MUSIC AND MY PAD & PEN, UNLESS I'M CO-WRITING WITH ERIC, LIKE WE DID ON "I LIKE IT HARD" 
https://youtu.be/Bp8BdLoTUD8
PRODUCING IS ALWAYS A COLLABORATIVE PROCESS ONCE WE'RE IN THE STUDIO WORKING ON MUSIC TOGETHER WITH ERIC AND/OR ANY OTHER PRODUCERS I FIND MYSELF IN 'THE LAB' WITH.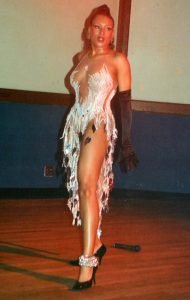 What advice would you give to aspiring female artists in the music industry today?
FORTUNE FAVORS THE BOLD, SO BE BAD ASS… BY BODACIOUS… BE UNAPOLOGETIC… BE BOLD… !!!!!
Can you share any upcoming projects or collaborations that you're currently working on?
I HAVE UPCOMING WORLD TOUR DATES & NEW RELEASES WITH FREDA PAYNE "I ANI'T BEEN LICKED" –   
https://youtu.be/fuhJottd40k
 THE LATE GREAT LOLEATTA HOLLOWAY & I HAVE A SEARING REMAKE OF "DON'T LEAVE ME THIS WAY" w/BACKGROUND VOCALS BY ERIC'S DIVA FEVER ALL-STARS THAT CONSISTS OF LEGENDS LIKE SHARON BROWN, PEGGI BLU, LINDA CLIFFORD, WANDA DEE, CAROL DOUGLAS, TAANA GARDNER, THE EMOTIONS, LOLEATTA HOLLOWAY, FONDA RAE, VALERIE SIMPSON (who also played the piano), YVONNE TURNER, ALYSON WILLIAMS & CAROL WILLIAMS… & THEN I'VE GOT A HUGE GAY PRIDE SONG I WROTE WITH ERIC CALLED; "PRIDE IN YOUR STRIDE" FEATURING ADDITIONAL LEGENDS LIKE PEGGI BLU, CAROL DOUGLAS, TAANA GARDNER, FONDA RAE, ALYSON WILLIAMS & CAROL WILLIAMS.   
https://youtu.be/eQG9kooddfk
How did you end up working with The KLF, and what was your experience like collaborating with them on "What Time Is Love?" and "Last Train to Trancentral"?
ERIC!  ERIC!  ERIC!  HE DID IT ALL!  STARTING WITH HIM ASKING ME TO GO BACK INTO THE STUDIO BACK IN 1988 WHEN I RECORDED "TO THE BONE" & INSISTED THAT WE FIRE UP THE ANALOG MIX @ 2AM IN THE MORNING, MUCH TO THE CHAGRIN OF POOR ENGINEER JOHN AND ADD A TAG LINE / CALL TO THE DANCE FLOOR; "I WANNA SEE YOU SWEAT"!  PERSONALLY, I THOUGHT IT WAS CORNY AND LACKLUSTER, BUT BECAUSE I "TRUST" ERIC FOR THE VISIONARY HE IS AND HAS ALWAYS BEEN.  AND THEN HE WENT ONE STEP FURTHER AND TOLD TUFF CITY RECORDS CEO / OWNER, AARON FUCHS TO RELEASE A FULL ACCAPELLA MIX BEHIND THE VOCAL & INSTRUMENTAL, AND IT WAS THAT SHEER ACT OF BRILLIANCE THAT ALLOWED KLF PRODUCERS (years later) TO DERIVE CLEAN SAMPLES OF MY VOICE ONTO THEIR FIRST 2 SINGLES FROM THE WHITE ROOM LP AS THE HOOKS ON "WHAT TIME IS LOVE"? AND "LAST TRAIN TO TRANCENTRAL"
ERIC DISCOVERED THESE INITIAL 2 ILLEGAL SAMPLES OF BOTH MY ORIGINAL VOICE AND PUBLISHING (since Eric & I co-wrote "To The Bone"), WHEN ON A COLD DARK STORMY NIGHT WHILE AT HIS MOTHERS HOUSE IN McLEAN, VA, HE HOPPED UP AT MIDNIGHT AND SAID; "I'M GONNA DRIVE INTO D.C. TO TRACKS (the worlds largest gay club at the time, with a capacity of 10,000 people) AND GET YOU A GIG THERE.  ONCE AGAIN, "TRUSTING" HIS AMAZING INSTINCTS, HE DRIVES 45 MINUTES THROUGH THE RAIN & WIND, PARKS IN THE TRACKS PARKING LOT AND HE HEADS TO THE DOOR, HE HEARS MY VOICE BLARING OVER THIS KICK ASS EDM BEAT AS I'M WAILING "I WANNA SEE YOU SWEAT".  HE GOES TO THE DJ BOOTH TO THANK THE DJ FOR THIS AMAZING MIX AND THE DJ TELLS HIM; "I'M NOT MIXING ANYTHING… IT'S ALL HERE ON THIS BLAZING NEW SINGLE OUT OF KLF COMMUNICATIONS LONDON AND WAX TRACK RECORDS IN CHICAGO.  ERIC READ THE SINGLES JACKET COVER THAT SAID "WANNA SEE YOU SWEAT" COURTESY OF WANDA DEE.  ERIC WAS HEATED BUT HOPEFUL!
HE CAME HOME @ 3AM, WOKE ME UP AND SAID; "WANDA THIS GROUP ILLEGALLY SAMPLED YOUR VOICE ONTO THIS HOT NEW TRACK AND I'M ABOUT TO SUE THE LIVING SHIT OUT OF THEM".  SO HE SHOWED ME THE FAX NUMBER HE COPIED FROM THE SINGLE JACKET THAT THE DJ SHOWED HIM BACK AT THAT CLUB & HE TYPED THEM A SEARING LETTER AND FAXED IT TO THEM (IT WAS 1990 & YES, WE WERE STILL "FAXING" BACK THEN).  BY THE TIME WE WOKE UP THE NEXT DAY, THEY WERE CALLING HIM AND HE GOT ON THE PHONE WITH THEM AND LET BILL & JIMMY (the producers) HAVE IT, ESPECIALLY AFTER HE FOUND OUT MY VOICE WAS THE HOOK ON (2) TWO OF THEIR SONGS INITIALLY ("Last Train To Trancentral"); SO BY THE TIME ERIC FINISHED WITH THEM HE HAD THEM AGREE TO THE FOLLOWING RIGHT OFF THE BAT:  (1) $100,000 PER TRACK  (2) 1/3 OF ALL PUBLISHING  (3) MUST STAR IN ALL THE MUSIC VIDEOS  (4)  ALL EXPENSES PAID FIRST CLASS FLIGHTS / GROUND / HOTEL ACCOMMODATONS TO LONDON TO FILM THE MUSIC VIDEOS @ PINEWOOD STUDIOS   (5) ALL VIDEO CARDS MUST READ 'THE KLF featuring WANDA DEE'   (6) THEY MUST PRODUCE MY NEXT SINGLE ENTITLED; "I DO AS I DAMN WELL PLEASE" (of which we paid to have the 2 inch master reel sent over to them).  THEY AGREED TO EVERYTHING SO FAST, ERIC WISHED HE HAS ASKED FOR MORE.  LOL!   
NOTE:  CLIVE DAVIS REFUSED TO SIGN KLF TO ARISTA / BMG UNTIL THEY "FIND WANDA DEE & SETTLE WITH HER"; SO IT TURNS OUT THAT THEY WERE LOOKING FOR ME JUST AS MUCH AS WE WERE LOOKING FOR THEM.   IT WAS AT THIS TIME THAT ME, ERIC & OUR HAIR / MAKE UP PERSON, THE LATE GREAT GERARD DURE' WERE FLOWN OVER FIRST CLASS TO LONDON TO RECORD THE VIDEOS AT THE LEGENDARY PINEWOOD STUDIOS (JAMES BOND / ROBIN HOOD / MISSION IMPOSSIBLE / BATMAN / ALIEN).  IN FACT, WHEN I WAS ATOP THE GIANT PYRAMID, I NOTICED WAY ACROSS THE SOUNDSTAGE, A BALD HEADED SIGOURNEY WEAVER CLAD IN A METALLIC SILVER SUIT, OTHER BALD HEADED ACTORS DRESSED IN THE SAME ATTIRE BRANDISHING FLAME SHOOTERS & THREE 7 FOOT ALIEN CREATURES CAME RUNNING ONTO OUR SET OF "WHAT TIME IS LOVE"? BECAUSE THEY HAD ACCIDENTALLY SET THEIR SET ON FIRE.
https://youtu.be/sCBZBzuxVd0
You have been described as the "Empress of EDM" and "Queen of Steam." Can you tell us about your experience in the EDM scene and how it has evolved over the years?
4 ON THE FLOOR IS THE HEARTBEAT OF THE WORLD, SO EDM (Electronic Dance Music) IS JUST AN AMBIENT EXTENSION OF DISCO & DANCE AND I LOVE IT AND IT FITS ME LIKE A GLOVE.  THIS IS MY ELEMENT, BUT ERIC ALWAYS FINDS A WAY TO BLEND TRIBAL AFRICAN DRUMS / RHYTHMS AS THE FOUNDATION OF MY SONGS, WHICH IS WHY THEY WORK ALL OVER THE WORLD.  EDM IS DRAMATIC, MASCULINE & FEMININE, TRANCE & HIP HOP; ALL THE THINGS I AM!  MY AUDIENCE KNOWS THAT WHEN YOU COME TO MY SHOW, EVEN AT MY AGE NOW, I STILL GIVE 100% TO THEM… I LEAVE IT ALL ON STAGE… AND THEY LIVE FOR THAT & I LIVE A LITTLE MORE EACH DAY FOR IT; THEREBY PRESERVING MY ETERNAL YOUTH, STRENGTH & VITALITY.
You have toured extensively and performed alongside many other legendary musicians. Can you share some memorable moments from your live shows and collaborations?
PENNY FORD OF SNAP IT ALWAYS A HOOT TO HANG OUT WITH, ESPECIALLY AS I WAS GOOD FRIENDS WITH HER LATE GREAT HALF SISTER, SHARON REDD.  TURBO B OF SNAP WAS ONCE MANAGED BY MY HUSBAND AND HE IS FAMILY!   LA BOUCHE, 2 UNLIMITED, C & C MUSIC FACTORY'S ZELMA DAVIS AND FREEDOM WILLIAMS ARE ALSO LONG TIME FRIENDS.  MY GIRL CECE PENISTON HAS BEEN A LONGTIME OVERNIGHT GUEST IN MY CHARLOTTE, NC HOME & WE'VE SHARED BOTH SHOWS, BEDS, SPA DAYS & ONSTAGE SONGS TOGETHER WITH MY LEGENDARY 'SHOWBIZ' MOM, FREDA PAYNE (who has opened many shows for me through the years – 
https://youtu.be/9mZHFTluspI
SOME OF THE MORE SUPER EXCITING SHOWS ARE WHEN MY HUSBAND THROUGH OUR PRODUCTION COMPANY, GODDESS EMPIRE ENTERTAINMENT, PUTS ON HIS ERIC FLOYD'S OLD SCHOOL PARTY SHOWS AROUND THE WORLD AND/OR IN LAS VEGAS (where it is reopening as long term Vegas residency  –  
https://youtu.be/xe6elgR27Nw
)
You have recently completed recordings of new songs, including a pop single and new renditions of disco classics. Can you tell us about your creative process and what inspires your music today?
EVERYTHING OLD IS NEW AGAIN AND DISCO NEVER DIED, IT'S JUST BEEN RENAMED A FEW TIMES.  MY BRILLIANT HUSBAND / PRODUCER, ERIC FLOYD HAS RECORDED ME ON NEW VERSIONS OF A FEW FUNK / DISCO / ROCK CLASSICS AND THESE LONG PLAYING GEMS WERE DELIBERATELY PRODUCED BY HIM TO BETWEEN 8 TO 16 MINUTES IN LENGTH, BECAUSE THIS IS WHAT BOTH THE FANS WANT AND THE DJ's WHO FINALLY HAVE MUSIC ONCE MORE THAT GIVES THEM TIME TO TAKE A BATHROOM / DRUG / DRINK / SEX BREAK AND THE PARTY NEVER STOPS!   LOL!
How do you feel about being a role model for young women in music, and what legacy would you like to leave behind?
I LIVE MY LIFE FOR ME AND ONLY ME; HOWEVER, IF I LIVE MY LIFE EXEMPLARY, AND YOU FIND PEACE, SOLACE, INSPIRATION, MOTIVATION, FASCINATON & INFORMATION BY VIEWING IT FROM EITHER AFAR AND/OR UP CLOSE AND PERSONAL.  GOOD, THAT'S WANDAFUL.  
POWERING THROUGH AN ALCOHOLIC FATHER / CHILD MOLESTATION / SCHOOL BULLYING (because I was shy, small & wore thick glasses) / SIBLING ABANDONMENT / A MISOGYNIST MUSIC BUSINESS / NAYSAYERS / DOOMSAYERS / RELIGIOUS ZEALOTS, ETC. TO STILL BE A 35 MILLION RECORD SELLING, LIFE LONG NON-DRINKING, NON-SMOKING, NON-DRUG USING, OPENLY BISEXUAL WOMAN IN A WILDLY BLISSFUL BEAUTFUL 40+ YEAR MARRIAGE, THE ONLY SELF-MADE MILLIONAIRE IN MY FAMILY & CEO OF A MULTI-NATIONAL MULTI-MILLION DOLLAR CONGLOMERATE OF COMPANIES, CORPORATIONS & LLC's; WHILE STILL BEING ABLE TO TOUR THE WORLD DOING WHAT I LOVE FOR INTERNATIONAL AUDIENCES WHO HAVE LOVED ME SINCE MY FIRST OVERSEAS TRIP TO LONDON AS A DJ IN SUPPORT OF "BEAT STREET" UNTIL TIL TODAY WITH MY BEST FRIEND & SOUL MATE, ERIC FLOYD, ALL IN GOOD HEALTH & STRENGH WITH THE ENERGY OF A TEENAGE… IF YOUNG WOMEN (& men) OR ANY AGE, ARE ABLE TO MEET THEIR TESTS IN LIFE BECAUSE OF THE SHARING OF MY TESTIMONY; THEN THERE IS NO GREATER LEGACY TO LEAVE BEHIND THAN THAT!
WE ALL ARE THE DECISIONS THAT WE MAKE & I'VE LIVED BY MINE UNAPOLIGETICALLY, IRREFUTABLY & INDISPUTABLY!
BIOGRAPHY:
Hip Hop's First Female DJ, Rapper, and Glamour Icon
Wanda Dee is a trailblazing, record-breaking hip hop icon who has left an indelible mark on the music industry. Recognized as the first female DJ and rapper to bring glamour and sex appeal to the game, Wanda Dee paved the way for artists like Lil Kim, Foxy Brown, Salt-N-Pepa, Eve, Nicki Minaj, Cardi B, Megan Thee Stallion, and many others. Born in Harlem and raised in the Bronx during the birth of hip hop, Wanda Dee emerged as the genre's only female DJ in the 70s and went on to make musical history as the first female inductee into The Universal Zulu Nation by her DJ mentors Afrika Bambaataa and Kool Herc, the godfather and father of hip hop.
In the 80s, Wanda Dee continued to break barriers as the first female rapper to go platinum with "To The Bone" and "The Goddess," and as the first and only female rapper signed to the UK's most successful production team of Stock, Aitken & Waterman on PWL Records. Her over-the-top, signature sensuous performance of "The Goddess" caused a media controversy that generated an estimated $40 million worth of publicity, propelling her record sales through the roof both domestically and overseas.
Wanda Dee transitioned from DJ/rapper to world-class singer in the 90s and continued to achieve multi-platinum success with solo album releases. She is also renowned for her high octane live shows, which have gone unchallenged as the hottest in dance music, earning her international titles like The Empress of EDM, The Queen of Steam, The Diva w/Fever, and The Goddess.
Currently inducted into The Smithsonian's Black Culture Exhibit and a Universal Lifetime Achievement Award recipient, Wanda Dee is a living legend and icon of hip hop and dance music. Together with her husband, manager, choreographer, and producer Eric Floyd, they own and operate a multimedia production company, Goddess Empire Entertainment, and G.E.R.L. (Goddess Empire Record Label).
To know more about Wanda Dee, please visit:
With her new releases in Pop/Rock/EDM genres, WANDA DEE is poised to follow in the stadium-filling footsteps of the legendary TINA TURNER herself!

Check out some of Wanda Dee's recent headlining engagements:

Wanda has been married to her Husband/Manager/Choreographer/Producer, international impresario, ERIC FLOYD for 40 years. They have a multitalented Son, sIAMeze ('The Godson Of Rock & Soul') who was both Vegas' youngest headliner and an X-FACTOR U.S. finalist. Together, they own and operate a multimedia production company, GODDESS EMPIRE ENTERTAINMENT and G.E.R.L. (Goddess Empire Record Label).

Learn more about Wanda Dee and her legacy in Hip Hop, EDM, and beyond by checking out this article from The Black Star News: https://www.blackstarnews.com/entertainment/music/wanda-dee-world-tours-and-the-business-of-goddess-empire.html