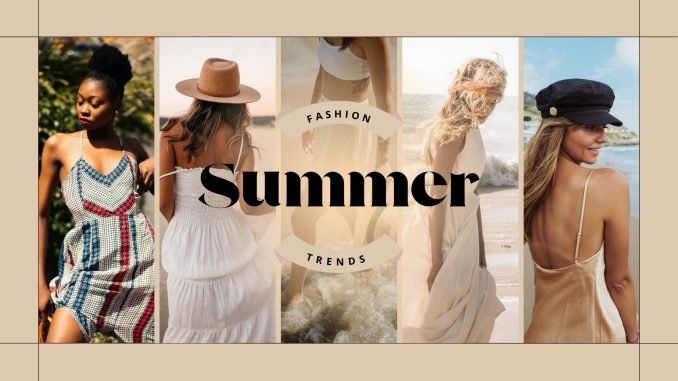 As the temperatures rise and the sun shines brighter, it's time to embrace the season's hottest fashion trends that are sure to make a statement and turn heads wherever you go. Summer is all about embracing vibrant colors, lightweight fabrics, and playful silhouettes. In this edition of our magazine, we dive into the world of fashion to explore the summer styles that are stealing the spotlight and capturing attention.
**1. The Effortless Boho Chic: Summer is the perfect time to channel your inner bohemian spirit. Flowing maxi dresses with intricate prints, tassel details, and off-the-shoulder cuts are the epitome of boho chic. Paired with woven sandals and oversized sunglasses, this style exudes laid-back elegance and is ideal for music festivals, beach strolls, and casual gatherings.
**2. Tailored Sophistication: Elevate your summer wardrobe with tailored pieces that showcase sophistication in the heat. Lightweight linen blazers, high-waisted paperbag shorts, and culottes in pastel shades offer a polished look without sacrificing comfort. These structured pieces can seamlessly transition from a day at the office to an evening rooftop soirée.
**3. Nautical Vibes: Channel the essence of the sea with nautical-inspired fashion. Crisp white and navy blue stripes dominate this trend, found in classic Breton tops, sailor-style shorts, and even flowing sundresses. Accessories like rope belts, anchor motifs, and boat shoes complete the maritime look, making it a timeless choice for both land and sea adventures.
**4. Bold Tropical Prints: Summer is the season to experiment with bold prints, and tropical motifs are ruling the runways. Palm leaves, exotic flowers, and vibrant colors instantly transport you to a tropical paradise. From flowy wrap dresses to jumpsuits and swimwear, these prints inject a dose of energy into your wardrobe and ensure you stand out wherever you go.
**5. Athleisure Revival: Combine comfort and style with the resurgence of athleisure wear. Tank dresses with sporty stripes, bike shorts paired with oversized tees, and sneakers with dresses are all the rage this summer. The fusion of sporty and chic elements creates a fashion-forward look perfect for urban adventures and active days.
**6. Retro Glamour: Travel back in time with retro-inspired fashion that's making a major comeback. High-waisted bikinis, cat-eye sunglasses, headscarves, and flared jumpsuits capture the essence of the '60s and '70s. These nostalgic styles add a touch of glamour to your summer wardrobe, ensuring you're the center of attention at any poolside gathering.
**7. Sheer Delights: Sheer fabrics add a touch of sensuality to your summer ensembles. Delicate lace blouses, sheer kimono cover-ups, and translucent skirts create an alluring yet elegant aesthetic. Perfect for sunset cocktails or beachside dinners, sheer pieces provide a subtle glimpse of skin while maintaining an air of mystery.
Conclusion: This summer, the fashion scene is brimming with styles that promise to make heads turn and leave a lasting impression. From boho chic to tailored sophistication, nautical vibes to bold prints, there's something for every fashion enthusiast to embrace. Whether you're lounging by the pool, attending a garden party, or exploring the city streets, these summer trends will keep you stylishly comfortable and effortlessly chic throughout the season. So go ahead and express yourself through your wardrobe, because summer is all about embracing the sun in style.