In the dynamic convergence of rhythms and combat, GrandMixer GMS has masterfully carved a distinctive path, skillfully fusing the beats of DJing with the intensity of MMA training. A genuine modern Renaissance personality, his journey defies norms, intricately intertwining the strands of Jiu-Jitsu, melody, movement, Hip-Hop, and motivation.
Emerging onto the scene as a breakdancing prodigy and later taking command of the airwaves as a pioneering DJ, GrandMixer GMS's voyage forms a symphony of artistic expression. Now, as he immerses himself in the world of MMA training at Sikjitsu under the guidance of Coach Rick Little, his narrative takes an unforeseen turn that transcends conventional categorizations.
In the course of his journey, GrandMixer GMS recently took a notable break in Los Angeles to attend the West Coast Hip Hop Awards ceremony. During this event, he warmly acknowledged his mentor and friend, DJ Nasty Nes Rodriguez. This marked a fitting tribute to DJ Nasty Nes, alongside a special mention for the deserving award received by Danny Dohrmann. Among the distinguished attendees were Scotty D Spencer and Mixmaster Ken. During his time in Los Angeles, we, at Pump It Up Magazine, had the exclusive chance to interview GrandMixer GMS for a special feature.
Amidst this multi-faceted journey, GrandMixer GMS is also celebrating a remarkable milestone – 50 years of hip-hop! Join him on August 12th at 9:00 AM at "The Northtown Mall" as he commemorates this iconic juncture in musical history.
In this interview, we delve into the harmonious fusion of passion and persistence that propels GrandMixer GMS's odyssey. Join us as we explore how he harmonizes the melodies of music with the intensity of MMA, creating an inspiring symphony that resonates far beyond the surface.
It's all about you, the sun, and good times! So, grab a cool drink, flip through the pages, and dive headfirst into our summer quiz and the whole smorgasbord of awesomeness.
Order your copy now!
INTERVIEW:
Can you share with us the remarkable journey that led you from breakdancing to becoming a renowned DJ and now to training in the world of MMA?
I was bullied as a child, but a Bruce Lee movie inspired me to take up martial arts. After only a brief training period, the bullying ceased, leading me to stop training. I shifted to breakdancing, and martial arts training aided in movement and flexibility. To enhance my breakdancing routines, I taught myself how to mix, and when the breakdancing scene faded, my passion for music and Hip-Hop led me to become a DJ. I maintained an interest in combat sports, and the emergence of MMA intrigued me as it provided practical insights into combat effectiveness. Witnessing Spokane's MMA athletes on the global stage was incredible. Upon returning to Spokane, I discovered Sikjitsu online, connected with Rick Little, the owner and coach, and attended his gym on a trial basis. Rick's emphasis on mindset and character resonated with me, leading to a good relationship with him, his family, and the Sikjitsu team.
The worlds of music and martial arts may seem distinct, but you've seamlessly merged them. How does your experience as a DJ influence your approach to training in MMA?
I see similarities: just as I "mix" various genres of music, to be successful in MMA, one must "mix" various techniques from different martial arts disciplines. For example, I will mix music from EDM, Hip-Hop, Pop, Rock, Country, whatever, and in MMA, great coaches blend techniques from Boxing, Wrestling, Jiu-Jitu, Muay Thai, Judo, Sambo, etc. Also, being on stage in front of thousands of people helped with sparring in front of everyone at the gym, which takes courage, especially considering the caliber of MMA students at Sikjitsu. 
Training under Coach Rick Little at Sikjitsu has exposed you to the mentorship of renowned figures like Miesha Tate and Julianna Peña. How has this environment impacted your outlook on both martial arts and life?
Sikjitsu is unique because it is a simple, tenacious gym that focuses on the basics and effective techniques. Seeing Rick train people like Miesha Tate, Julianna Peña, Michael Chiesa, Brady Hiestand, Melissa Amaya, Juliana "Killer" Miller, etc., and that their success has been based on a simple recipe of consistency and the willingness to put in the required effort, this is the same recipe for success in any field someone chooses to pursue, as well as in life.
From DJing to MMA, you've embraced diverse passions. How do you balance and integrate these passions to create a unique and impactful narrative?
There is never enough time in the day to do everything, so balancing tasks is a challenge. However, the lessons from music and MMA are universally helpful: they improve mental and physical health, teach patience, problem solving, humility, dealing with pressure, instill confidence, discipline, and promote goal setting. And we know the world and life can be difficult and dangerous so it's better to be prepared to handle whatever comes your way, and MMA provides tools to approach difficult situations in a calm, strategic manner. Of course, music allows you to honestly express yourself and can help others get through difficult moments.       
"The lessons from music and MMA are universally helpful: they improve mental and physical health, teach patience, problem solving, humility, dealing with pressure, instill confidence, discipline, and promote goal setting."
Both the turntables and the training mats demand discipline and dedication. Could you elaborate on the parallels you've discovered between perfecting your music mixes and honing your MMA techniques?
Staying open minded and willing to adapt to circumstances is critical to improving and learning. And by making small improvements or progress on a daily basis, over time, this leads to significant progress, growth, and overall improvement. It's about continuous, gradual advancement rather than sudden, drastic changes.
Collaborating with artists like Tairrie B and training in MMA reveal a multifaceted aspect of your journey. How has this diversity enhanced your personal growth and creative expression?
Tairrie is a diverse, outspoken artist, initially under the wing of the late Eazy E, and her willingness to fight against violence towards women, injustice, male chauvinism, bigotry, etc., even at a cost, emphasizes the importance of always seeking to do the right thing. And being around people like Rick, Suhee (Rick's mom) and EVERYONE at Sikjitsu, especially the young, hungry people, like Juliana, Melissa, Brady Hiestand, Ashton Charlton, Braxton Reyes, Ethan Child, Chance Haskins, Kevin, Dylan, Tayven – the list goes on – has emphasized the importance of keeping an open mind, working hard and having the courage to go out of my comfort zone.
In the competitive world of MMA, what personal qualities do you draw upon to face challenges, whether in the gym or in life?
When I was growing up, I was very shy, timid, and insecure. Through extremely difficult times, and with the support and encouragement of my Mom, family – including my late Grandmother and Grandfather – and friends, I gained the courage to approach – and attack – challenges. I love doing research and learning about the stories behind successes – which are often stories of many setbacks that eventually led to triumph. And by believing that problems are solvable and obstacles are opportunities to do our best and overcome, I feel that we should never shy away from a difficult task and if one thing doesn't work, try another and another until something finally works.
How do you envision using your influence to drive change and humanitarian awareness?
I believe that acting locally to drive global change is possible, and being informed when approaching important matters is critical.
For example, I work with a company called CorrioSPC, which provides voice and text messaging services to prisoners. It's been proven that meaningful communication beyond prison walls is a major factor in reducing recidivism and promoting rehabilitation.
Reducing future crimes is something everyone should want, and prioritizing methods that promote safer communities is paramount to this. I also volunteer at my community foodbank to help those in need. But whether I have a large "following" or not, it's important to help people around me and my community.
As a respected figure in both music and martial arts, what message do you have for individuals looking to explore their own passions and blend them in unique ways?
Keep the mindset and passion of a beginner and always be willing to learn, work hard, and get back up when you fall down – because falling down is going to happen. And it's ok to imitate the style of others because that's how you learn and you will eventually develop your own unique style and voice.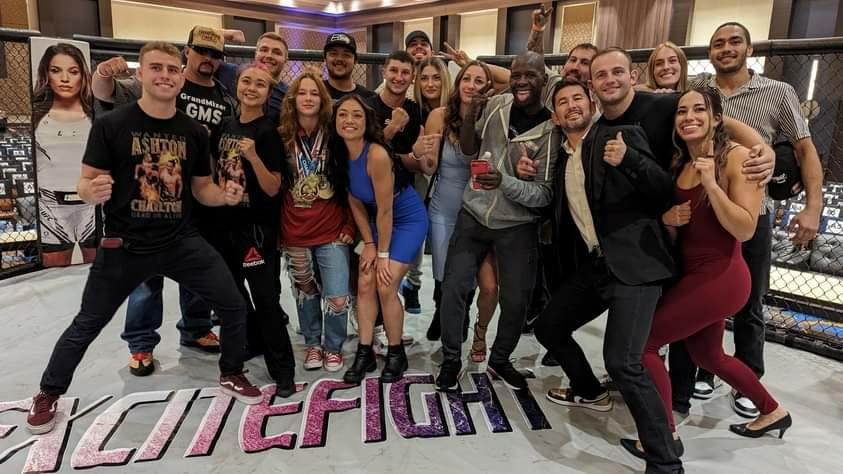 Looking ahead, what are your aspirations for the future, both in your music career and your MMA journey?
To keep moving forward and going with the flow. Since I love what I do, and I love to work hard, learn, and help others, I believe the future will be a place I am happy in. And diversity is important: I recently mixed an EDM set on Seattle's C89.5-FM – the longest running dance music station on Earth – and it was so much fun! I'm also going to perform at Excitefight's "Conquest of The Cage" on August 16th at the NorthernQuest Casino, and doing different things like that is what I love! 
Your journey is one of constant evolution. How do you stay motivated and continue to challenge yourself in different arenas?
I appreciate each day and all of the little things that many people take for granted. I also enjoy learning anything and everything, whether it is in the field of music, science, technology, physics, history, MMA, different cultures, languages, etc., and I think the desire to learn – and appreciating the opportunities to learn – keeps me motivated to keep moving forward and trying new things.
Your story is an inspiration to many. What advice would you give to aspiring artists, athletes, and individuals who are seeking to create their own path and push boundaries?
Embrace every moment, opportunity and challenge. Practice, practice, practice, and don't be afraid to make mistakes because that's how you learn. Remember, if one person can do something, you can do it, too! And the most important thing: NEVER give up!
Lastly, where can fans and aspiring artists connect with you, listen to your mixes, and stay updated on your latest endeavors in the world of hip-hop and music?
I can be found on Instagram, Facebook and Mixcloud, but my Linktree is the best way to easily find everything I do, at https://linktr.ee/grandmixergms
🎧📻 Get ready for an unforgettable musical journey as GrandMixer GMS brings you an hour of pure 𝗽𝘂𝗿𝗲 𝗯𝗹𝗶𝘀𝘀 magic every day at 5 PM on KPIU RADIO's Global Frequency Show! 🌟🎶