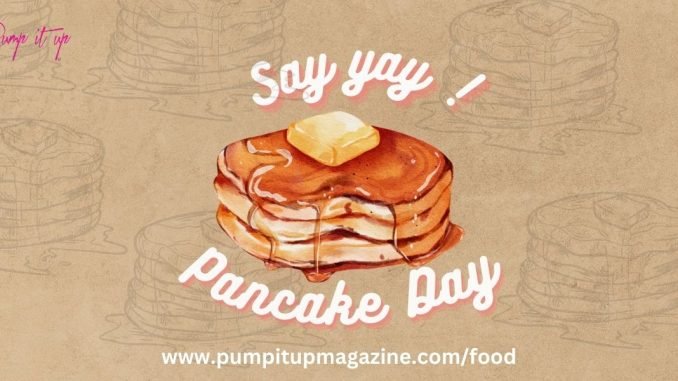 Pancake Day, also known as Shrove Tuesday, is a delectable celebration that has people around the world reaching for their spatulas and flipping their way to pancake perfection. This joyous occasion, falling on the day before the solemn period of Lent, is a time to indulge in the fluffy, golden goodness of pancakes. Whether you're a seasoned pancake pro or a novice in the kitchen, Pancake Day offers the perfect excuse to whip up some mouth-watering creations. In this article, we'll take you on a culinary journey filled with irresistible pancake recipes that will leave you craving for more.
Classic Buttermilk Pancakes
Let's start with the basics – classic buttermilk pancakes. These tender and slightly tangy pancakes are a crowd-pleaser. Serve them with a generous drizzle of pure maple syrup, a pat of butter, and a sprinkle of fresh berries for a timeless breakfast delight.
Blueberry Bliss Pancakes
Elevate your pancake game with a burst of juicy blueberries. Fold these gems into your pancake batter for a burst of fruity sweetness in every bite. A dollop of whipped cream on top adds an extra layer of indulgence.
Nutella-Stuffed Pancakes
For all the Nutella enthusiasts out there, this one's for you. Create a Nutella surprise by spreading a spoonful of Nutella between two pancake layers. The result? A warm, gooey, chocolate-hazelnut delight that's perfect for satisfying your sweet tooth.
Savory Spinach and Feta Pancakes
Pancakes don't have to be all about sweetness. Try savory spinach and feta pancakes for a flavorful twist. The combination of fresh spinach, creamy feta cheese, and a dash of garlic creates a pancake that's both hearty and satisfying.
Zesty Lemon Ricotta Pancakes
If you're looking for a pancake with a delightful zing, look no further than lemon ricotta pancakes. The addition of creamy ricotta cheese and a touch of lemon zest makes these pancakes incredibly light and refreshing. A dusting of powdered sugar adds the perfect finishing touch.
International Pancake Adventures
Why limit yourself to just one type of pancake when the world offers a smorgasbord of pancake variations? Explore global pancake traditions, from French crêpes to Indian dosas. These international recipes will transport your taste buds to far-off places.
Create Pancake Art
Pancake Day is not just about savoring pancakes; it's also an opportunity to get creative. Experiment with pancake art by using different colored batters to draw fun shapes and designs. It's a playful way to engage with your food and delight your family and friends.
Join the Pancake Day Feast
Ready to embark on a pancake journey filled with flavor and flair? Join our newsletter for these mouth-watering pancake recipes and more. Whether you're flipping for a sweet treat or a savory sensation, our recipes cater to every palate and skill level.
In conclusion, Pancake Day is a celebration of culinary creativity and indulgence. It's a time to savor the simple pleasure of pancakes in all their delightful forms. So, don your apron, heat up the griddle, and let the flipping festivities begin! As you enjoy these delectable pancakes, remember that Pancake Day is not just about the food; it's about the joy of sharing a delicious meal with loved ones. Happy Pancake Day! 🥞✨