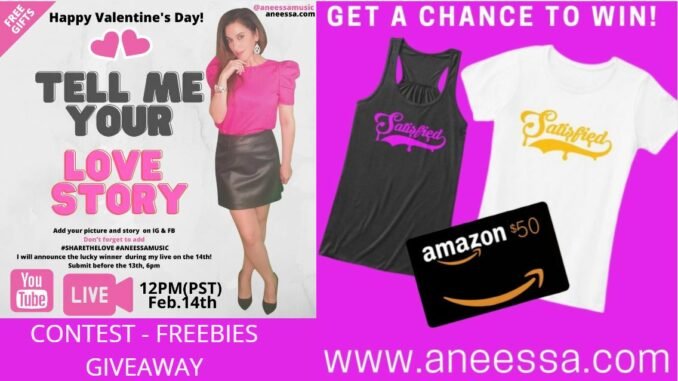 Tell  us your LOVE  STORY of how you met the love of your life — be it romantic, funny, sweet or even odd. We want to hear it all!
And if you wrote a song about it please attach the song to it!
We will announce the winner on Aneessa Music Live YouTube channel- Live Music Show on Valentine's Day!  Feb. 14th 12pm
Enter to win $50 amazon gift card
and story featured on
www.pumpitupmagazine.com
–
What you need to do!
First, make sure you enter your email adress here >>
https://mailchi.mp/afd793727fa0/freemp3backtolife
Add your picture, write your story on your description box on IG and FB with
#ShareYourLovecontest
#aneessamusic
AND AneessaMusic
Tag @aneessamusic @pumpitupmagazine
All entries are due by 6 p.m. Feb. 13
Make sure you subscribe to Aneessa Music channel
https://www.youtube.com/c/AneessaMusic?sub_confirmation=and
click on the bell button to set your reminder!
–
Aneessa – Live Feb. 14th 12pm – Tell me your love story – Enter to win free gifts!
Will be live Live Feb. 14th 2pm
Don't Forget To Subscribe "Aneessa Music" Channel
Produced by Michael B. Sutton –
Label : The Sound Of L.A.
Produced by Michael B. Sutton –
Label : The Sound Of L.A.
–
–