I have known a thirst for my history while a child in Oakland California, listening to the stories of my elders, as we came together in the tribal conditions of our past. A system which was inscribed upon our souls by our history of survival and proliferation. The great traditions of our oral history, which can be traced back to the shores of our African ancestors. A system which became part of our organic fiber, so that we could endure and meet the challenges of racism, so that we could " ROLL ON ", regardless of the bumps and potholes upon our road. My title reflects upon the story of the "JOHNNY CAKE ",  which I have a 1934 edition, which tell the story of a mystic journey of  the " ROLLING JOHNNY CAKE ".
When I was growing up, JOHNNY CAKE was part of our diet,  but we called it " HOT WATER CORNBREAD ", which always made my greens and beans smile on my dinner plate. It was also called hoe cakes, ash cakes, etc., but shared the basic ingredients. African Americans are known by many names, but we all are comprised of a shared experience in history, though some of us choose not to.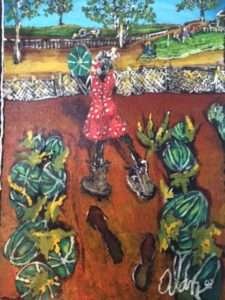 I have collected primarily African American historical artifacts, ephemera, photos, and books, as a detective might collect evidence of a crime. I recently donated over 30 artifacts to the African American Museum of History and Culture Washington D.C., for their  new exhibit entitled " We Returned Fighting ", which required me to give of my treasure unto the public, consisting of 20 years of research and collection acquisition. I gave of my treasury for a greater cause, so that people would  gain insight unto a complex time.
In reflection  upon our history, and how it is juxtapose to our current times, I find that the viewpoint of those profiteering on the slave trade is still present today. We have been culturally and socially manipulated away from the experience collective action, and through mass media and social marketing we have been redirected from building unity.  We have been excluded from engaging challenges which affect our state of progress, we no longer march in unity to correct that which is wrong or in error.
Oh how amazing is our history, for it has been purchase by the loss of many lives, and the suffering in conditions which feed the virus which attacks our well being. History is a significant piece of our survival, for history measures our actions and inaction, our success and failures. It is my belief that embracing our history is necessary to build our future.
Each period of our progress has been faced with severe challenges, which seems to act like a reset button, impeding and stifling our progress.  We have demonstrated through history our value unto America, we have participated in every American action to preserve liberty, but we have been denied liberty.
I remember times growing up in Oakland, where Real Estate Covenants restricted Negroes from purchasing homes in North Oakland , but then we were allowed to purchase homes in North Oakland. Though we were not in Mississippi , we still felt the racism applied to COLORED PEOPLE . Now the cycle has returned, and people of color are now transitioning to BLUE TARP VILLAGES , while a new class of people are taking over the neighborhoods where we once grew.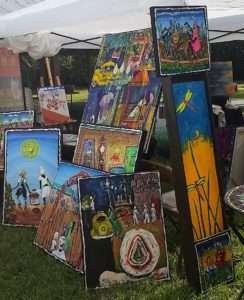 I remember there was a WHITE neighborhood "IDORA PARK ", which was once an amusement park, evolved in the midst of post WWII African American home owners. Though there were no signs which banned COLORED FOLKS , the unwritten code was enforced  by Oakland Police, and by our parents warning us not to step on their sidewalks.
It was the 1950's , less than 100 years from legal slavery, it seems that there were no visible JIM CROW signs,  but it was a JIM CROW state of being. As a child we were taught how to survive JIM CROW, while standing at attention every morning quoting the Pledge of Allegiance , guided by a white teacher. We sat in our class rooms listening to records or reading books of " Little Black Sambo ", or sing from our songbooks about "OLD BLACK JOE ".
ROLL ON JOHNNY CAKE…ROLL ON ….History continues to roll on, leaving deep scars upon our surface,  ruptures in our communities, and for some a sense of hopelessness while trying to maneuver within a system, but for some it brought on an awakening. Our community  came together with a new mantra " I'm Black and I'm proud ", we were transforming into a movement of enfranchisement.
Poverty programs were implemented creating  jobs for adults and youth, making improvements and caring for our neighborhoods. We popped and snapped to a new songs from Motown, like Curtis Mayfield and the Impressions " MOVIN' ON UP", James Brown preaching to us about independent motivation and self pride. Poets, actors, musicians, dancers and playwrights began producing a plethora of soulful nutrition to feed our collective spirit.
An organizations evolved from the minds and hearts of Black visionaries, male and female, youth and the elderly, and people of color. Organizations such as the Black Panther Party for Self Defense , who became the glue for many broken pieces. The architects of the Black Panther Party for Self Defense courageously committed to seize control of our neighborhoods, building structure and having a 10 point program to guide upon.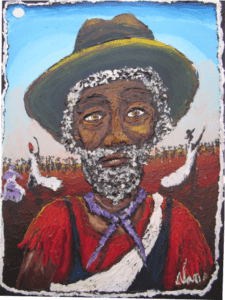 The impact of that organization, and others who focused upon raising our people up, to  instill hope during desolate times, and provide protection against ruthless treatment by local police. Those were times when it required us to commit to become active for positive change. We learned how to raise one another up, in an effort to build a future.
Roll on Johnny Cake….Roll on ! Those were times which brought some relief from what I would call "Engineered Racism", bringing new hope, but history has a propensity repeat when left unattended. Post Viet Nam War brought on new challenges to our recovery, young men returned home in broken pieces, and some never made it back, I myself returned losing the sight of my left eye, hearing loss, scars, and something called PTSD , which was not recognized by the Veteran Administration as a rated disability.
So much pain, without any answers, without a brass band welcoming you home, it was like getting into a full front loading washing machine, just turning and turning. History kept rolling and rolling…." Run Johnny Cake…Run ! I decided to put my head down, tracking down a new pathway for life.
My history has kept rolling like the Johnny Cake , our history is still running like a Johnny  Cake, our history tells us that we are invincible ,  adaptable , and flexible unto the contours of history.  It gives me hope unto things which will come, which will empower us for change.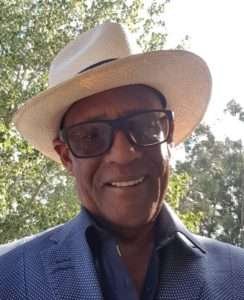 Alan Laird has been a professional artist and historical scholar over the past twenty plus years, creating art and researching  and collecting African American History. In 1996 I opened Expressions Art Gallery and Outreach Ministries, serving Oakland California and Bay Area. 
During the 1996 – 2005 time period, we implemented a conduit to feature men, women, and youth incarcerated in various institutions, giving voices unto those confined. We also provided services to the homeless shelters with children art programs , along with outreach unto our Senior communities.
In 2005 I offered my services to  U.S. Americorps Vista outreach services for the city of Miami Florida, serving Prison Re Entry and Homelessness, while continuing my craft as an artist, participating in various exhibitions, and continue my pursuit of researching and collecting artifacts to support historical fact.
In 2007, I installed from my African American artifacts the African American Rairlroad Experienced, consisting of 200 artifacts , which were installed at Miami Gold Coast Railroad Museum . in 2008, I added the African American WW1 section.  In 2016 I was contacted by Smithsonian African American  Museum, leading to my major donation to the African American Museum of some of my WW1 African American artifacts. A major exhibit will be opened in 2019, containing my donated artifacts.
This article is also featured on BLACK HISTORY MONTH EDITION – FEBRUARY 2020

 
Black History Month with Estelle California – Vol.5 – Issue #2
Dear Readers,Let us start with a moment of silence in respect to all who lost their lives on that tragic helicopter crash with included NBA legend Kobe Bryant and his 13 year old daughter Gina Bryant.Let's also pause and reflect on the many contributions African Americans have given to this…