ENTREPRENEUR/CHEF/POP-UP GURU YONATAN CHAITCHIK CURATES A NEW IMMERSIVE INSIDERS FOOD EXPERIENCE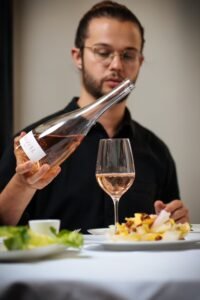 May 3, 2022 – Hollywood, CA. ———-Talented young tastemaker superstar; Yonatan Chaitchik has embarked on a new culinary model in the foodie mecca of New York City.
Monday NYC is a pop-up event. Yonatan is changing what a day off looks like. He selects groups of chefs, sommeliers, and hospitality professionals, hosting delicious food opportunities, with a different mindset and style. Chaitchik says, "We serve on our days off what we would like to eat and drink in a more casual setting, but simplicity is the key. A great simple dish with the best ingredients, paired with an excellent glass of wine, it's very relaxing for these industry professionals to kick back and enjoy." The name comes from the day hospitality workers have off; so they all get to recharge their engines, usually on a Monday. It's a novel concept, created by Yonatan that has blown up in the last few months in Manhattan and beyond.
Born in Israel, Yonatan Chaitchik honed in on his craft in some of the top restaurants in Tel Aviv, starting for Chef Eyal Shani. Then following his instincts he moved to the East Coast three years ago. Studying at The Culinary institute of America, then staging at Carbone. Yonatan Chaitchik is currently part of the opening team at Saga in New York's upscale financial district, working with Chef James Kent and Restaurateur Jeff Katz. Saga is known for its diverse cuisine, using primary European techniques, which has aided in Yonatan's overall gastronomic knowledge.
Monday NYC's menu is inspired by both techniques of the masters, and Mediterranean based cuisine. The food options change often, based on the resident chefs
vision and the season, the style of food is really dynamic. Yonatan also brings in a new sommelier and or mixologist each time, giving them the artistic freedom to stage and execute their personal ideas. Yonatan plans to do more pop ups in NYC and other US cities every week.
With so many new unique epicurean ideas, innovator Yonatan Chaitchik promises to be the hot new next wave in gastronomic culture. Twenty-six years young he has his whole life of ahead of him, always inspired and continuing to look for original ways of presenting fun cuisine. His creative juices are overflowing, ideas that only come around once in a lifetime, but this self – proclaimed events and food guru is here to stay.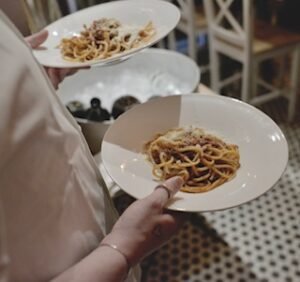 Instagram:
Media Inquiries:
Jodi Jackson
JJ Entertainment
323-356-0797
Instagram:
Media Inquiries:
Jodi Jackson
JJ Entertainment
323-356-0797
What were your earliest childhood memories regarding food?
YC: Running into my great-grandmother's house and looking for white chocolate in the kitchen. She was a brilliant cook, and so is my grandmother, I learned everything from her.
What did your family cook?
YC: My father is a very talented cook. He makes a lot of Italian food and Jewish food. My mom is obsessed with nutrition and health, so we always had amazing organic produce in the house.
What is your favorite food smells?
YC: I'm absolutely in love with the smell of fresh bread out of the oven. I grew up next to a bakery, and this smell is everything to me.
Who are your favorite local chefs?
YC: Ignacio Mattos from Estela, and James Kent from Radicle Hospitality. I admire clean and minimalistic food that bursts with flavor.
Who are your favorite celebrity chefs?
YC: Anthony Bourdain.
What does Monday NYC mean to you personally?
YC: Monday NYC for me is an outlet for young restaurant professionals to express their creativity and share it. Usually it takes years of work until you get that chance in a restaurant. Here we all get to do it on our own terms.
Do your friends and colleagues enjoy Monday NYC?
YC: Luckily my friends are huge supporters and come often to eat with us.
How do you find your chefs for Monday NYC?
YC: At the time it's been always friends of mine from the industry. I've been fortunate to work around amazing young chefs.
How do you find your sommeliers and mixologist for Monday NYC?
YC: When I go eat and drink at restaurants I hunt for people who interest me and connect with them, first, we become friends, then we can work together.
How did you start getting into event planning?
YC: Somehow at every restaurant I worked in, I found myself most attracted to the events. The spirit of this one time project made it exciting for me. When the pandemic closed the world, I was lucky enough to go back to Israel and hone my event skills with the famous Israeli event planner Dzima. He taught me so much and I'm forever grateful.
Did you have a mentor in event planning? 
YC: Dzima was my first mentor, and these days I would say my Manager at Saga, Gracie Estacio is my biggest mentor. She's a true inspiration to me, and has a rare skill set that makes her an amazing mentor and friend.
Was there a memorable recipe your mother made?
YC: My mother makes a whole wheat cake with apples and nuts, healthy and delicious.
What was daily life like back in Israel as a child?
YC: I was a very active kid after school, I was active in scouts, judo, and windsurfing.
Did your parents influence your culinary dreams?
YC: My Parents supported me endlessly through my journey. We all love food, so they were always behind me in all my culinary aspirations.
Do your siblings cook?
YC: I have one sister and she is 16, she's more on the consumer side at the moment.
What was daily life like back in Israel as a child?
YC: I was a very active kid after school. I was active in scouts, judo, and windsurfing.
What kind of ingredients did your family use for your meals?
YC: Olive oil, tomatoes, amazing bread, and tahini.
How was food sourced?
YC: My mother would spend a lot of time finding organic produce she liked, and my father would go to the market in Tel Aviv twice a week to buy meat and other stuff.
How are the grocery stores in Israel?
YC: The quality of products is quite high. We used to buy most of our stuff in the markets, and specialty stores.
Where do you grocery shop now in New York?
YC: I do almost all of my shopping in Essex Market. I live nearby, and I have great relationships with many vendors there.
How did you get your start in the culinary world?
YC: My first job came as a surprise. When I graduated from high school I went to eat at my favorite restaurant that opened a spot near my house, they said they are looking for a worker, so I randomly applied. I never thought of working in a restaurant, but after having a good conversation with the chef I decided to give it a try. After my first day at work I came back home and told my parents I found my destiny in life, I was in love.
What types of schools did you complete?
YC: I went to AOS in culinary arts from the Culinary Institute of America.
Why did you want to move to the US?
YC: New York City in the top of the world culinary wise, and I always wanted to work here for the greatest people.
Do you have a family?
YC: I have one sister and two parents, they live in Israel but we are still very close.
How does your family influence your style of cooking now?
YC: They inspire me to cook healthier.
What do you see as the new trend in food?
YC: People are steering away from international luxury towards local and fresh.
What is your favorite food?
YC: I love pasta – in any shape or form, also tomatoes and any fruit.
What is favorite region for cooking?
YC: Italian Cuisine really is a big part of who I am.
What is your favorite region for food?
YC: Right now I'm most fascinated with Turkey. I went to Istanbul before the pandemic and my mind was blown away.
What would you say is your own cooking style?
YC: Super simple, I use very few components, trying to highlight their beauty.
What is your favorite restaurant?
YC: North Abraxas in Tel Aviv. It's part of the group where I first worked in Israel, for chef Eyal Shani.
What cities have you traveled to?
YC: I've traveled all over the world for food – top destinations for me are: Bangkok, Istanbul, Hong Kong, Paris, Barcelona, Tel Aviv, and New Orleans.
What other restaurants do you enjoy outside of New York City?
YC: I had a life-changing meal at Blue Hill at Stone Barns.
What was the best culinary city you have ever been to?
YC: Istanbul, no doubt.
How do you see the food scene changing in New York in the next five years?
YC: Old School fine dining is dying away. People are looking for a more nonchalant dining experience.
How do you see your career changing in the next 5 years?
YC: I hope to open my own restaurant and event space in the next five years. Until then I want to keep working with as many people I can at SAGA, and Monday NYC.
What advice can you give a new chef starting out?
YC: Hard work is the only way to get started. The more you give at work, the more you will get back in life-long lessons.
Who would you say influenced you the most in your career trajectory?
YC: The amazing mentors I worked for, people who motivated me to be my best self.
What types of wines do you enjoy drinking?
YC: Personally, I find Burgundy the very best. I also drink a lot of German Riesling and Muscadet from the Loire Valley.
Have you done any education on wine and the wine business?
YC: Not yet, I plan to start my education through the court of Master Sommeliers.
How has the Vegan industry affected your business?
YC: The demand is higher, which forces everyone to be more creative about it.
Do you have some great Vegan recipes?
YC: My mom is vegan, so I often have to adapt my food for her.
Do you have any plans of opening a restaurant in the future?
YC: Absolutely, it's my lifelong dream, which I hope to achieve in the next few years.
What is a meal that reminds you of your childhood?
YC: Rice with meatballs, my grandmother is super talented cook and she always makes that for me.
Do you enjoy Jewish recipes?
YC: I love Jewish food, especially chicken soup!
What's your best memory of your family sitting around the table at a Jewish holiday?
YC: Once we spent Passover in the desert with family and friends. No reception or distractions, just us and the stars. It was so quiet and happy without anything but us.
Will you pass along your family recipes to your children?
YC: For sure, my father's tomato sauce and grandmother's meatballs will always be with me.