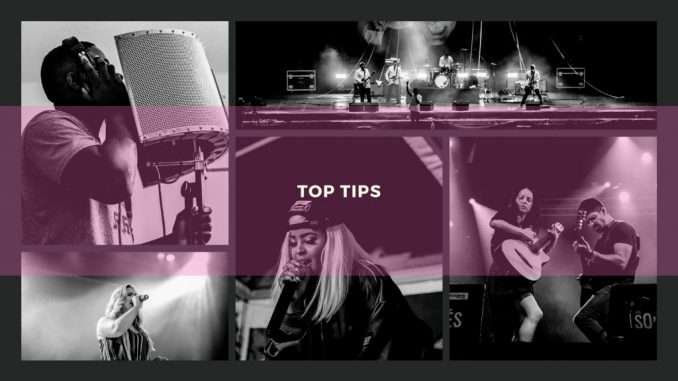 Consistently adding videos to your youtube channel is the key to getting more views and ultimately gaining more fans. Besides the standard music videos and live performance recordings, there are all kinds of other videos you can upload to keep your channel full of great content and to further promote you and your music.
If you're just getting into filming videos, it's actually quite simple. Besides all of the equipment you would normally need to perform or record audio, the only other things you should need are a webcam, a good light, and a video editing software that most computers come with these days. We personally recommend the Logitech C920x Pro HD Webcam and this best-selling ring light. After that, you should be ready to go.
Once you're ready to start filming, there are so many types of videos musicians can create to keep their fans engaged and entertained. Read on to see our list of 20 video content ideas for musicians on Youtube and hopefully, there are some new ideas here you can borrow.
1. Behind the Scenes Footage
Whether you're doing a soundcheck before a big show or are in the middle of filming your next video, your fans will enjoy getting a behind the scenes peek into your big projects.
2. Ride Along
A fun thing to do is to take your fans along with you while you run some of your musician errands, like dropping off posters, mailing merchandise, buying new equipment, etc. This can help give your followers an idea of how hard you really do have to work while allowing them to tag along for the ride.
3. Chats in the Car
Similar to the Ride Along Idea, you can record videos on your way to a show or on the road while on tour. Talk about your upcoming show(s) and how things are going, what's on your mind, etc.
4. Musician Tips
A great way to earn the following of other musicians is to share tips you've learned in your career. This could be about anything from booking, to songwriting, to recording. The sky is the limit.
5. Likes and Gripes
As long as it's done in good taste, people appreciate a little openness and honesty. You can record videos where you talk about things you like and don't like about being a musician, or challenges that you've run into and how you've overcome them.
6. Meaning Behind Your Songs
You can make these types of videos for every song you've written if you want. Record yourself talking about the song, like what it's about, what inspired you, and anything else interesting about it. Then pair that with clips of you performing the song and you'll have a really compelling video.
7. Band Practice
Practice videos can be some of the easiest to film, as you just hit record and start your practice. You'll definitely want to do some editing afterward, but you'll be surprised at how great these videos can turn out.
8. Featured Venues
Maybe you're about to perform a show there or maybe you just so happen to be in the neighborhood. Either way, you can create some great videos about your favorite venues you perform at. You can give your fans a tour of the place, talk about your favorite drinks or dishes to order, interview employees or the owner, and then pair that with clips of you performing there. The venue will love the publicity and should be happy to have you back.
9. Interviews with Other Musicians
You can film videos of you interviewing or having discussions with some of your fellow artists you rub shoulders with. At the end include clips of you performing together, even if it's not an actual gig. Then you can both post the video on your respective channels and get exposure to each other's fans.
10. Music Industry Hot topics
There's an endless supply of things to talk about when it comes to current events and the music industry. You can post videos of you sharing your thoughts on these topics with your fans.
11. Storytime
As musicians, we all have great stories from traveling on tour, meeting interesting people, and so on. Your fans would enjoy hearing you share some of these stories.
12. Unveiling New Merchandise
There's no better way to promote a new piece of merchandise than to film a video of you unboxing or unveiling it. Make it dramatic and really sell it. If it's an article of clothing, include footage of you trying it on and showing it off. Also, don't forget to include a link so that your fans can purchase it as well.
+ Related: Best Live Streaming Equipment for Musicians
+Related: How To Create a Winning Promo Video
13. Share What You're Doing
Whether you're doing something music-related like writing a new song, or an everyday thing like cooking dinner or walking in the park, it can be fun to give invite your fans in to see what you're doing in any given moment.
14. Start a Video Series
You can pick a topic, like "Artists who have inspired me,"  and then film a whole series of videos about that subject. This can keep your people coming back that want to catch each new video. Make sure you're consistent on when you post your videos, or your viewers will move on.
15. Promote a Show
If you have a show coming up soon, you can post a video where promote it. Talk about the venue, what you have planned for the show, and try to give people a reason to want to come. Make sure to include clips of you performing.
16. What's New in Your Career
Whenever you have something new going on in your career, you film videos where you share the great news with your fans and keep them in the loop.
17. Answer Frequently Asked Questions
You can take questions people often ask you about your music or your career and film videos where you answer them. You can even make a whole series of videos answering one at a time. You can also encourage your fans on social media to submit questions and then answer those in video form.
18. Fan Shout Out.
Highlight a fan or follower. Share what they said on one of your social media profiles or something they personally shared (with their permission of course). Share a short story about how you met them. Possibly include song dedications.
19. Videos Honoring a National Day.
Talk about what you're doing for the day and how you're celebrating it. This could be used for holidays or lesser-known days like National Nurse's Day or Buy a Musical Instrument Day.
20. Song Request
Ask your followers on social media what covers they would like to hear you do, then pick some of the submissions and record videos of you playing them. This would be a great way to add some new cover songs to your repertoire. Also, don't forget to give a shoutout to the fans that suggested the songs.
As you can see, there are all types of videos you can create and add to your youtube channel. The more content you have, the more views you can get, and the closer you can get to monetizing your channel. Can you think of any ideas we might have missed? If so, let us know in the comment section below. We'd love to hear them.
If you haven't seen it yet, check out our video where Anitra shares tips on how to make a great Promo Video.
Also, check out this great article from our friends at DIY Musician about how you can use the site Rotor to make great promo videos without the extra time and money.