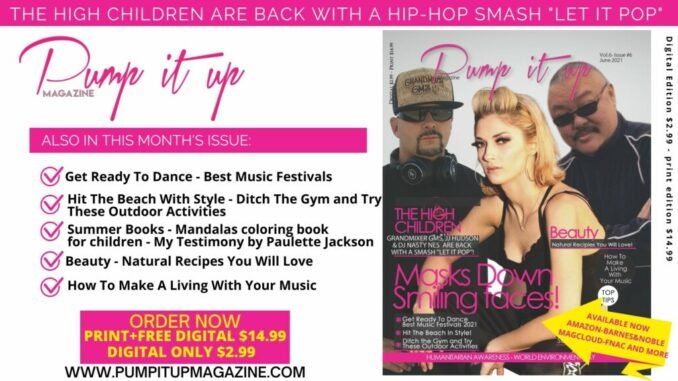 Greetings Readers,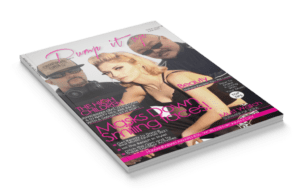 June is here and summer is right around the corner And its Black Music Month.
On the cover is the hot hip hop group High Children Their new single is slammin Let It Pop!
Check them out! Masks are off and we can now see smiling faces that we've missed for over a year . Stadiums and concert halls are starting to fill up. So are we heading back to some form of normalcy? I sure hope so !
Inside the magazine we have a great article that depicts the future of listening to music via Oculus Qwest We're talking controlling virtual reality with your mind! Become fit and in shape for the summer with tips on keeping your body moving. And there is more , but you will have to open and read to more goodies.
Tune in to Pump It Up Magazine Radio. It's your go to station for the best in hip hop/pop/r&b/soul, Jazz and more! Available now on Magcloud 
June 10th on Amazon
Amazon, Barnes&Noble, Fnac, Glose and more!
Magazine Media Assets:
Barnes & Noble:  https://bit.ly/3gaC7mi  Available June 10th
Amazon: https://amzn.to/3gaK6Qm Available June 10th
Magcloud: https://bit.ly/3g5RV9Z Available now
Facebook: https://www.facebook.com/pumpitupmagazine
Instagram:  https://instagram.com/pumpitupmagazine
Pump it up Magazine Website: www.pumpitupmagazine.com
So stay cool, it's about to get hot!
Anissa
Dear ReadersJune is here and summer is right around the corner And its Black Music Month.On the cover is the hot hip hop group High ChildrenTheir new single is slammin Let It Pop!Check them out! Masks are off and we can now see smiling faces that we've missed for over a year .Stadiums and concert halls are starting to fill up. So are we heading back to some form of normalcy? I sure hope so !Inside the magazine we…
Don't miss out on the  High Children's special feature on Pump it up magazine print and Digital Edition – Vol.6 – Issue #6 – June 2021 NOW ON MAGCLOUD
 The High Children Music Links
New "J" (NES&GMS Remix): https://youtu.be/sYiRU03KOEg
JJ HUDSON 
SPOTIFY
https://open.spotify.com/artist/4aPUpB0qWMiQWBESseGGTs?si=2oxJHej3RNKA-zjSCdG7wQ
AMAZON
https://www.amazon.com/dp/B08T9X83G2/ref=cm_sw_r_cp_awdb_8F2ZW7FCQC86BZYJZA2E
APPLE I-TUNES
https://music.apple.com/us/album/banger-banger-edm-mix-single/1549418347
YOUTUBE
https://youtube.com/playlist?list=PLEosXrZpHfuZn6JHjN6U4F8jM0DMdC6bE
THE HIGH CHILDREN
SPOTIFY
https://open.spotify.com/artist/5JfIpKDUb0yjBk0tPB4CFF
DJ 3rd DEGREE
SPOTIFY
https://open.spotify.com/artist/2nHJQ2KvzfE4mqpc2hZnbh
GRANDMIXER GMS
 SPOTIFY
https://open.spotify.com/artist/0Aw2zDXRK9taVZwUwMlmyD
AMAZON
https://www.amazon.com/All-Things-Must-Come-Blend/dp/B08JG84W4V
BANDCAMP
https://grandmixergms.bandcamp.com/releases
https://tairrieb.bandcamp.com/track/nasty-woman-grandmixer-gms-remix
https://tairrieb.bandcamp.com/track/truth-bomb-grandmixer-gms-remix
MIXCLOUD
https://www.mixcloud.com/GrandMixerGMS/
SOCIAL MEDIA LINKS:
THC
https://www.instagram.com/thehighchildren/
https://www.instagram.com/thehighchildren_music/
https://twitter.com/TheHighChildren
JJ HUDSON
https://www.instagram.com/iamjjhudson/
https://www.instagram.com/jjhudsonmusic/
https://www.instagram.com/jjhudsonmodel/
https://www.tiktok.com/@iamjjhudson
NASTY NES
www.FaceBook.com/KFOXNIGHTBEAT
DJ 3RD DEGREE 
Twitter & IG: @DJ3rdDegree
Facebook fan page: @therealdj3rddegree
GRANDMIXER GMS
https://www.instagram.com/grandmixergms/