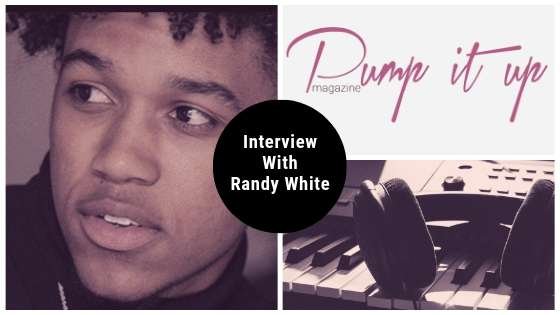 The Los Angeles born singer/songwriter, Randy White, looks to become a force in today's music business.  Growing up in artistic households, Randy was exposed to a wide variety of R & B, Soul, & Hip-Hop music. He recalls "singing with Marvin Gaye on the classic What's going on." It was the emergence of Chris Brown and the jam "Kiss Kiss" that awakened a passion in Randy that led to expressing himself through song. After a string of Sound Cloud singles, the CA college student Presents: "Love Jones,"( release May 3, 2019.) an 8-song peek into the diary of a young man discovering Love. The smooth vocals and mature harmonies solidify hooks that weave through new-generation beats and production. The result is a refreshing representation of tomorrow's R & B, "It speaks of Black, Red, Yellow, and White."
1. Hello Randy White. Can you tell us about yourself?
I am an R&B artist and a college student from LA (Go Lakers). I have been writing music since high school, making beats since middle school, and singing all my life. I'm very into fashion and my favorite holiday is Thanksgiving simply because every year my mom cooks up the meanest Mac n' Cheese you'd ever have.
 2. What inspires you to become a singer?
To start, everybody in my family sings; my mom, dad, and big sis. Singing in the car, at home, at school, and now on my records, I would sing any chance I got. This is what inspired me to begin singing but what continues to inspire me to sing today is Life. Everything about my life inspires me to write, sing and perform.
3. Who are your musical and non-musical influences?
My musical influences are Eric Bellinger because of his ability to tell stories within his songwriting, Musiq Soulchild because of the way he is able to perfectly back his main vocals with harmonizing background vocals, and Chris Brown because of the energy and swag that he gives off in every song. Non-musically, Kobe is a huge influence on me. The work ethic, the hunger for success, and the "go get it" attitude that Kobe possesses are traits that I strive to have every single day. Lastly, my Granddad. Though I never met my Grandpa, I've always felt his presence, that's why his nickname "Hawk" is tattooed on my arm. Knowing that he will always be watching over me makes me want to be better and better every day , and grow even stronger.
4. Who came up with the name of your single and your album… and why?
The process of creating my debut album "Love Jones" all began with the beats. Any time I would make a beat that had my head bumping, ideas for song concepts would immediately flow. In the midst of freestyling to the beat of my single, "I just wanna hear you scream" came out and from then, the name "Scream" seemed to be the logical title. After picking the eight songs that would make my album and listening to the album in its entirety MANY times, a common theme of indescribable love caught my attention. Out of all the possible album titles, "Love Jones" stuck with me the most. The thought of being so in love that you can't describe it yet you can't be without it is what this album is about. The title "Love Jones" perfectly sums this up.
5. The Entertainment Industry is constantly changing. Where do you see yourself in the next 5 years?
I see myself still learning and exploring new ideas. There are so many people I want to work with and so there is to much gain in just five short years. I want my music to be a driving force for many different things. I intend to be a successful recording and touring artist. I want to establish my clothing line. I'd love to build a Youth Basketball Academy. Oh, and being invited to the NBA Celebrity Basketball Game would be nice!
6. What would be your dream project?
My dream project is to do a full album with Chris Brown. Our similar styles would blend really well together while our differing voices and flows would keep the project interesting. 
7. What do you do for fun when you are not on stage or recording music?
Through the majority of my life, music has always shared the spotlight with basketball. I will always have a special love for basketball. When I am not doing music, you can often catch me on the court playing pick-up or shooting around. 
8. Is there anything else you would like to mention? 
My love for music, as an art, is unbreakable. I remember searching for new music on my dad's desktop computer trying to find my "new favorites". I would always try to find songs that were better than my favorites at the time, and this caused me to do the same with my own music. When I began recording my own songs, I never wanted to stop. Every song I would make brought me right back to my computer and microphone only to top the song I had just made. This is how I am today. No matter where I go and where I get to with my music, my determination to keep improving and growing will never leave.
Randy White will be featured on the next printed and digital edition of PUMP IT UP MAGAZINE ( Summer Edition) Stay Connected!