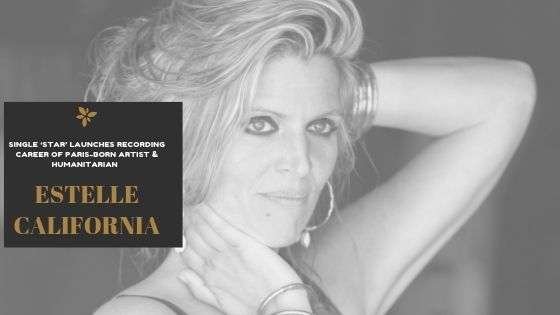 Song Paves Way for EP ''My Name Is Freedom". Features Studio Pros Producer/Drummer Narada Michael Walden and Guitarist Vernon "Ice" Black!
French import Estelle California brings a lifetime of experience to "Star," the lead single from her upcoming EP ''My Name Is Freedom"
The debut single ''Star'' landed at all streaming services and download stores on July 26.  EP ''My Name Is Freedom" will be released In The Fall 2019
The Paris-born singer, pianist and saxophonist gets support from acclaimed Grammy winning drummer and producer Narada Michael Walden,
who has produced such major stars as Mariah Carey, Aretha Franklin and Whitney Houston.
Walden is featured throughout Estelle's EP, as is session star Vernon "Ice" Black, whose credits include Diana Ross, Kenny Loggins and Babyface.
"Star" and "My Name Is Freedom" also benefit from studio pro James Henry (Merl Saunders, Joey DeFrancesco, Marvin Sease) and veteran vocalists Larry Batiste, Cornell Carter and Tony Lindsay.
At the centre of it all, though, is Estelle, whose musical path began at age 5 when she began studying classical piano.
Later she became an avid dancer and studied saxophone, but truly found her voice—musically and metaphorically—when she began professional opera training at age 26.
While music always provided a refuge from an abuse-riddled childhood, Estelle became freer than ever to make music her life when she moved the U.S. in 2013.
She instantly felt more at home in Oakland, Calif., than she had anywhere else. Inspired by the city's energy its diverse population and the absence of prejudice and judgment among people of so many different cultures, she adopted California as her last name and plunged into composing, recording and performing.
The anthemic lead track "Star" serves as the artist's declaration of independence while its lyrics inspired the title of Estelle's upcoming EP.
Loping in a pocket stitched from soul, pop and jazz, the song sets the tone for the messages of spirituality and empowerment that permeate My Name Is Freedom.
Estelle says "Star" is the song "where I go each time I lose my essence or purpose.
It is a soul signature song and it is healing and empowering. I hope anyone who feels oppressed either by prejudice or personal circumstance can find their voice in 'Star' and the other songs on my EP."
More information available on Estelle California from her website  www.estellecalifornia.com