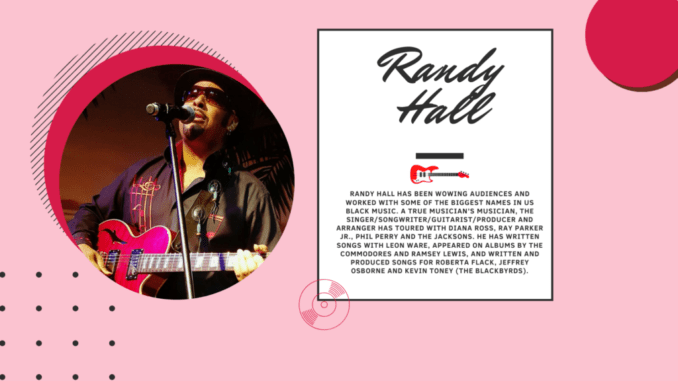 Soul Singer Randy Hall Is On a Hot Streak with New Solo Single "A New Way of Love" Following Vault Hit with Late Jazz Legend Miles Davis
Soul Singer Randy Hall Is On a Hot Streak with New Solo Single "A New Way of Love" Following Vault Hit with Late Jazz Legend Miles Davis
After years spent in lucrative retreat from the spotlight, multi-faceted musician/singer Randy Hall is in the midst of a hot streak as a recording artist as hot as his home base: Las Vegas!
Randy Hall has enjoyed international chart-topping success with his solo single "How Do You Want Your Love" (co-composed with Kevin Toney, founding keyboardist of Donald Byrd's Blackbyrds band) which vaulted over superstars such as Charlie Wilson and Usher to hit the top of the U.K. Soul Chart and several others from Brazil to Germany. Next, Hall had the honor of hitting the top of those same charts with a song he originally wrote in the `80s for Al Jarreau to sing as a guest of Miles Davis on an album that was ultimately shelved for decades. That swingin' song, "I Love What We Make Together" (from 2019's jazz chart-topping posthumously released Miles album, Rubberband) also shot up the world charts.
Now Randy Hall is firing back by dusting off a song from his archives entitled "A New Way of Love" that is even stronger than its predecessors. In a review for the digital magazine Pump It Up, the writer exclaimed, "The chorus has a sweet ear-bending harmonic surprise kissed to life by backup singers Medina Johnson and Patrice 'KP' Isley while the rhythm track gives those mature enough to remember a masterful Barry White vibration. The only things this 4-minute single edit lack are a mid-song breakdown, a sexy spoken mack laid on thick over the top and a guitar solo from master-picker Hall." This entry is so smokin' hot and ready for spring/summer that Hall is doing an intensive promotional push for it to sail up the charts at American Soul radio outlets from Sirius satellite to terrestrial stations from coast to coast. Irresistible to the heart and impervious to burnout, "A New Way of Love" will give longtime lovers of real soul music reason to fall in love with Randy Hall all over again.
Randy Hall first sprang to international attention at the young age of 21 circa 1981, co-writing and singing "The Man with The Horn," the title track of jazz legend Miles Davis' first album in six years after a self-imposed hiatus for health reasons. Hall also co-composed and played guitar on the instrumental "Shout," the lead single from The Man with The Horn that reintroduced him to the marketplace. In short order, Hall was recruited to be a member of established funk band Pleasure for one album followed by releasing two solo albums on the major label MCA Records executive produced by kindred singer/guitarist spirit Ray Parker Jr.: I Belong To You (1984) featuring "Jamie's Girl" (Top 10) and Love You Like a Stranger (1988) featuring "Slow Starter" (Top 30).
Now after spending the last two decades working behind the scenes as a producer, talent scout, songwriter, film and television scorer, and Las Vegas strip performer, Randy Hall has come full circle to reclaim his soulful rightful spot in the forefront.
Randy Hall is ready to show the universe "A New Way of Love"…and, oh, is it what the world needs now!
Review by A. Scott Galloway
Grab your copy today, and read our exclusive interview with Randy Hall!
Pump it up Magazine – Randy Hall – Vol.5 – #5
Greetings Pump It Up Magazine Readers,We hope all of you are well and safe and our prayers go out to all the families that have been affected by this epidemic. It's a different time we're living in and what is the new normal going to look like? Well, one thing that's normal is the ability…
Randy Hall has been wowing audiences and worked with some of the biggest names in US black music. A true musician's musician, the singer/songwriter/guitarist/producer and arranger has toured with Diana Ross, Ray Parker Jr., Phil Perry and The Jacksons. He has written songs with Leon Ware, appeared on albums by The Commodores and Ramsey Lewis, and written and produced songs for Roberta Flack, Jeffrey Osborne and Kevin Toney (The Blackbyrds).
Don't forget to subscribe to my YouTube Channel and click on the bell to receive new notifications!