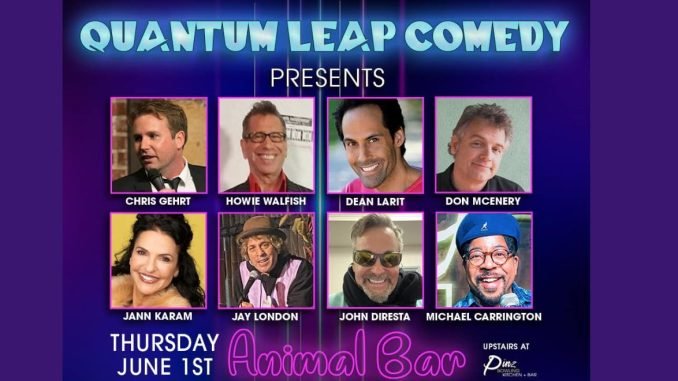 Are you ready for a night of side-splitting laughter and unforgettable entertainment? Look no further! Quantum Leap Comedy Night is hitting Studio City, and it's an event you won't want to miss. Hosted at Animal Bar inside #PinzLA, this comedy extravaganza promises to take you on a hilarious journey through time and space. So mark your calendars, gather your friends, and prepare for an evening of non-stop laughter!
Happy Hour and Comedy Show: The fun begins with Happy Hour from 8pm to 9pm. Make sure to arrive early and take advantage of fantastic drink specials, as we all know that a good beverage complements the joy of laughter perfectly. Sip on your favorite cocktails or enjoy a refreshing beer while mingling with fellow comedy enthusiasts.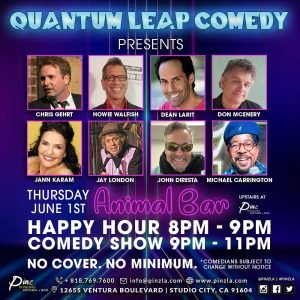 At 9pm, the curtains rise, and the comedy show kicks off, running until 11pm. Get ready to be blown away by the talent and wit of our incredible comedians. They will transport you to a world where laughter knows no bounds, offering a night of pure comedy gold. Prepare to laugh until your cheeks hurt and create memories that will last a lifetime.
No Cover, No Minimum: We believe that laughter should be accessible to everyone, and that's why there's no cover charge or minimum spend for Quantum Leap Comedy Night. Grab your friends, colleagues, or even your neighbor, and head over to Animal Bar for an unforgettable night of laughter. Leave your wallets at home and let the good times roll!
Location and Contact Information: Quantum Leap Comedy Night takes place at Animal Bar inside #PinzLA, located at 12655 Ventura Blvd, Studio City, CA 91604. For any inquiries or to reserve your spot, you can reach them at (818) 769-7600. To learn more about the event and other offerings, visit their website at https://pinzla.com/.
Spread the Word: We want everyone to experience the joy of Quantum Leap Comedy Night! Help us spread the word by sharing this article with your friends and family. Tag them in the comments section below, and let them know about the comedy event of the week. Use the hashtag #laughtertherapy and #StudioCityLaughs to join the conversation on social media.
Quantum Leap Comedy Night is the ultimate laughter-filled extravaganza you've been waiting for. With Happy Hour specials, a star-studded comedy lineup, and no cover charge, it's the perfect way to unwind, de-stress, and have a fantastic time with friends.
Head over to Animal Bar inside #PinzLA, located at 12655 Ventura Blvd, Studio City, CA 91604, and be prepared to Quantum Leap into a world of comedy brilliance. See you there!
Share this social media post to all your friend and mention @pumpitupmagazine! 😉 thank you
🎉🚀 TONIGHT! (6/1) Quantum Leap Comedy Night is here at Animal Bar inside #PinzLA, and it's going to be EPIC! 🎭😂 Join us for a laughter-filled extravaganza that'll blow your mind! 🎉✨
🕗 Happy Hour: 8pm – 9pm
Comedy show: 9pm – 11pm
No cover, no minimum spend. See you tonight! #comedynight
📍 Location: 12655 Ventura Blvd, Studio City, CA 91604
📞 Tel: (818) 769-7600
🌐 Website: https://pinzla.com/
Spread the word, tag your friends, and make it a night to remember! Don't miss out on the comedy event of the week! #laughtertherapy #StudioCityLaughs