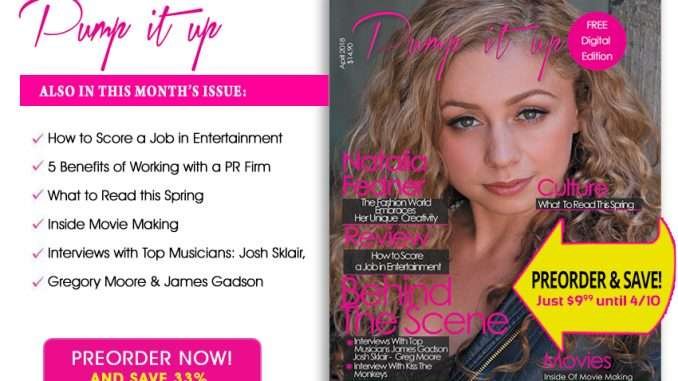 Dear Readers,
It's Spring!! The warmer weather is upon us and summer is just around the corner..
Spring is also a time for pulling out the old things you don't want and giving a garage sale or just plain spring cleaning.
But some things that you never noticed in your house you just don't throw away and realize how valuable they are.
This month we are celebrating musicians that a new generation may not know of their value and history. James Gadson, Josh Sklair, And Gregory Moore.
And our cover story features talented designer, Natalia Fedner designer for the stars.
We hope you enjoy this months Spring edition. And don't forget to tune-in to Pump It Up Magazine Radio to listen to your favorite artists both independent and major.
Pump it up magazine | APRIL 2018
Dear Readers,Its Spring!! The warmer weather is upon us and summer is just around the corner..Spring is also a time for pulling out the old things you don't want and giving a garage sale or just plain spring cleaning.But some things that you never noticed in your house you just don't throw…
Print edition delivered to your door ! Order it Now To Pre Order APRIL 2018 Edition : Click here https://form.jotformeu.com/60833489040355
Credit : photo of Natalia Fedner for front cover : Nicholas Paulos
Inside magazine photo of Natalia Fedner :  Yoshawn Smith, Emma Dunlavey, and Amanda Smith