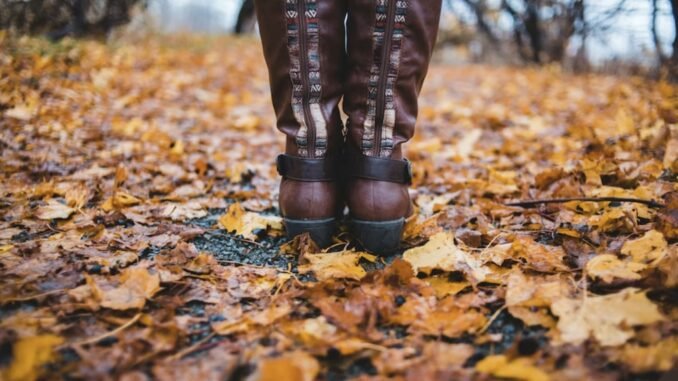 The season of pumpkin spiced lattes and cosy knits is upon us once more. The leaves are falling and the weather is changing, time to refresh your wardrobe again. As the season changes, Autumn is the best time to grab yourself a new pair of platform boots in time for the colder days and chilly evenings.Perfect for keeping your feet warm and cosy, while offering durability and comfort to last you all season long. 
With this guide, you'll find some top tips for finding the perfect pair of platform boots and some styling tricks to create some ultimate Y2K, Nostalgic autumn realness. 
Finding the perfect platform boots for AW22 
If you're on the hunt for a new pair of stylish platform boots for fall, this guide has you covered. 
When searching for a new pair of boots, you should always consider a few essential factors, these include: 
Materials

Durability 

Comfort 

Style

Height 
Materials 
First things first, the material is absolutely vital. With the cold weather incoming you need to consider the rain, snow, hail and more. If your feet are to be kept warm and dry, the material of your boots should be protective and waterproof. 
For sustainable queens who prefer to shop for ethically-made vegan boots, using vegan leather and ethical materials, there are plenty of vegan footwear brands offering quality vegan boots at a range of price points. 
Durability 
Second to the material, but goes hand-in-hand, is the durability of the boots you are buying. When the material is weather resistant, your boots will offer the durability you require to make them last all season long! There's nothing worse than having to buy a replacement pair of boots mid-season. 
Comfort 
When it comes to buying any new pair of shoes, one essential thing you will want to consider is comfort. Despite wishing to look super hot and sexy in your new pair of platform boots, there's nothing worse than begging your mates for a blister plaster after only a short hour of wear. 
The good thing about a platform boot is that while the platform adds some height to your look, it also offers some cushioning for your soles, so you won't feel like you're walking on needles all day – what a relief! 
Style 
Finally, but no less important, is the style of your choice of boots. Currently, everyone is loving the Y2K trend, bringing back the fun fashion years of the noughties. Platform and chunky boots are reminiscent of years dressing up as the spice girls – the bigger the platform the better. 
How to style platform boots for Autumn 
For those looking to create the ultimate Y2K fit for autumn, simply pick from a range of chunky platform boots in your choice of fun colors to pair with a mini skirt, and a cropped jacket. 
Alternatively, a black or brown pair of boots paired with a knitted jumper, skirt and some over the knee socks, will create the perfect preppy look for Autumn.