Originally from Venice, California, singer and songwriter Nicollette Sullivan has dazzled audiences with her spellbinding talent and grace. Her unique musical perspective is shaped by influences like Billie Holiday, Etta James, Josephine Baker, Ella Fitzgerald, Nina Simone and the fusion of elements from Jazz, R&B, Blues, Gospel, and Pop music genres. Nicollette Sullivan's distinct musical tastes have fueled a stunning new single, which is a cover of the synth-pop classic originally performed by the Eurythmics, titled Sweet Dreams.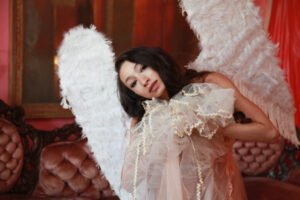 Amazingly, Nicollette Sullivan breathes a whole new life into Sweet Dreams from the vantage point of a jazz singer. The track totes an organic terrain that features an elegant stream of jazzy swing drums and upright bass. In the course of this musical conversation, we discover some very crafty piano measures and enchanting guitar strums that incite the listener into its warm gnosis.
Nicollette Sullivan is able to make Sweet Dreams her own with an inventive and equally seductive vocal performance that transforms the meaning of the song without even changing the tune's words. She is not only able to turn Sweet Dreams into something soulful but give the title a sense of personal charm. The rich texture of Nicollette Sullivan's voice and her range as a singer enlivens Sweet Dreams in a way that is totally unimaginable. Sweet Dreams is out now.
The song is the first single from Nicollette Sullivan's self-titled and debut album "Nicollette," which is slated for release on May 21, 2021 by For Artists Records.
This multi-talented songstress is sure to capture your heart by the integrity she possesses for music.
The single for "Sweet Dreams (Are Made of This)" reached at Number 1 on the Billboard Hot 100 and Number 2 in the UK. In the rest of the world, the song reached the Top 10 in the charts in more than a dozen countries. Part of the single's success has been attributed to MTV, which played the video repeatedly. Stewart said he and Lennox had wanted something "weird and dreamlike. So we mocked up a record-company boardroom in a studio in Wardour Street and put a cow in it, to signify reality. There we were: Annie and I laid flat on a table, and this cow, which was peeing everywhere."
Don't miss out on Nicollette Sullivan's exclusive interview on PUMP IT UP MAGAZINE  print/digital edition – Available March 1st on Magcloud – Amazon-Barnes&Noble- and more..
To know more about Nicollette Sullivan, please visit:
Artist website:  http://forartistsrecords.com/
Instagram:  https://www.instagram.com/nicollettesullivan/
Facebook:  https://www.facebook.com/nicollette.sullivan
–
CD Pre-order link:  https://unablerecords.limitedrun.com/categories/nicollette-sullivan
Nicollette (full album) – release date 5/21/21 – https://backl.ink/144389847
Sweet Dreams (single) – out now – https://backl.ink/144422882
Strychnine (single) – release date 3/19/21 – https://backl.ink/144422884
Starchild (single) – release date 4/16/21 – https://backl.ink/144422880
Nicollette Sullivan Biography:
Singer-songwriter Nicollette Sullivan is a unique and refreshing new voice on the modern music landscape. Her sultry, seductive, vocal style combines elements of Jazz, R&B, Blues, Gospel, and Pop. Nicollette's lyrics range from ethereal, light hearted and mystical to thoughtful, emotive, dark and introspective. Growing up in Venice, California Nicollette had a passion for musical theatre at an early age and was exposed to a wide range of music including EDM, Hip Hop, R&B, Rock and Mainstream Pop, but found herself gravitating to classic old school Jazz and Blues artists such as Billie Holiday, Etta James, Josephine Baker, Ella Fitzgerald and Nina Simone. More recent influences include Lana Del Rey, Sade, Rihanna, Nora Jones and Amy Winehouse. Nicollette also found herself visually inspired by the classic "Old Hollywood Glamour" of 30's, 40's and 50's cinema and film, featuring the likes of Marilyn Monroe, Audrey Hepburn, May West, Marlena Dietrich and Joan Crawford. Nicollette combines the visual and musical influences of these genres among others to create a refreshing and unique listener/viewer experience with each song and video.
Nicollette Sullivan's debut studio album entitled "Nicollette" is slated for release on May 21, 2021 by For Artists Records. The album was recorded in Eagle Rock, California, with the tracks including guest appearances from studio session luminaries such as Lee Thornburg (Chicago, Arron Neville, Ray Charles , Bonnie Raitt), Jimbo Ross (Christina Aguilera, Whitney Houston, Beyonce, Mariah Carey), Ed Roth ( Annie Lennox, The Brothers Johnson, Sofie B. Hawkins), and Tony Mandracchia ( Ray Charles, Ruben Studdard, Judith Hill, David Foster, Edgar Winter).