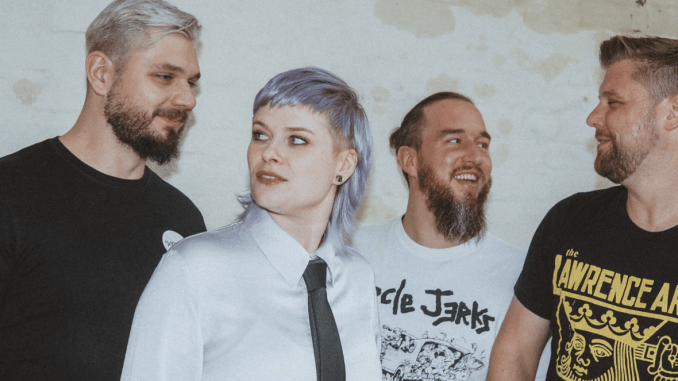 The German punk rock/punkabilly band, The Bloodstrings, has unleashed their latest album, 'Heartache Radio,' and it is a rollercoaster ride of raw emotion, powerful lyrics, and infectious melodies. Produced by the acclaimed DONOTS at Heavy Kranich Studio in Münster, this record showcases the band's growth and evolution while staying true to their punk rock roots.
The album kicks off with their single "Don't Die," a poignant track that carries a deeply personal message. The band members have experienced profound losses and struggles with depression, and this song serves as a rallying cry to never give up. It's a deeply moving and emotional track that sets the tone for the entire album.
'Heartache Radio' presents The Bloodstrings in a new light, exploring themes that go beyond their usual zombie and demon narratives. This time, they delve into political and socially critical issues, tackling topics like sexism and the demons that reside within our society. While still touching on their signature themes of love, depression, alcohol, and the longing for freedom, the band's lyrical depth shines through in every song.
Musically, the album is a testament to The Bloodstrings' versatility and musicianship. The combination of punk rock and punkabilly elements creates a unique sound that is both nostalgic and fresh. From fast-paced and energetic tracks to slower, more introspective moments, the band shows their ability to navigate different musical styles and maintain their distinctive punk edge.
The production quality of 'Heartache Radio' is top-notch, courtesy of the talented DONOTS. The album sounds crisp, with each instrument and vocal line perfectly balanced. The raw energy and intensity of The Bloodstrings' live performances are captured flawlessly, giving the listener an immersive experience from start to finish.
Standout tracks on the album include the anthemic "Don't Die," the infectiously catchy "Heartache Radio," and the hard-hitting "Breakout." These songs showcase the band's ability to create memorable hooks and melodies that will undoubtedly have listeners singing along and craving more.
Overall, The Bloodstrings' 'Heartache Radio' LP is a powerful and compelling release that proves their prowess as a punk rock force to be reckoned with. It's a fearless exploration of personal struggles, societal issues, and the indomitable spirit of the human condition. With their passionate performances and thought-provoking lyrics, The Bloodstrings have created an album that demands to be heard.
Be sure to check out 'Heartache Radio' on streaming platforms, and don't miss the accompanying music video for "Don't Die." The Bloodstrings have undoubtedly crafted a record that will leave a lasting impression on punk rock and punkabilly fans alike.
Connect with The Bloodstrings on Facebook and Instagram to stay updated on their latest news and upcoming shows. The album is released under Dackelton Records, and their Facebook page is a great source for more information. Also, be sure to check out Broken Silence Distro on Facebook for more punk rock goodness.
Written by Anissa Boudjaoui Sutton
www.facebook.com/thebloodstrings
www.instagram.com/thebloodstrings
+++
www.facebook.com/Dackelton.Records