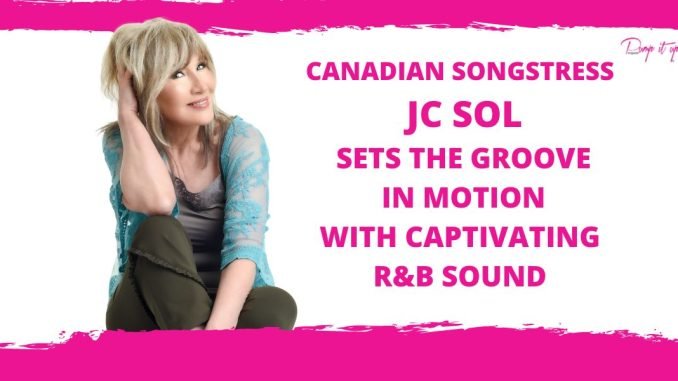 JC Sol, the dynamic Canadian-born singer/songwriter, is making waves in the music industry with her soulful and refreshing R&B sound. Drawing inspiration from the timeless grooves of Motown, Philly sound, and classic R&B, JC Sol has crafted a musical style that bridges the gap between retro and modern, capturing the essence of both eras in a unique and captivating way.
Having already left her mark on the music scene in the 80s, JC Sol embarked on a journey of self-discovery and musical evolution. After a well-deserved hiatus, she returned with renewed passion and an undeniable talent for songwriting. Her recent releases, including the enchanting hit "Our Groove," have garnered widespread recognition, showcasing her ability to craft emotionally resonant lyrics and deliver them with a smooth and sensual vocal prowess.
"Our Groove," released in March 2022, achieved international acclaim, landing on playlists and airwaves across the globe. The song's infectious hook and harmonies, expertly produced by Lou Bartolomucci and Michael Shotton, earned it a spot among the top ten finalists in the prestigious "World Songwriting Awards" for Best R&B Song of 2022. JC Sol's ability to infuse her music with depth and meaning through her songwriting process has undoubtedly struck a chord with listeners worldwide.
With a sound that is reminiscent of iconic vocalists like Dusty Springfield, Natalie Cole, and Diana Ross, JC Sol stands out as a truly unique artist. Her talent for blending genres and eras seamlessly sets her apart as a trailblazer in the world of smooth jazz and R&B.
JC Sol's upcoming projects promise even more excitement for her growing fan base. A classic cover set is set to drop in late Fall 2023, showcasing her ability to put her own spin on timeless favorites. Additionally, a smooth and sensual duet is in the works, further demonstrating her versatility and innovation in the music industry.
Looking ahead, JC Sol has her sights set on releasing her very first EP of original songs in 2024. Her dedication to creating self-penned tracks
filled with love and influenced by her remarkable musical journey highlights her commitment to pushing boundaries and delivering exceptional artistry.
In a world craving authenticity and innovation, JC Sol shines as a beacon of both. Her music invites listeners to experience the magic of the past while embracing the possibilities of the future. With each release, JC Sol continues to pave the way for a new era of R&B and smooth jazz music.
For more information and to listen to JC Sol's music, please visit:
JC SOL Biography
JC Sol, a native of Canada with Eastern European roots, stands out as a multifaceted singer, songwriter, and performer, driven by an unwavering passion for R&B, Motown, and the timeless Philly sound. Her musical prowess lies in capturing the soulful essence of retro grooves and seamlessly transforming them into contemporary, refreshing productions that resonate with a wide audience.
With a storied history in the music scene, JC Sol's journey has been marked by years of touring as a lead singer with various bands, culminating in substantial success during the early 80s. Her magnetic stage presence and exceptional talents led to extensive global tours and a dedicated fan following. After a well-deserved hiatus, JC Sol has returned to the forefront of the industry, armed with refined songwriting skills and a clear vision for her musical identity.
While JC Sol dabbled in songwriting during the 80s, it was in recent years that she truly honed her craft. The evolution began with the release of a 6-song cover LP in 2020. Subsequently, a surge of inspiration propelled her to venture into creating original compositions. Drawing on her early piano training, she masterfully crafts fundamental chord progressions during pre-production. However, the most rewarding aspect of her creative process is the meticulous lyric writing, wherein she invests days, weeks, or even months to infuse each track with profound depth and meaning.
In March 2022, JC Sol unveiled "Our Groove," a track that not only received international airplay on SmoothJazz.com but also garnered widespread acclaim from North American and European R&B/Smooth Jazz radio stations and curators. The song's remarkable impact was solidified by its selection as a top ten finalist in the esteemed "World Songwriting Awards" for Best R&B Song of 2022. Bolstered by the success of the original release, the idea to produce a remix of "Our Groove" was born, intending to introduce a fresh and enticing vibe to both existing and new listeners.
JC Sol's latest offering, "Our Groove," boasts a sensually smooth vocal delivery that rekindles belief in the authenticity of love. Her style echoes the legacy of iconic female vocalists, embodying echoes of Dusty Springfield, Natalie Cole, and vintage Diana Ross. Yet, JC Sol's sound is an embodiment of her own distinct musical identity.
Anticipating her forthcoming projects, JC Sol is set to release a classic cover set in late Fall 2023, showcasing her unique interpretation of beloved classics. Additionally, a smooth and sensual duet is in the works, promising an unparalleled experience for enthusiasts of Smooth Jazz and R&B. With an unwavering focus on crafting her inaugural EP of original compositions in 2024, JC Sol remains committed to her artistry, consistently weaving self-penned songs brimming with love and influenced by her remarkable musical odyssey.
The undeniable talent of JC Sol hints at a future even more promising than her storied past. Her distinctive blend of genres and eras positions her as a true pioneer, bridging the gap between the nostalgia of yesteryears and the innovation of tomorrow.
Press release and bio written by Anissa Sutton