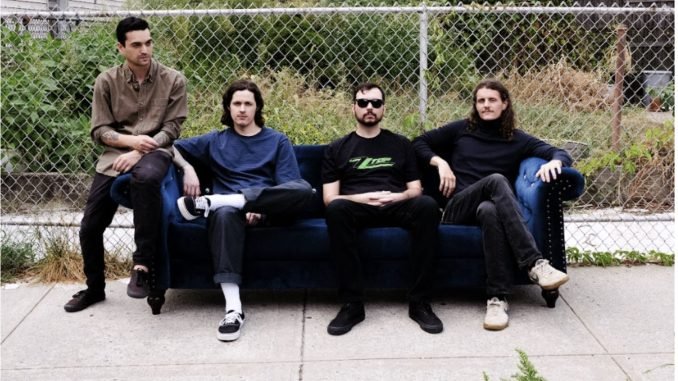 Brooklyn-based four-piece Plight has been carving out their own space in the New York City music scene for the past five years, and now they are ready to unleash their debut LP, 'Plastic Sun,' on the up-and-coming imprint à La Carte Records. With this album, Plight has crafted a unique blend of chunky power-pop anthems, wall-of-sound shoegaze, and morose slowcore ballads that will captivate listeners.
The first single off the album, "No Outlet," immediately transports us back to the classic 90's sound perfected by bands like Duster and Smashing Pumpkins, while also incorporating the contemporary sensibilities of acts like Title Fight and Nothing. The accompanying music video perfectly complements the nostalgic vibe of the track, evoking a sense of nostalgia for the golden era of alternative rock.
According to the band, 'Plastic Sun' is all about "finding your beach on a trash island drifting somewhere in the ocean." It's a poetic statement that reflects the album's introspective and thought-provoking nature.
'Plastic Sun' is now available on à La Carte Records, the same label that has brought us outstanding releases from Soft Kill, Lesser Care, and The True Faith. For vinyl and cassette enthusiasts, the album can be purchased in physical formats through their official website.
To celebrate the release of 'Plastic Sun,' Plight will be hitting the road this summer, bringing their infectious energy and captivating sound to stages across the country. Don't miss your chance to catch them live at one of their tour dates listed below.
Upcoming Shows:
7/22 – Brooklyn, NY @ Gold Sounds w/ Spirits of Leo, Dead Leaf Echo, Dahl Haus (Vinyl release show)
7/23 – Philadelphia, PA @ Silk City w/ Notofthisworld, The Ricos, Nyxy Nyx, Dreamswell
7/24 – Richmond, VA @ Bandito's w/ Always Another, Dozing, Day Aches
7/25 – Raleigh, NC @ Schoolkids Records w/ Sesame, Illuminating Daydream, Napalm Cruiser
7/26 – Atlanta, GA @ 529 Bar w/ Naw, Ammonia Wash, Nowhere Safe
7/27 – Savannah, GA @ The Sentient Bean w/ Lobstrosity, Malpais Anhedonia, Necralant
7/28 – Jacksonville, FL @ Rain Dogs w/ Ducats, Bad Madonna, Bobby Kid
7/29 – Charlotte, NC @ Bart's Mart w/ Supervertigo, Swae, Cursejar
7/30 – Baltimore, MD @ The Crown w/ Ugly Twin, Benign Impact and Sleepy Sword
Plight's debut LP, 'Plastic Sun,' is a testament to their artistic growth and ability to blend the best elements of 90's alternative rock with a contemporary edge. With each track, they invite us into their unique sonic universe, filled with infectious melodies and introspective lyrics. Be sure to check out their website and follow them on social media to stay updated on their latest news and releases.
plightnyc.com | Facebook | Instagram | Twitter | Bandcamp | Spotify
Written by Anissa Sutton