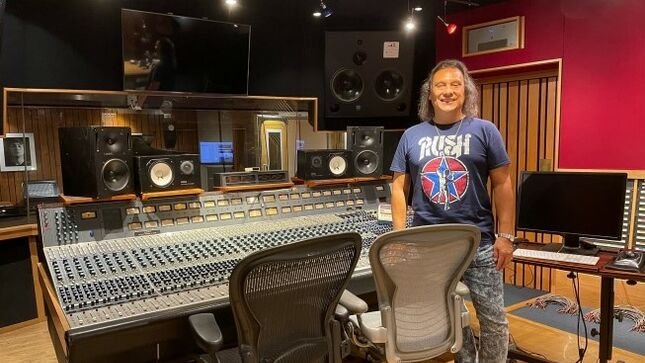 BYRON NEMETH TO RECORD AT BLACKBIRD STUDIO!
NASHVILLE, TN — The recording of the new Byron Nemeth single / video " You Know It's True " will begin July 12th, 2021 at Blackbird Studio Studio A in Nashville. Joining Byron in the recording are some of Nashville's finest hard rock players. Zach Ballard / Drums, Luis Espaillat / Bass and Steve Braun / Vocals. Tim Dolbear from Eclectica Studios who has mixed records for Grammy winners and labels will be the Producer. The recording will be done the old-school way with all 4 members of the band tracking in the studio at the same time for optimum musical chemistry.
Blackbird Studio is one of the preeminent studios in the world founded by John McBride , and his wife country artist Martina McBride . The Blackbird complex includes nine studios and The Blackbird Academy a post-secondary audio engineering school. Video will be shot by Mark Allee who just finished a great drum video for Ray Luzier of Korn .
Nemeth recently released a performance video for the new instrumental song, " Engines Of Thunder ". Watch below.
Stylistically it's a "Tip-Of-The-Hat" to the early Satriani and Hendrix vibe when there was strong emphasis on composition and lyrical soloing with catchy hooks and unique twists in the guitar.
" Engines Of Thunder " was recorded in Apple Logic Pro X with the Universal Audio Apollo Twin QUAD using only the UA Marshall JMP 2203 and Marshall Silver Jubilee 2555 plug-in's for that amazing legendary Marshall sound. Guitar of choice is a hot rodded Jackson USA Signature Adrian Smith San Dimas Stratocaster with a EVH D-Tuna System and run thru a Morley DJ Ashba Skeleton Pedal for that classic Wah-Wah sound.
"Engines Of Thunder" is now live on all digital platforms, including Spotify.
Byron Nemeth , multi-instrumentalist and hard rock aficionado who has done tours and taken part in many stellar releases to date knew at a young age that music was his true calling. Upon hearing Elvis & The Beatles from his wonderful parents as a birthday music gift he turned his attention to learning guitar and studying the styles of Randy Rhoads, Michael Schenker, Jimmy Page, Joe Satriani, Steve Vai, Joe Perry plus jazz and classical music. Throughout his career Byron has opened for notable bands such as Metal Church, Doro Pesch, Warrant, Winger, RATT, Y&T, Dream Theater, Rick Emmett, Vicious Rumors, Helix, Keel, Yes, Zack Wylde/Black Label Society, Richie Kotzen, The Sweet, Lynch Mob, Pat Travers Band and many more.
By going on tour with various bands throughout the east coast Byron began exploring his personal guitar style with Sacred Heart, Amon-Ra, Prodigy , and Electro-Motive-Force . ' The Vision ' 1985 cassette by Sacred Heart reimagined version was recently made available on Spotify along with the 1992 Amon Ra release of In the Company of the Gods also available reimagined on streaming platforms.
In 1997 Byron studied jazz and classical music at the Cleveland State University which provided him the music education foundation needed to blend in with a variety of musical genres, he was shortly thereafter commissioned to perform as first guitar with Richard Henrickson 's orchestrated Ozone Hour , a 90-minute Symphonic Rock Ballet with the Cleveland Chamber Orchestra and 33 dance performers.
SOLO CAREER
• EP
Following CSU Byron launched his solo career with the release Byron Nemeth Group. The EP laid the groundwork for a progressive and melodic style that became the trademark sound. The biggest singles "Millennium Machine" and "Two Moon Sky" tapped into a new kind of playing that caught the attention of the public. "Anthology The Cassette Years (Rewind)" was released in 2018 on Spotify and features all the material from this time period. Whetting his appetite for songwriting and performance Byron released 2000 a completely self-produced and performed project. With singles like "Machines of Ice" and "High Speed Life" Byron began to gain notoriety. In 2001 Byron was asked to perform "It's Showtime" on the Jason Becker Tribute CD "Warmth in the Wilderness" that was designed to spread awareness of Jason's ALS condition.
100 WORLDS
• ALBUM
Mastered at Abbey Road Studios in London by Nick Webb on 11.17.03 100 Worlds was a statement that characterized what could be created with music. With compositions such as "Russian Winter" and "La Luz De Barcelona" Byron began to marry international textures and flavors in meticulously composed and performed musical pieces. Picking up recognition for this Byron was featured in the chapter "Switching Gears" from the book Working Musicians by New York City ASCAP/DEEMS Taylor award-winning author Bruce Pollock . 100 Worlds was rereleased in 2004 as a CD and is available on streaming platforms.
THE FORCE WITHIN
• ALBUM
Byron Nemeth Group's fourth album The Force Within was also mastered at Abbey Road Studios on 12.11.06 with Nick Webb, it was a tour de force of guitar acrobatics and prog rock sensibilities comparable to the masters of the genre. This was the first album to feature cover artwork from RUSH artist Hugh Syme. The cover represents a WWI gas mask as a metaphor for the perils of humanity, the fields represent the openness of human potential that comes from having The Force Within oneself to manifest anything. The Force Within was rereleased in 2007 as a CD and is available on streaming platforms.
THE VIDEO CHRONICLES
• EP VIDEO ALBUM
In 2014 Byron released The Video Chronicles, a 4-song CD studio video release featuring Jeremy Colson /drums and Philip Bynoe /bass from the Steve Vai Band and on lead vocals Mark Boals who sang on Yngwie Malmsteen 's Trilogy album. This showcased Byron's talents as just more than just a performer but one of being a lyricist as well as a composer. The Video Chronicles is on all streaming platforms.
2016 TOUR
• ON THE ROAD
In 2016 Byron went on a 7000 mile/20 city headlining tour playing lead guitar for Kill Ritual stretching from California to Ohio at great venues like Malones in Santa Ana for the 2016 NAMM Showcase Concert, El Corazon in Seattle, The Elbo Room in Chicago and Count's Vamp'd in Las Vegas.
2018 EP
• ROGUE SOCIETY
In the summer of 2018 Rogue Society from Scottsdale released a 4-song digital EP on Spotify that spawned the social media hit "English Tea." This song went on to establish the band on the west coast hard rock scene as a stunning live performances act with a very strong stage presence. Rogue Society played great hard rock music with catchy melodies in concert that rocked the metal scene in Arizona.
2019 TOUR
• ON THE ROAD
In 2019 Byron played lead guitar for Images of Eden on tour with two historic metal legends Metal Church and Doro Pesch . The tour began on 04.17.19 in Las Vegas and lasted for 5 weeks doing 21 shows at legendary places like Count's Vamp'd Vegas, House of Blues Anaheim, Whisky A-Go-Go Hollywood, Club Red Phoenix, Reggie's Chicago, Kingsland Ballroom Brooklyn, Asbury Lanes Jersey Shore and ending at The Vault @ Greasy Luck in Bedford, MA.
2021
• ENGINES OF THUNDER
Byron Nemeth has just released a brand new video for the new instrumental "Engines Of Thunder." Stylistically it's a "Tip-Of-The-Hat" to the early Satriani and Hendrix vibe when there was strong emphasis on composition and lyrical soloing with amazing hooks and unique twists in the guitar playing.
• SUNSET AT THE MARQUIS
"The musical inspiration for this song came from my fascination with the C6 open tuning (C-A-C-G-C-E) that Jimmy Page used on Bron-Yr-Aur from Physical Graffiti . I applied this tuning to my acoustics for this type of Led Zeppelin vibe in the rhythm guitar. On the electric leads I wanted the harmony ideas that Michael Schenker and Brian May have used so all these influences were my muse. The song was mixed at Abbey Road Studios in London by engineer John Barrett on the SSL Duality Delta 24 Mixing Console, John did a superb job!" — Byron
• NASHVILLE
In May 2021 Byron Nemeth has relocated to Nashville to further pursue his Music Career to the next level in the Hard Rock / Metal genre.
Featured in Bravewords Press!
Featured in Music Connection Press!
Currently endorsed by:
EP recorded at Steve Vai's studio "The Mothership" in Hollywood:
Abbey Road Studios Mastering Session 2006:
Follow Byron Nemeth at these links:
**END OF PRESS RELEASE**
FOR MEDIA REVIEWS AND RADIO/PODCAST PLAY