Welcome to the June 2023 edition of Pump it up Magazine! This month, we proudly feature Jan Daley as our cover girl, celebrating her induction into the Women Songwriters Hall of Fame with her powerful single, 'The Way of a Woman,' addressing the issue of cheating in relationships. Join us as we explore the captivating world of artistry, wellness, and resilience.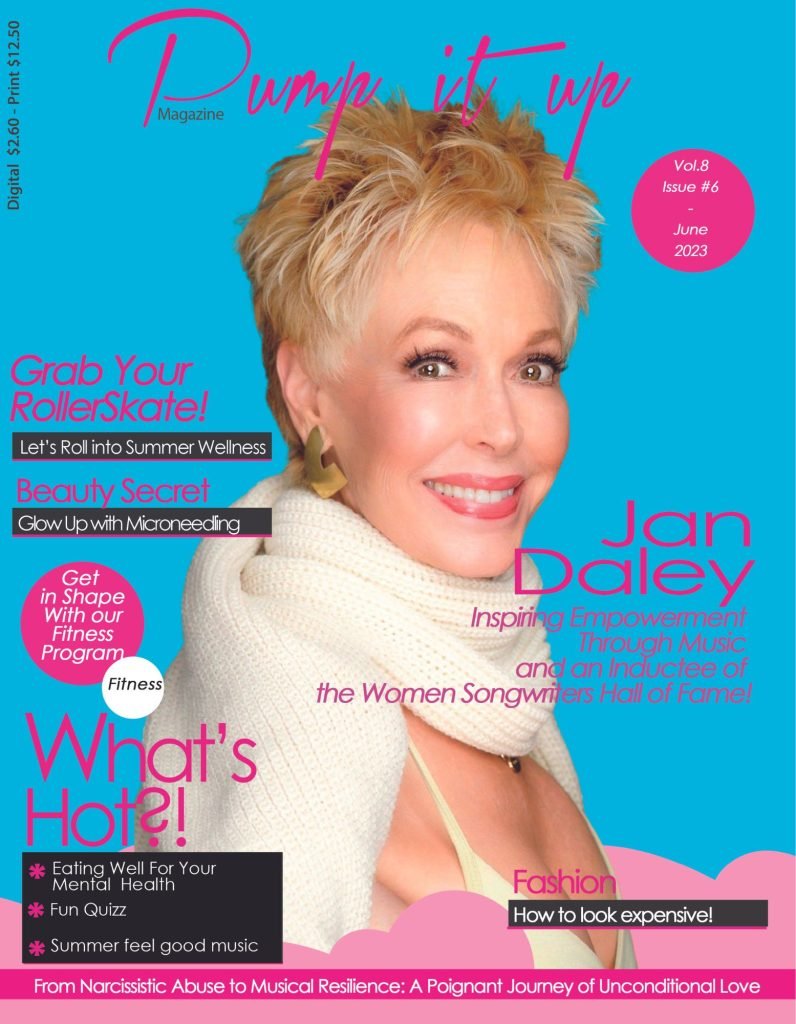 Cover Story: Jan Daley – A Musical Journey of Resilience and Excellence. In this exclusive cover story, we delve into Jan Daley's extraordinary musical journey, from her early beginnings to her induction into the Women Songwriters Hall of Fame. Discover the inspiration behind her thought-provoking single as she fearlessly addresses the complexities of cheating in relationships. Celebrate Jan Daley's musical resilience and enduring impact on the industry.
RollerSkate! Relive the Joy and Freedom on Wheels. Get ready to embrace the thrill of roller skating! We take you on a nostalgic journey as we explore the resurgence of this timeless activity. Whether you're experienced or a beginner, we've got you covered with tips, tricks, and recommendations to make your roller skating experience memorable. Celebrate the joy and freedom that comes with gliding on wheels.
Beauty Secret Glow Up with Microneedling. Unlock the secrets to a radiant glow with microneedling. Delve into its science and effectiveness as we share firsthand accounts of success stories. Discover how microneedling can transform your skin, leaving you with a youthful and vibrant appearance.
Get in Shape with Our Fitness Program. Make this summer the season of fitness as we guide you through a comprehensive program. Focus on holistic well-being with a roadmap to achieve your fitness goals. Discover exercises, techniques, and motivational tips to build strength, endurance, and confidence.
Eating Well for Your Mental Health. Explore the connection between nutrition and mental health. Learn about the impact of a balanced diet on mental clarity and emotional resilience. Empower yourself with expert advice and practical tips for a healthier mind and body.
Summer Fun Quizz: Are you ready to have some fun? Our Summer Fun Quizz is designed to bring a smile to your face!
Indie Music Artist Discovery: Feel Good Music for Summer. Immerse yourself in the world of indie music and discover feel-good artists who enhance your summer experience. Unearth hidden gems and expand your musical horizons as you embrace the feel-good vibes of warmth and sunshine.
Fashion: How to Look Expensive! Exude elegance and style without breaking the bank. Learn the secrets to achieving an expensive look on any budget. From timeless wardrobe staples to clever styling techniques, effortlessly radiate sophistication and charm.
From Narcissistic Abuse to Musical Resilience: A Poignant Journey of Unconditional Love. Witness the inspiring journey of an artist who triumphed over narcissistic abuse, finding solace and resilience through music. Experience the healing power of art and the strength of the human spirit, highlighting the transformative impact of unconditional love.
Immerse yourself in the world of music, wellness, beauty, and fashion within these pages. Jan Daley's talent and indomitable spirit set the tone for an issue filled with inspiration and empowerment. May this edition of Pump it up Magazine ignite your passion, fuel your creativity, and uplift your spirits.
Happy reading!
Anissa Sutton