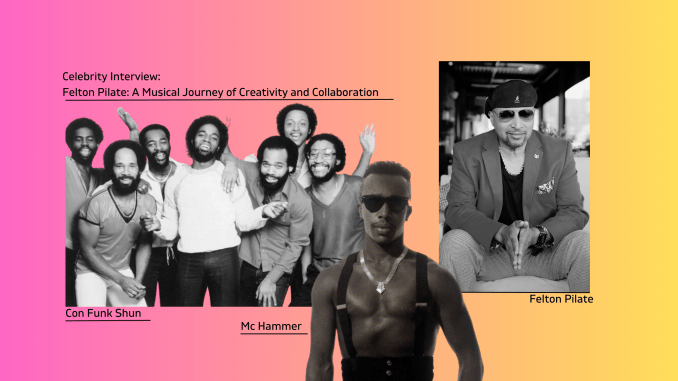 Welcome to an exclusive interview that unveils the remarkable musical journey of Grammy winner Felton Pilate. From his groundbreaking collaborations with MC Hammer to his influential role in the iconic band Con Funk Shun, Pilate's talent and creativity have left an indelible mark on the industry. Join us as we delve into the stories behind his successes, his inspirations, and the evolution of his solo career. Get ready to be inspired as we uncover the musical genius of Felton Pilate, a visionary who continues to push boundaries and create unforgettable melodies.
Can you tell us about your background as a young man and how your musical journey began? Who were your influences during your formative years?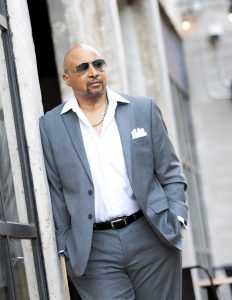 The two things I remember most distinctly about my childhood living with my grandmother at 4 years old was the fact that we lived across the street from a graveyard (where my best friend Jerry and I would often play hide and seek), and the fact that there was a piano in the living room. In retrospect, I really have to thank her from not stopping me from fiddling around on the piano (mostly on the black keys… they were the most pleasant sounding). In later years I remember her telling me about the times when she would catch me with one of the music books that was stored in the piano bench, propped up in front of me as if I could actually read it. I was flown to California when I was five years old where there was another piano in the living room waiting… Just for me apparently!  I grew up constantly having contact with music. My mother was a music major and my father, who was a doctor, simply enjoyed listening to music. Her focus was classical music while my dad's main focus was Jazz, so that's what I grew up on. On weekends, whoever got up first determined what we listened to for the next several hours. If it was my mother, she would simply stack several LPs on the spindle on the "Hi-Fi" , we would be listening to Beethoven, Mozart, Brahms, etc. If it was my dad, it would be Duke Ellington, Count Basie, Frank Sinatra, Ella Fitzgerald, and so on. Since neither of my parents were into current "modern day" R&B, Jazz and classical were the main things that I listened to at home, and whatever my dad picked to listen to on the radio in the car.
Who were your influences during your formative years?
Now that I think about it, I didn't start to be " influenced" by anyone until I started taking trumpet lessons in grade school. Herb Alpert was huge on the radio (and was far easier to understand than Miles Davis), so I gravitated towards the songs I was hearing. My mother bought me the sheet music for several of the songs so that I could read the melody, but I started to pay close attention to the chords underneath. My mother noticed and started providing piano lessons for me so NOW I'm paying attention to chord structure, progressions and transitions… for example what made the Beatles songs sound different from Burt Bacharach songs?…  What were the musical differences between BB King and Brook Benton? To be honest, for a while, I found the Beatles material way more interesting than James Brown's songs because his songs often only had 2 chords! It wasn't until I started my own band and I was now having to learn a wide variety of songs (on keyboards, trumpet and now guitar)that my perception changed.
As a musician, songwriter, composer, and producer, you've had the opportunity to work with numerous influential artists. Could you share your experiences in those roles?
When Project Soul (later ConFunkShun)  moved from Vallejo California, to Memphis Tennessee to become the backup band for Stax recording artists, "The Soul Children", a whole new musical world opened up! As a musician in Studio C at Stax , I was now working shoulder-to-shoulder with some of the recording artists such as Rufus Thomas, Carla Thomas, and The Barkays, some of the well known writers such as David Porter ("Soul man", "Hold on , I'm Coming"), Carl Hampton and Homer Banks (If Loving You is Wrong), and Sir Mack Rice( It's Cheaper to Keep Her), and legendary producers such as Allen Jones (The Barkays) and Willie Mitchell (Al Green).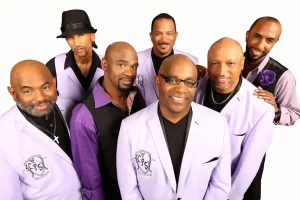 Once we became ConFunkShun, signed with Mercury/ Polygram, and produced 4 gold albums and a Platinum, many other doors opened for me, such as the opportunity to write a song for jazz great, George Duke, produce and write for MCA recording Artists, "Klique", and co-write several songs with Pebbles.
Could you tell us about the time you worked with MC Hammer and how you helped revive his career?
Just to be clear, I had nothing to do with "reviving" Hammer's career. That said…
When we met, Stanley Burrell called himself "The Holy Ghost Boy" and was doing Gospel tinged rap. We were introduced by a mutual friend, Fred Pittman, who had signed him to a deal with Fantasy records. Mr. Pittman  was having me do "ghost producing" for him on other projects and I asked to be allowed to take the reins on the "holy Ghost Boys" project. He agreed.
We recorded two songs that were rejected by the label. Around the same time, Fantasy also dropped me and James Earley who at that time was my second engineer at Felstar Studios in Vallejo.
Later, Stanley had recorded a song at a 24 track Studio elsewhere in the Bay Area and brought it to me to listen to. I told him that he spent too much money and I could give him comparable, if not better quality if he would allow me to produce and record at my 16 track studio. He agreed.
I didn't even like rap music at the time but was excited to take on the challenge, especially since I had bragged that I could!
I spent the next 2 weeks immersing myself into Digital Underground, DJ Jazzy Jeff and Will Smith, Young MC, The Sugar Hill Gang, and more…
The three of us (Stanley, James Earley, and myself) wrote and recorded 10 songs, I gave him some rough mixes and sent him on his way. A year or so later, the next time I saw him, he had gotten a record deal, changed his name to MC Hammer, and had already sold 500, 000 copies.
That album, "Feel My Power" went on to sell over 2 million copies.
The next album "Please Hammer Don't Hurt 'Em", Was the first Rap album to sell over 10 million copies , and went on to sell over 40 million copies
The next album , "Too Legit to Quit" sold over 7 million copies.
Hammer and I parted ways after that.
How did your collaboration with MC Hammer contribute to his success and the sale of over 50 million records?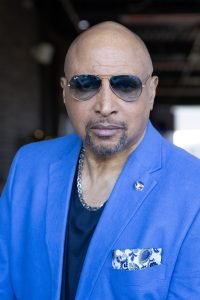 On the business side there was a team of people who were absolutely making the right decisions for his first 3 albums… the marketing, the tours, his image were all in sync with each other. I guess my contribution was keeping the music consistent, we captured a certain audience with the first album so it seemed important that the follow up  albums keep the existing audience while showing some growth. We had to keep that balance of fun, easy to listen/ dance to, rap with a little old school funk to balance his personality and energy on stage, which to me was his biggest selling point. Looks like it worked!
Can you share any insights into your creative process when working with other artists?
I applied the process that I did with Hammer to every artist I have worked with ever since… I spend a LOT of time immersing myself with what the artist has already done. If they are a new artist, we spend time discussing how the artist sees themselves  and how that compares to other artists who are already out there. That helps me as a producer to understand musically what I need to do (and not to do) going forward to best compete with the current musical flow.
Apart from your work with MC Hammer, are there any other career rescues or notable collaborations that you've been a part of?
One of my musical idols from the early 70s was The Stylistics and their producer, Thom Bell, so when I was asked to write a song for them , I was particularly excited because the "Philly Sound" already had such a big influence on my song writing.
I was also blessed to have Stanley Clarke record one of my songs. I remember having to stop in the middle of the process of writing the song because I was intimidated by the fact that I was riding a bass part for him to record 🙂
As a co-founder of CON FUNK SHUN, how has your involvement with the band influenced your career as a songwriter and producer?
I was already performing original compositions on stage in my band before I joined Project Soul. It always felt to me that songwriting was just an additional contribution that I was bringing to the table. Once we got a record deal, it just seemed *obvious* that we were going to need original material. ConFunkShun had purchased a reel to reel 4 track which gave me the opportunity to record my own demos so I was off and rolling! We were a top 40 band so I had a LOT of musical textures and inspiration to draw from … The Commodores, The Ohio Players, Mandrill, Earth Wind and Fire, Gamble and Huff, and dozens of others.
We were blessed to have Skip Scarborough (RIP) produce several of our albums starting with the "Secrets" LP. I spent a LOT of time watching, listening and learning from him. He graciously and patiently endured my endless questions  and  helped me understand the subtle but highly significant difference between being a songwriter and a producer. By the time we started recording the "7" lp , Skip was no longer working with us, so I had to put on *my* producer hat and start to apply all I learned from him in the songs I was writing.
When it was all done, by 1986 when I left, ConFunkShun did 10 albums and I wrote or co-wrote more than half of the songs (57)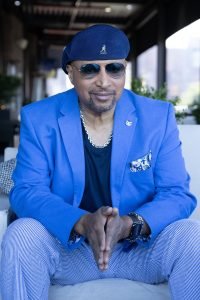 What motivated you to pursue a solo career after your success with CON FUNK SHUN? 
The original Idea was to do a solo album, but Polygram passed on it. I was upset but it told me what I needed to know… I wasn't  ready yet… Felton Pilate had more training to do…
I opened up a studio and went into producing full time, working with many local Bay Area artists who were willing to trust me with recording them. E-40, , Sheila E., Timex Social Club (Club Nouveau), Peter Escovedo, and scores more all came to record at my humble studio and I'm grateful to all of them. Then I met Hammer…
Your song "Love's Train" was recently performed by Bruno Mars' band Silk Sonic. How does it feel to have your work recognized and performed by contemporary artists?
It has always been an honor to have someone else record my music. Seriously, just to hear someone say that they like something that I've created so much that it's "their favorite song" , is still a really big deal to me. So now imagine how it feels to have one of the biggest recording artists in the world essentially say "I liked one of your old songs so much that I recorded it and released it as a single today"
I was blown away and was even more overwhelmed to watch Silk Sonic perform it live in front of several thousand screaming fans at the MGM Grand in Las Vegas. Mike Cooper and I had a chance to speak with them before the show to thank them in person. Bruno Mars and Andersen .Paak were very gracious, personable and seemed just as excited to meet us as we were to meet them.
Can you tell us about the creative freedom and personal expression you find as a solo artist?
In the late 70's, ConFunkShun had purchased an Akai 8 track reel to reel and installed it at our studio in Vallejo Ca. for the band to do demos. I purchased a separate one for use at home and in 1981, I bought an Oberheim DMX drum machine. I could now do complete recordings at home and lay down my songs EXACTLY as I was hearing them in my head. I guess that was emotionally important to me before I let anyone else hear it because the producer part of me wanted to try to make sure that the vision was valid before proceeding. Once I was introduced to MIDI sequencing (using a computer to talk to multiple keyboards and Drum machines at once) and SMPTE (a means of syncing midi sequencers to tape), a whole new world of creativity became open to me.
The huge jumps in musical technology starting in the early 90's were a big part of my musical growth and expression. Like many others, the fact that I didn't have to go into a major recording studio to get stuff done was inspiration enough… I didn't have to wait for anybody or anything to write/ record… as long as there was time there was no excuse not to!
Your upcoming album/EP has been highly anticipated. Can you give us a glimpse into the musical direction and themes explored in this project? As a solo artist, how does the songwriting and production process differ for you compared to working with a band? Are there any specific challenges or advantages you've encountered?
I have over 20 songs recorded and collectively, they reflect my diverse musical tastes.. from smooth jazz, neo-soul, R&B, and even one leaning toward country.  Half of them are mixed and ready to go, some of the others are ready to mix, the rest need a little more creative nudging and polishing. The hard part is setting aside any emotional attachment and making the business decision of which ones NOT to include. That, I think, is the most difficult part of being a writer and producer…  I'm gonna have to call Babyface and ask him how HE does it!
What are your aspirations and goals for your solo career? Are there any particular achievements or milestones you hope to reach with this upcoming album/EP?
Goals and Aspirations? Where do I start? Here's my top five
Meet Quincy Jones and pick his brain for a couple of hours
Do a writing/ recording session with Neyo, Kem, and/or John Legend
Get another Grammy (I'll settle for Album of the Year)
Do a score for a major motion Picture
Act in a major motion picture
If none of that happens,  I'd consider myself extremely blessed for my current level of happiness to simply continue…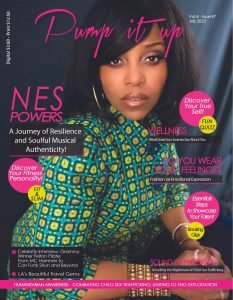 Get Your Copy Now! Uncover the Musical Journey of Grammy Winner Felton Pilate in the Print Edition.
Discover the extraordinary musical journey of Felton Pilate, from his collaborations with MC Hammer to his iconic role in Con Funk Shun and beyond. Don't miss out on the exclusive interview featured in our print edition. Order your copy today: [link to the order page: https://www.magcloud.com/browse/issue/2543110?__r=630367]. Limited quantities available. Grab yours now and immerse yourself in the inspiring world of Felton Pilate.