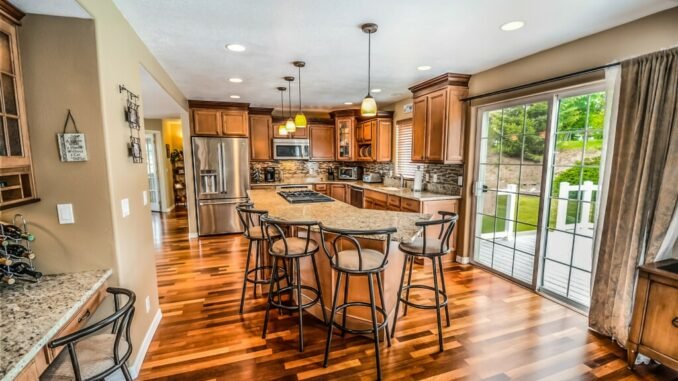 Decorating your kitchen window is a wonderful way to add flair and panache to the space, distinguishing it as something unique and giving it the individuality you've been searching for. It's amazing how much of a difference the proper window treatment can make, and even if you really want to fully redesign your kitchen to make it easier to cook in, but your budget won't allow it just yet, altering the décor surrounding your window can have a great impact. You may not need to make any more changes at all. 
When it comes to decorating your kitchen window, there are many different choices to pick from; many of them will look fantastic, but which one should you choose? Here are a few of the most interesting to get you thinking about what you might use to decorate your kitchen windows. 
Café Curtains
Don't worry if you're unfamiliar with the idea of café curtains; they're not something you'd usually connect with a home kitchen window. However, the trend of utilizing these kinds of curtains is increasing, and once you know what they are, you'll realise how nice they might look in your own house.
The name tells you all you need to know about these curtains; they are the kind of curtain you would see in a café; they cover just the bottom half of the window and are often held up by a big curtain rod. They were invented in the 1800s for Vienna street cafés to provide café customers some privacy but still allowing others passing by to see the interior of the café. Putting them in your kitchen windows will add a touch of elegance, and they are unique enough that visitors will notice them.
Shutters
Shutters are one of the warmest and most homey ways to decorate a kitchen window. They are ageless and classic kitchen window décor components. You can select light or dark kitchen shutters to complement the rest of the kitchen, and with so many styles to choose from, as well as different materials, there is sure to be one that works for you.
The wonderful thing about kitchen window shutters is that you can open them fully to allow in light and then close them tightly to make the room more private and cozy. This adaptable kitchen window treatment is suitable for every kitchen in any house.
Roman Blinds 
Roman blinds were developed in Rome to prevent hot, dry street dust from invading people's homes. It didn't take long for the Romans to discover that these shades also protected them from the scorching afternoon heat. At this point, the ladies of the house began to get inventive, decorating up their homes with them almost as a sign of rank and riches.
Roman shades are ideal for kitchens that need a splash of color, pattern, or whimsy, as well as some seclusion. Roman shades, like café curtains, can provide a lot of flair and can be tailored for a number of styles. 
Valance
A straight or curved valance will add a touch of fabric to your kitchen window while allowing plenty of natural light in. Granted, window treatments like these are not ideal for privacy, but they can provide a chance to add color and flair to your kitchen with a touch of solid or patterned fabric.
Window Screen
A window screen can be useful if you want something more functional than beautiful. These screens are put in front of the windows to keep tiny pests and insects out. Because flies, wasps, ants, and other animals are never a welcome addition to any kitchen, preventing their entry is a wonderful idea.
Although window screens may seem to be just functional, you can find several that are also ornamental, or at the very least contemporary in appearance, to give your kitchen a stylish appeal while still being very functional.
Stained Glass
Did you know that stained glass can be installed in your kitchen? Stained glass is beautiful and provides total privacy. You can also create your own picture and have the panes produced to order. It's not a cheap method to decorate your kitchen window, but it is really unique. You'll want to keep these windows sparkling clean to make the most of them, so use experts such as Labor Panes to get the job done well. 
You may not want to install stained glass in every window, though. If you do this, it could mean that you don't receive enough natural light (or even artificial light) in your kitchen, making it much more difficult to use and more uncomfortable than it needs to be.