Image from Pexels – CC0 License
Accessorizing your outfits is a great way to spice them up and improve your look. We often choose our accessories just for what they look like, but there can be more to what you choose to wear. Your choice of accessories can be more meaningful if you want it to be and can make your outfits more interesting. If you want more from your accessories, there are a few ways you could make sure that they really mean something to you and could even convey meaning to other people too. Here are some of the things you can do if you want to wear your accessories with more meaning.
Buy Accessories You Connect With
When you're buying new accessories, be conscientious about what you choose to buy. Instead of just buying something because you like the way it looks, think about the deeper meaning that it might have. Some accessories automatically have a big meaning behind them. Women or mens diamond rings like an engagement ring or wedding ring is a lot more than just a ring. But you might have to think a little more about some other accessories. Maybe it's something that's going to remind you of a special occasion or that makes you think of something important to you.
Consider Older Items
Older accessories can have more meaning than something that you buy new. That could include vintage or second-hand items that you buy or something that you have been gifted or have inherited from someone else. Older items have a story to tell, and they often show it too. That doesn't mean they necessarily look worn out or are no longer wearable. They can look well-loved and give more meaning to what you're wearing. Consider asking family members if they have anything they no longer wear or try looking in thrift stores and other places for vintage finds.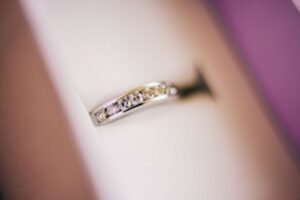 Image from Pexels – CC0 License
Wear Symbols with Meaning
Wearing symbols that are full of meaning is another way to make your accessories a little more special. There are so many symbols that have specific meanings, both in general and in relation to jewelry. You can look at the jewelry Irish craft makers design to find some excellent examples of symbols that are often simple but hold a lot of meaning. You might consider cultural symbols or religious symbols that mean something to you personally. Or you can look at the meaning of things like different ring styles.
Keep Wearing Accessories You Love
A new piece of jewelry or another accessory that's brand new might not hold a lot of meaning when you first buy it. But the longer you wear it, the more it can have meaning to you. Something might already have some meaning because you bought it for yourself when you felt you deserved it or someone you love gifted it to you. And the longer you wear it, the more attached to it you can become.
When personalizing your accessories, such as bracelets, you can add a unique touch that resonates with your style and personality. Consider exploring the world of custom charm bracelets online to discover a variety of options that allow you to infuse more meaning into your accessories
Start wearing accessories that have more meaning to transform your outfits into something special. It can really make you feel good when what you wear means something to you.