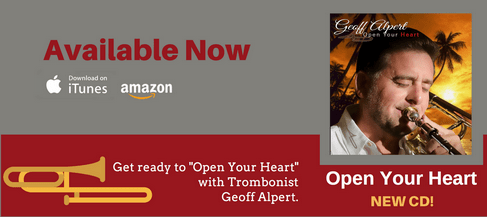 Geoff Alpert, New Release "Open Your Heart"
Geoff Alpert's Open Your Heart (co–produced with Gail Jhonson) is a 10–tune tapestry which lovingly places the trombone in a front and center position it rarely enjoys in the present musical landscape.
Floating between Jazz, Pop, R&B and Latin sound signatures, it's a bold yet highly accessible listen.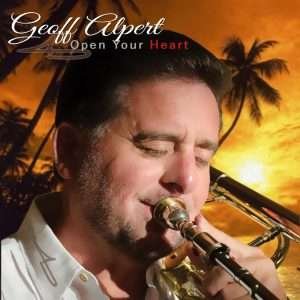 Trombonist Geoff Alpert has loved music all his life, studying the craft, learning several brass/valve instruments, playing in bands and composing songs. Inspired by the likes of jazz legend J.J. Johnson, rock band Chicago's James Pankow, and fusion greats such as Wayne Henderson and Raul de Souza, Geoff studied music as a major at San Diego State University while supplementing his income gigging near and far. Yet he walked away from music for 30 years in the early `80s to be an ideal provider as a husband and father. Following the painful passing of his wife from cancer in 2002, Geoff did some profound soul searching which led him to pick up his trombone again, gradually easing back into the scene where he met bassist Darryl Williams and musical director/keyboardist Gail Jhonson. Both pushed and assisted him in creating a musical statement that spoke to his emotional life story, his undying passion for the art form and the spiritual Eastern martial arts disciplines that guided him along his journey. That album is Open Your Heart.
Geoff Alpert's Open Your Heart (co–produced with Gail Jhonson) is a 10–tune tapestry which lovingly places the trombone in a front and center position it rarely enjoys in the present musical landscape.
Floating between Jazz, Pop, R&B and Latin sound signatures, it's a bold yet highly accessible listen.
Highlights include the Brazilian flight of the title track, a cover of The Jacksons' "Heartbreak Hotel" (composed by the immortal Michael Jackson and specially arranged for Geoff by Gail), the transfixing and deeply touching trombone and keyboard duet "Thinking About You" (in memory of his departed mother and wife), "The Crusade" (a tribute to The Jazz Crusaders/The Crusaders emulating some of the progressive sounds of the band's evolution over five groundbreaking decades), the groovin' "Zen Funk" (featuring bassist Darryl Williams and dedicated to the Ken-Ka-Kung Fu Club, the martial arts school which Geoff has been both student and teacher for four decades), and an especially emotive cover of sister trio The Emotions' 1977 hit "Don't Ask My Neighbors" on which Geoff tips his hat to trombonist Raul de Souza, first instrumentalist to cover the song in 1978 (produced by the late George Duke) while placing his own heart piercing stamp on the Quiet Storm classic.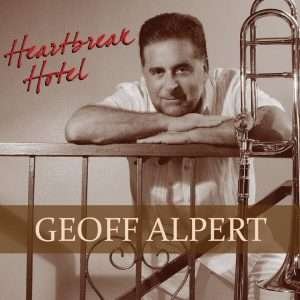 "This album – like my teaching of Ken–Ka–Kung Fu – is all about love, sharing and the willingness to open your heart," Geoff explains.
"Wherever you go in life, the center of your journey is always found within. Challenge yourself, maintaining your balance and focus as you navigate life's obstacles on your way to becoming your truest, most humble best self…with honesty, integrity, discipline & respect."
Born in North Hollywood, California on July 10, 1955, Geoff Alpert was raised in San Diego where his family moved when he was 2. His mother, Annette, was very musical having played clarinet and accordion. There was a piano in the house, and all of his 3 sisters and 2 brothers played musical instruments (none professionally). Geoff's first instrument was trumpet which he took up at 7. After visiting his grandfather who had a huge collection of instruments, he gravitated to the E Flat euphonium then, by 7th grade, the baritone horn. By the time Geoff got to high school, Chicago's explosive "25 or 6 to 4" and "Beginnings" were all over AM and FM radio dials featuring glissandos and solos by trombonist James Pankow. Along with the jazz greats he'd been admiring, this is what inspired Geoff to make the ultimate switch to trombone as his primary instrument, self taught to boot.
While attending Hoover High School, Geoff used money he'd saved from a paper route to buy an intermediate Conn large bore tenor trombone with an 'F' attachment. He desired the richest resonant tones of the horn, inspired by the great J.J. Johnson. Shunning sports, Geoff dovetailed into total absorption mode, immersed in studying, listening and intense practicing. He was regularly selected for and made a featured soloist in city wide honors jazz bands and began to hone his pop performing chops in groups of peers that played proms/after proms as well as with older cats playing covers of Blood Sweat & Tears, Tower of Power, Earth Wind & Fire, Average White Band, Stevie Wonder and Motown jams at San Diego hot spots such as Bacchanal, Halcyon, Spanky's and Wallbangers. Among the musicians he crossed paths and performed with was bassist Nathan East.
Graduating high school in 1973, Geoff attended San Diego State as a Music major excelling in performance, theory and ear training. Even the aptitude tests that his successful CPA father gingerly asked Geoff to take all pointed to music as the way for him to go! And go he did, on the road with a number of self–contained groups that snuck in as many Seawind, Brecker Brothers and Dreams tunes as they could between the Top 40 hits club management demanded. In high demand, Geoff also gigged with name artists on jazz festivals in and out of town. Returning from a nasty gig in Alaska, Geoff faced the rude awakening that the music scene no longer supported large horn bands. He now faced a critical decision: move to L.A. and try to crack its lucrative studio scene or enter a more conservative career. Geoff put his bone down and began a 35-year career promoting up to District Manager for the City of San Diego while also developing a private landscaping business. He also married his wife Gladys in 1984 and was father to two daughters. Concurrently, he devoted serious time and energy into Ken-Ka-Kung Fu, receiving teaching credentials and permission to start a school that he still leads to this day.
Such sweet bliss was shattered in 2000 when Gladys was diagnosed with cancer. Geoff stayed faithfully by his wife's side until she succumbed in 2002. Unsure of what he would do next, Geoff's thoughts returned to music, the artful expression that had once so filled his life over three decades before. He found that even when he was deeply set in concentration with his martial arts, melodies and solos would be floating through his head. Geoff went deep into the woodshed in 2004, working diligently to return his skill to 'A' level. Anticipating retirement in 2012, Geoff vowed to involve himself solely in things he loved: martial arts, music, family and his longstanding love affair with Hawaii. In Oahu, he began playing 5/6 nights a week – sometimes at 3 venues a day – refusing pay, simply relishing opportunities to play with high caliber musicians such as Michael Paulo and Gregg Karukas.
A turning point for Geoff arrived upon meeting bassist Darryl Williams at an open mic night called "The Q" which Darryl hosted in Oceanside, as well as at Felix's in San Diego where he became reacquainted with keyboardist Gail Jhonson: "First Lady of Smooth Jazz." With both struck by how accomplished Geoff was on an axe played by so few as a leader/soloist, they both urged Geoff, "Dude, you ought to record!" Geoff wowed many players but biorhythmically speaking (and totally platonically) he really hit it off with Gail who became his co–producer. Since returning to music, Geoff has performed with notable artists such as producer Kenneth Crouch, violinist Karen Briggs and saxophonist Jessy J.
Work on Geoff 's debut, Open Your Heart, began in March 2016 at Darryl's house. This led to Geoff and Gail spending quality time collaborating to compose and arrange all 10 songs. The trio worked with "L.A. Collective" players Adam Hawley on guitar, Greg Manning on keys and Tony Moore on drums. Geoff reunited his old horn section mates Mitch Manker and Steve Nieves (plus Michael Parlett). Five selections feature vocalists Tamina Khyrah Joi, Aankha Neal and Maya Thomas. And special guests include saxophonist Michael Paulo ("Aloha Nights") and flautist Althea Rene ("Open Your Heart").
"First and foremost in my mind doing this record was – as a bone player – can I interject something fresh against the set boundaries and push the envelope with a full, more than eight–layered sound," Geoff concludes? I wanted a live flavor and the best of the best musicians–wise. Everybody nailed their parts from the rhythm session, the horns session, vocals, the guests, my overdubs, and all the mixing and mastering. It was an irreplaceable rush of groove, camaraderie and love."
Geoff Alpert will be featured on the next Printed Edition | Release April 6th