How Gabrielle Union and Dwyane Wade Become One of Hollywood's Biggest Success Stories
Actress Gabrielle Union and NBA champ Dwyane Wade have one of Hollywood's most enviable marriages—and more than six years in they keep finding reasons to celebrate.
Watch:
 Gabrielle Union & Dwyane Wade Gush Over "Hair Love"
Gabrielle Union doesn't do passive.
When she found herself unfavorably comparing her successes to others'—"I felt like you see everyone is having so much more," the actress admitted on the Today show in 2018—she decided to implement a change.
Turning to her vision boards, she stopped "chasing after specific things and asking for stuff," she explained, adding that she pared down her desires to one specific request. "I asked for more joy, peace and grace," she noted. "And it's been coming in abundance."
Take her marriage to NBA champ Dwyane Wade, the couple celebrating seven years of marriage last summer. Having weathered a lawsuit from his ex-wife, a brief pre-engagement split and what the We're Going to Need More Wine author describes as "eight or nine miscarriages" in their decade-plus together, they're still rolling.
The actress and the retired NBA guard, turning 40 Jan. 17, are the type of enviable power couple that can't seem to stop bragging on each another. (In one Instagram referencing his stints in Chicago and Cleveland, the pro wrote, "Get you a 'woman' who supports you—even if you take her out of her newly built dream home and the sunshine in Miami.") And they always seem like they're just having more fun than everyone else.

PHOTOS
Gabrielle Union and Dwyane Wade's Best Family Moments
Which, they kinda are.
Because when you've been through enough tough stuff—the really hard, crushing moments—every other minor inconvenience is put into the proper perspective. The big joys have their place, too, with Nov. 7, 2018 rightfully earning a spot in the highlight reel of their lives.
That was the day when the couple—already raising kids Zaire, 19, Zaya, 14, Xavier, 8, and Wade's nephew Dahveon Morris, 20—welcomed their "miracle baby," daughter Kaavia James Union Wade, to the party, following a years-long struggle with fertility.
When doctors at the L.A.-area hospital pronounced the newborn healthy, "I felt such relief," Union, 49, told Parents' May 2019 issue. "To hear her breathing and crying was a dream. We didn't really allow ourselves to believe it until then."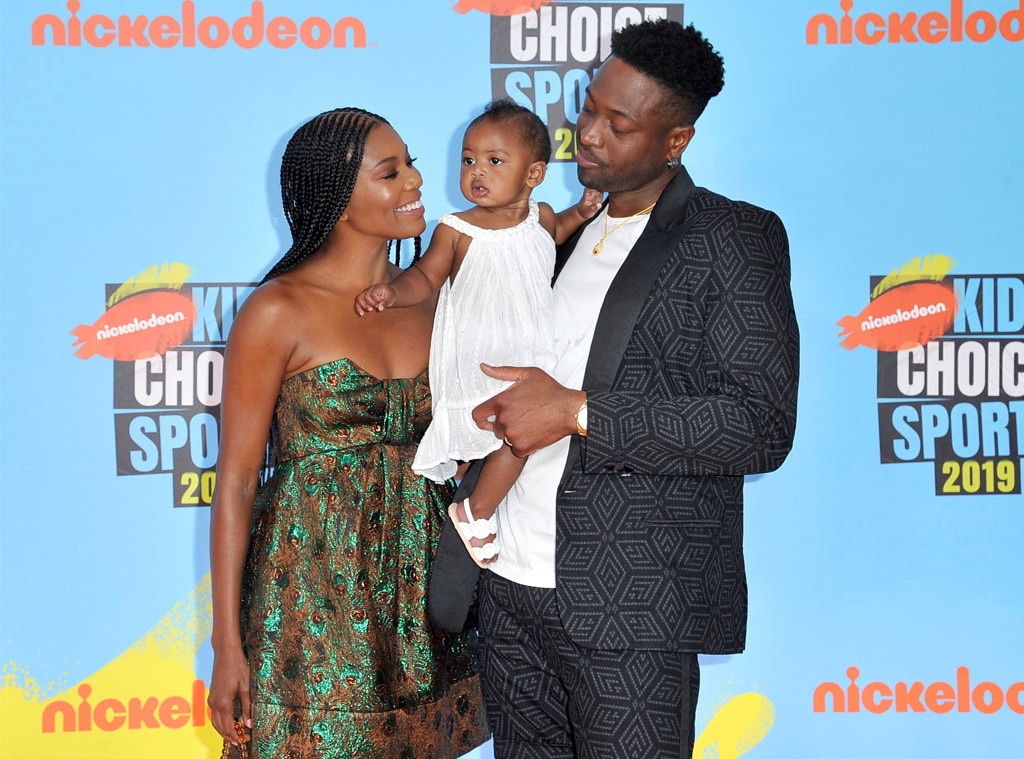 Richard Shotwell/Invision/AP/Shutterstock
Really, their entire union required quite a bit of faith.
When the pair first crossed paths co-hosting a 2007 Super Bowl bash, they barely interacted, not seeming to instinctually just know they were destined to become one of those please-never-break-up type of pairs. "I stayed on one side of the room with my people," Union would later tell Essence. "We like to party and he doesn't drink at all. He was on the other side of the room holding bible study."
And in the moments they did connect, the actress—who, by then, had already starred in a slew of teen hits such as She's All That, 10 Things I Hate About You and Bring It On—was left unimpressed.
The Chicago-bred basketball pro was 25, a standout on a newly minted championship NBA team and in the process of splitting from his first wife, high school sweetheart Siohvaughn Funches. "His 'resume' looked like crap: athlete, going through a divorce, nine years younger than me," Union bluntly surmised to Glamour. "None of that screamed, 'Let's have a lasting relationship.'"
Plus, the Nebraska native was already wary of athletes. In her memoir, she reveals NBA star Jason Kidd called to dump her two weeks before prom. And she claims NFL running back Chris Howard was unfaithful throughout their five-year marriage. Less than 24 hours after his proposal (which involved a bucket of KFC potato wedges, because why not?), she says she "discovered a message on Chris' computer that hinted at an affair."
So she dismissed Wade out of hand. Then something happened: She got her heart broken—again.
"After I had a heart-crushing breakup with yet another immature jerk, I thought, 'It can't be any worse if I date a fetus,'" she continued to Glamour. "Let's just see what happens."
Union was left pleasantly surprised. "Turned out he'd been on his own since he was 15," she said. "He had wisdom that comes with facing an insane amount of adversity. He's sweet, funny, honest about his shortcomings." The lesson in all of this, she explained, "When I put my preconceived notions to the side, I found someone cool."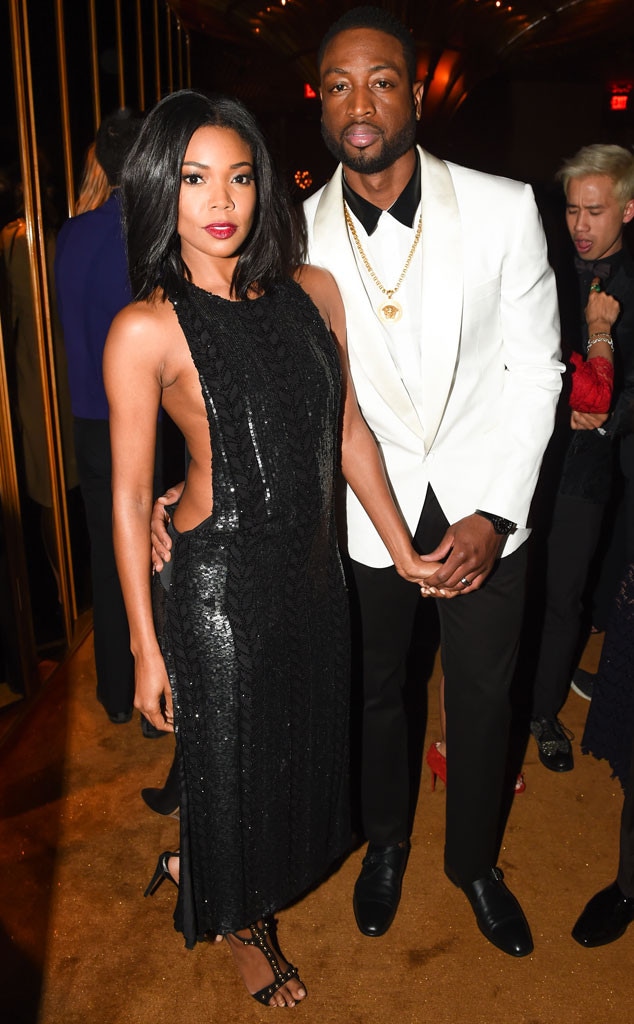 Neil Rasmus/BFA/Sipa USA
She also unearthed a mountain of drama. By the time the duo quietly started dating in 2009 (they were snapped together at basketball pro Alonzo Mourning's four-day charity event that June), Wade's divorce with Funches was already, how you say, contentious.
She accused him of abandoning his children, cheating and infecting her with an STD. He, in turn, sued her for defamation. And at one point during the drawn-out financial portion of the divorce, she sat outside the Chicago courthouse with a cardboard sign that read, "NBA Miami Heat star, mother of his children on the streets." (She was later awarded their six-bedroom Chicago mansion, four cars and $5 million.)
When Wade filed for sole custody of Zaire and Zaya in 2010, alleging Funches couldn't "be considered a fit and proper person" to raise them, she went on the offensive.
Two months later, she named Union in a lawsuit filed on behalf of her and Wade's children. Along with claiming the couple didn't properly supervise them, she alleged the actress "engaged in sexual foreplay" with Wade in front of their kids and that her actions had caused their eldest so much stress and anxiety that he was forced to seek medical treatment.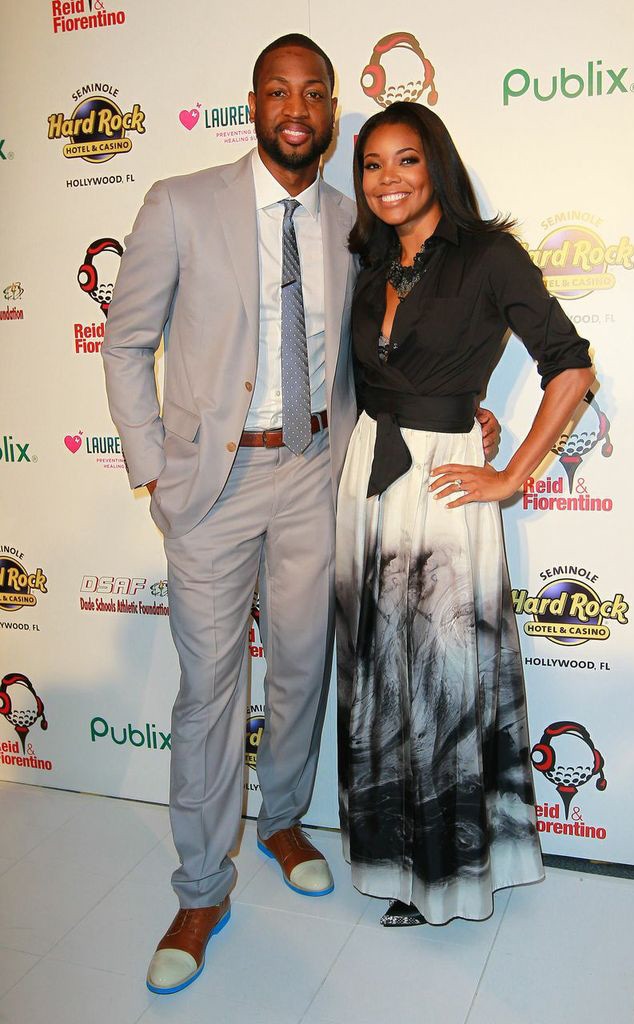 Union's rep labeled the claims, allegations that were later dismissed by a judge, as false. And amid all that mess—in the ultimate power move—the pair make their red carpet debut, at the same charity event they were snapped attending one year earlier.
By March 2011, a judge handed over sole "care, custody and control" of the kids to Wade, scolding Funches for embarking "on an unstoppable and relentless pattern of conduct for over two years to alienate the children from their father." Wade's response: "A huge weight is off my back."
Through it all, Union remained silent, even as she was labeled a mistress. But in April 2012—two months after she and Wade posed together for the cover of Essence—she had the opportunity to clear her name. "I think people mistook me taking the high road as an admission of guilt," she noted to Jet, but she and Wade "made a decision very early to not react to the negativity." Instead, they quietly submitted proof to the courts refuting Funches' claims, "So, it was like, obviously you're not telling the truth."
And while being publicly branded a cheater wasn't the best, she insisted she had no regrets about their pairing. "This kind of love is a gift," she said. "It's so consistent. There's no way that I would trade it for people who refuse to simply acknowledge the truth."
But even with the ex drama behind them, the duo couldn't fall into happily ever after quite yet. Starting in January 2013—as Union was launching her BET series Being Mary Jane and Wade was dealing with a nagging knee injury—the pair quietly separated for several months.
"It was because of distance and scheduling," Union later explained to Glamour, blaming a calendar that forced her to go right from filming her show to shooting Think Like a Man Too in Las Vegas. "I couldn't take time off, and I missed some quality togetherness we desperately needed." And while she said she'd always dreamed of a career so hot it required her to work on projects back-to-back, "I realized I wasn't willing to sacrifice my relationship for it. Moving forward, I decided my work schedule has to make sense for our family."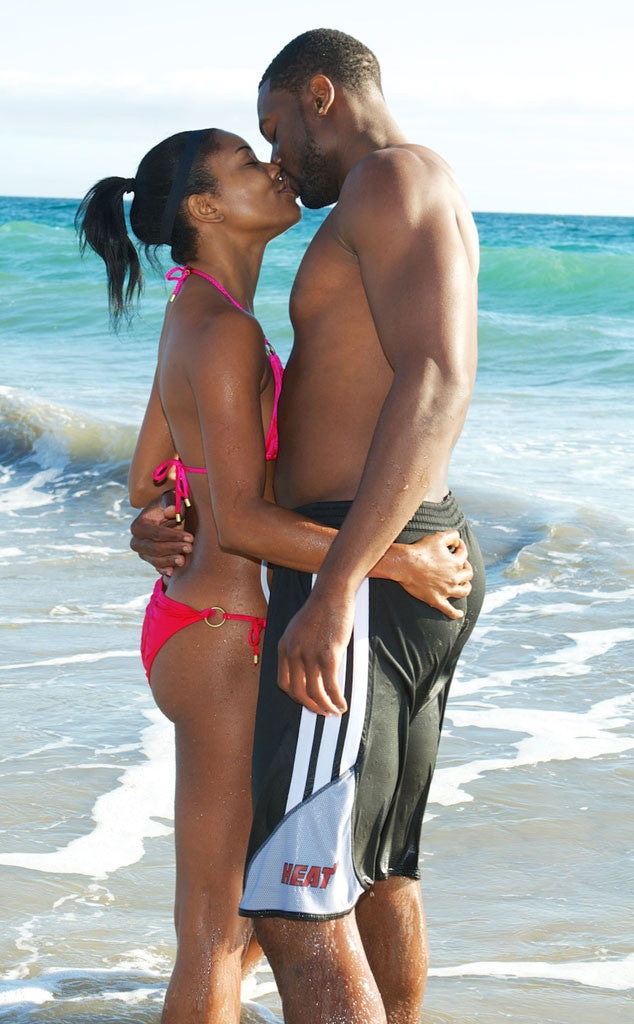 Bobby Metelus/Getty Images
Ultimately, the pre-engagement split proved successful just as it had for other couples before them. (See: Justin Timberlake and Jessica Biel and even Prince William and Kate Middleton.) "At the end of the day, we came back together and said, 'Listen, we want to continue this. We want to continue to get better each day,'" Wade explained during a September 2013 appearance on The Tonight Show. "She's been with me and I've been with her all summer long. We're going strong now."
That December, the 6-foot-4 athlete got down on one knee with an 8.5-carat cushion-cut diamond as his children stood behind him with signs asking, "Will you marry us?"
At first Union assumed the kids had acted on their own. "The thing is, they ask me all the time, so I'm thinking, 'Well this is embarrassing, now they've made signs,'" she explained on Live With Kelly and Michael. "I turn to D like, 'Ugh, they just made some signs,' and he's down on one knee—and he's like, 'Will you marry us?' And I was like, 'Oh, you're serious!'"
In one of her most endearing moves to date, Union celebrated the relationship upgrade with some wood-fired grilled shrimp at her favorite restaurant: Red Lobster.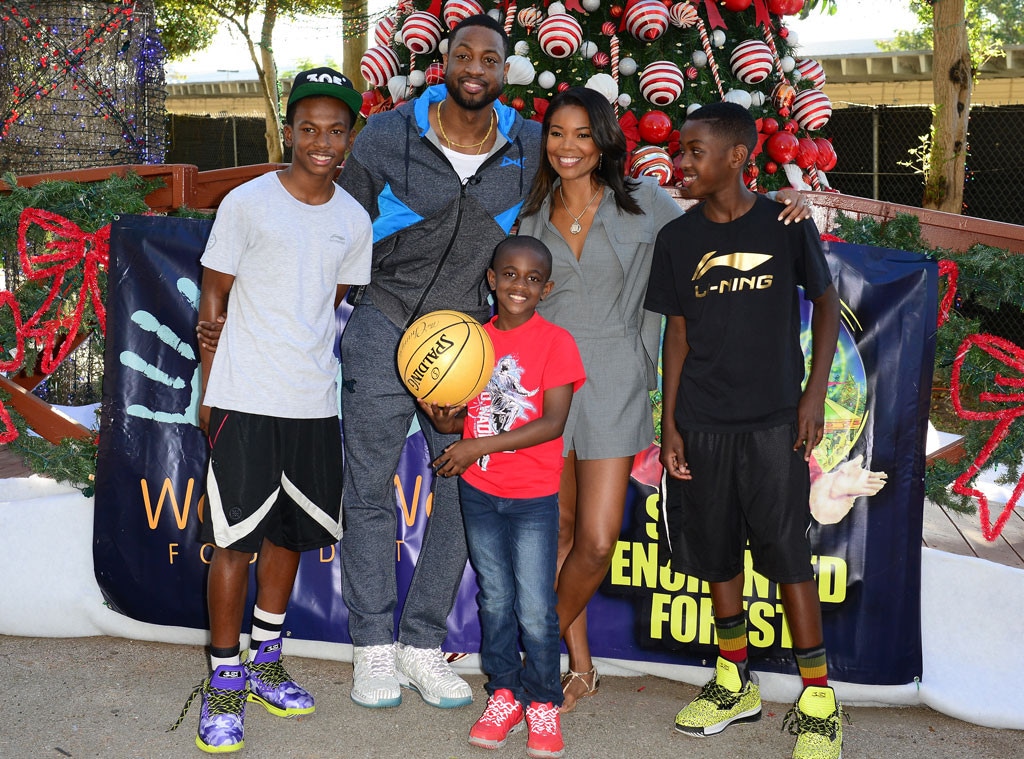 JL/Sipa USA
Her cool girl chill remained through the lead up to their vows, even when just 10 days after their engagement, news broke that Wade had fathered a child with longtime pal Aja Metoyer. Fans were aghast, but Wade calmly confirmed the recent arrival of Xavier in a press conference, calling him "a blessing." And that was that. Because of course Union knew. One of the tenets of their relationship, she told Glamour, is honesty: "I believe in full disclosure. No weird secrets. Let the chips fall where they may."
While she surged forward with the logistics of legally entwining herself with Wade—she joked on the Arsenio Hall Show she would be getting a prenup because "the reality is I've never seen Dwyane balance a checkbook, so I gotta protect my stuff"—he went into full-on party planner mode.
Joking to Us Weekly that Wade had become a "groomzilla," Union revealed that when the athlete realized she was trying to turn their August 2014 affair at Miami's Chateau Artisan "into a frat party with k-cups and beer pong," he took over. "He really Kanye'd himself and really doubled down, and it's his princess day and I'm just along for the ride."
Really all she did to prep, she told Vegas magazine, was to attend a wine tasting and pick out two Dennis Basso gowns. "That's the joy of getting married to a man who loves clothes and wardrobe changes: You can have more than one dress."
And while flouncy white gowns are great and all, Union said she was more concerned with what would come after they tied the knot.
"A lot of times, we become grown-ups and we feel like we have to act 'grown,' and that part of acting 'grown' is to somehow eliminate fun," she told Refinery29. "We should always keep a little bit of fun and immaturity as a part of our life, and certainly as part of our sex life."
To that end, says Union, both she and Wade make affection a priority. "Dwyane generally gets up before I do to go to the gym, and he's never left without kissing me and telling me he loves me," the New York & Co. designer told Glamour. "As for me, I am complimentary to the point where I am almost a little Chester the Molester-y. I think he's delicious. Watching him get out of the shower never gets old."
They also do their best not to get bogged down in petty arguments. "He lets me off the hook, and I do the same," she said. "Is it annoying that he refuses to put the cap back on the toothpaste? Yes. But at the end of the day, I just screw it back on myself. It's give-and-take."
And to the star what she reaps is well worth it. Calling her husband "a Nicholas Sparks book exploded into an NBA player," she told E! News, "he's very romantic and a great gift-giver." Among his best: The poetry he pens himself and the time he told her to pack a suitcase for their first anniversary and didn't reveal they were off to Bora Bora until the plane was in the air.
Union isn't shy about sharing how they get each other's motors running, explaining to Glamour, "Sometimes my girlfriends will mention sexting or certain positions as something they'd only do with a guy on spring break. They'll say, 'You don't do that with someone you love.' And I'll say, 'That's who you're supposed to do it with.'"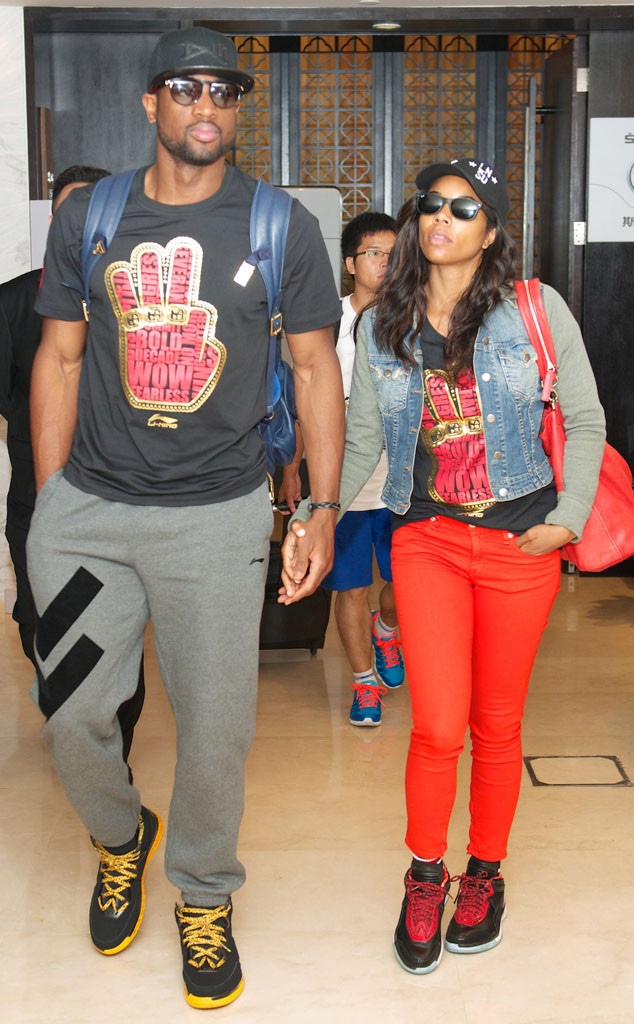 Bobby Metelus/Getty Images
Still, she stops short of revealing all their secrets. In the initial years after their wedding, she politely deflected questions about when they would procreate. But by 2017 she was so tired of people prying into what may or may not be happening in her uterus, she gave the sort of brutally honest response that's designed to halt all inquiries. Revealing her series of miscarriages, she wrote in her book, "For three years, my body has been a prisoner of trying to get pregnant—I've either been about to go into an IVF cycle, in the middle of an IVF cycle, or coming out of an IVF cycle."
Then she made it perfectly clear that's all she would be saying on the subject. Should she be spotted holding a newborn, by all means, she'll address it. Until then, she told E! News, "If we are or if we aren't, that's, like, totally our thing."
So, now they are and, as promised, she's addressing it. Kaavia, a ridiculously photogenic 3-year-old known for her #shadybaby stares and hilariously dry wit (though we'll give credit there to Mom and Dad), already boasts 1.8 million followers to her @kaaviajames Instagram handle and her own book. And you're damn right she was down to model a series of costumes for her first Halloween in 2019.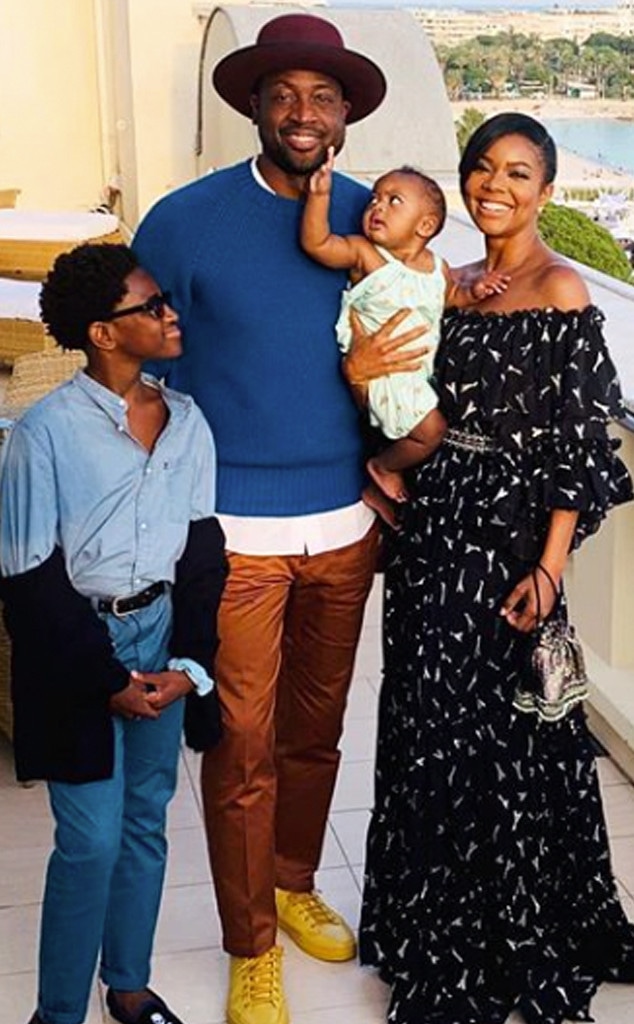 Instagram
It was a snap the family posted that Thanksgiving, however, that drew the most eyes.
When Wade took notice that people were criticizing Zaya's stylish crop top and long nails, he appropriately dunked on all of them. "I've seen some post-thanksgiving hate on social about my family photo," he tweeted. "Stupidity is apart of this world we live in—so i get it. But here's the thing—I've been chosen to lead my family not y'all. So we will continue to be us and support each other with pride, love & a smile!"
He lived up to that vow weeks later, when he sat down for a lengthy interview for Matt Barnes and Stephen Jackson's All the Smoke podcast. "I've watched my son from day one become into who she now eventually has come into," he said. "And for me it's all about…nothing changes with my love, nothing changes with my responsibilities. Only thing I have to do now is get smarter and educate myself more, and that's my job."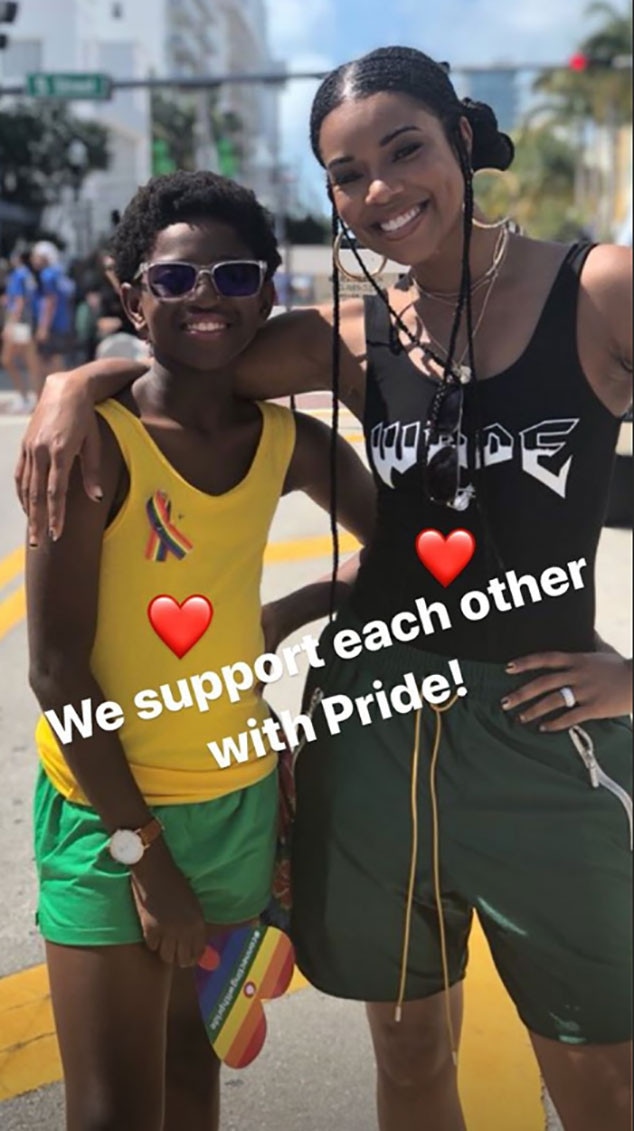 Instagram
He's already got the endless, unconditional support part down cold.
"First of all, you want to talk about strength and courage?" the former professional athlete, adept at putting his body on the line across his decades on the hardwood, told fellow NBA alum Barnes and Jackson. "My 12-year-old has way more than I have. You can learn something from your kids. In our household, that's all we talk about; we talk about making sure our kids are seen by each of us. Me and my wife, we talk about making sure our kids understand the power in their voice. We want them to be whoever they feel they can be in this world. That's our goal: Understand you can be whoever, you can be whatever."
Though the pair, honored as two of TIME's 100 most influential people, have been praised for their work as advocates in the LGBTQ+ community, they insist they're the ones constantly left inspired as they watch their daughters grow.
"We have a daughter that is almost 2, who the world has seen is bound to nothing but whatever is in her heart and on her soul at the moment and it's beautiful to watch truly free children," Union said in their 2020 cover story. "We have another daughter who is 13, who has freedom to be exactly who she is, who she was born to be, to be her most authentic self. She doesn't ask permission to exist. That is wildly inspiring."
It helps to have parents that are proof positive that your wildest dreams can come true.

PHOTOS
Zaya Wade's Cutest Family Pictures
Union need only reference her trusty vision boards to appreciate just how far she's come. "As goals manifest, I've been able to look at my boards and say, 'Damn, I put in a lot of work and deserve it,'" Union explained to Redbook of keeping tabs. "That's helped me to stop feeling suspicious of joy. To not sabotage some­thing before I've had a chance to do it because I assume I'll be rejected."
Because, frankly, there's a whole lot of joy in Union's life, starting with a husband who's still doling out surprises a decade into their romance. In fact their married life is so "freakishly awesome," Union told E! News, "It's almost kind of embarrassing to talk about. We really enjoy each other."
(Originally published Apr. 13, 2018, at 5 a.m. PT) By SARAH GROSSBART JAN 17, 2022 7:30 AMTAGS