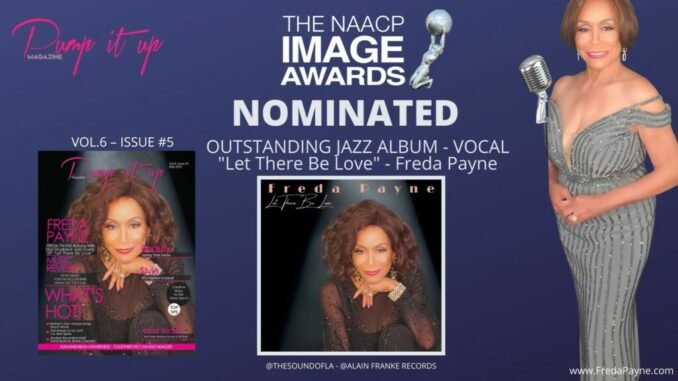 Congratulations to our cover girl Miss Freda Payne for her NAACP IMAGE AWARDS NOMINATION FOR HER OUTSTANDING JAZZ ALBUM – VOCAL
Legendary Song Stylist FREDA PAYNE Returns w/ Star-Studded Jazz Duets EP Let There Be Love – Available now
Triple-Threat vocal wonder Freda Payne returns from a 6-year sabbatical with her most star-studded Jazz vocal project yet, Let There Be Love. The 5-song EP – in the tradition of 10-inch shellac records from the golden years of jazz – is bubbling over with knockout performances highlighted by 4 duets with special guests who are not only stellar singers, they ALL exude sparkling chemistry with Ms. Payne. Recorded inside fabled Capitol Records Studio 'A' in Hollywood and officially releasing via The Sound of L.A. Records
With big band charts for 30-pieces by Grammy-winner Gordon Goodwin and production by Rodrigo Rios (Executive Produced by Michael Goetz for Alain Franke Music), no expense was spared to make Ms. Payne's return a spectacular one. The first single  is a dream come true duet with Johnny Mathis on the George & Ira Gershwin gem "They Can't Take That Away From Me," filled with sweetly flirtatious energy and the spirit of the singular Nelson Riddle. 2021 Grammy-winner for Best Jazz Vocal Album, Kurt Elling, swings in to join Freda on a rhapsodic scat symphony of Gershwin's "Our Love is Here to Stay."
Freda has a field day with Michigan friend Dee Dee Bridgewater on the ingenious medley "Moanin' n' Doodlin'" which pairs up two lyricized jazz gems from the pens of piano greats Bobby Timmons ("Moanin'") and Horace Silver ("Doodlin'"). Soul crooner Kenny Lattimore slides in next to Freda for a cool jazz meets mod-pop reading of the ol' Nat King Cole hit, "Let There Be Love." Finally, Ms. Payne trades scats solo with the band on the sassy "It's Alright With Me," delivering fans shades of Ella that served her well across the decades.
Though internationally renowned for her chart-topping 1970 Soul-Pop classic "Band of Gold," Ms. Payne began her career in 1962 singing Jazz. She has since lent voice to everything from standards, R&B and Quiet Storm to Disco and Pop.
The last two decades have found Freda Payne firmly back home in Jazz. Her latest, Let There Be Love, will make lovers of the genre giddy – from vets to newbies
Produced by Rodrigo Rios, co-produced by Freda Payne and executive produced by James M. Goetz. Released  via The Sound of L.A. Records with distribution, marketing and promotion handled by company proprietors Michael & Anissa Sutton.
Official Website: http://www.FredaPayne.com
Connect With Freda Payne on social Media:
@IAMFREDAPAYNE
Label: www.thesoundofla.com
SAVE 20% THROUGH JANUARY 21, 2022. CODE: NEWYEAR20 CLICK FOR DETAILS.
Pump it up magazine: Pump it up magazine – Freda Payne – Vol.6 – Issue #5
Greetings Readers, I hope you're enjoying a wonderful spring 2021!In this issue, we are proud to have on the cover the Legendary Freda Payne. Freda is known for her smash hit, " Band of Gold" She has returned to her Jazz roots with an amazing album pairing with some of the greatest…
5