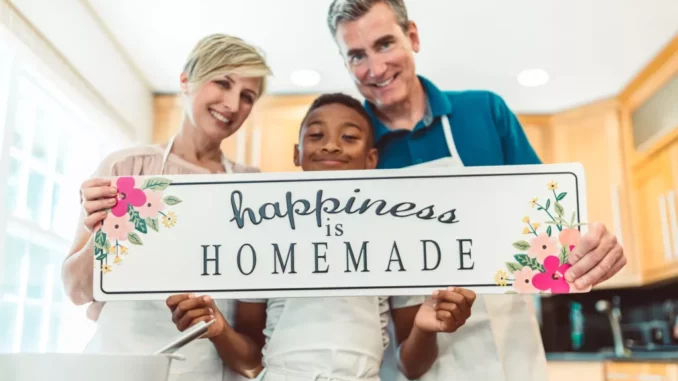 The cost of raising a family can be high. Depending on how many kids you have, the cost may keep rising. With all the recent increases in bill prices and the fact that the kids will need more stuff as they get older, it is more crucial than ever to start finding ways to save money. People can save money in many different ways, and they can make sacrifices. But there are some sacrifices that people are willing to make and others that they are not; it all depends on your tastes, your way of life, and the things you want to give up or not. Being frugal is very easy to adopt and can save you a lot of money while still having fun. 
Try second-hand if you can 
New children's apparel and footwear purchases can be costly errors. Simple money-saving advice for families includes visiting thrift stores, yard sales, consignment shops, and having a clothing swap with another family. To purchase and sell stuff locally, you may also check out internet marketplaces. You can also see what people are offering on social media in your area's local deals group. The clothing, shoes, toys, books, and other items your kids outgrow can all be sold at these same places.
How Much Do You Waste With Food And Groceries?
Thinking about how much you spend on food and if you waste any of it is one method to look for ways to save money. If you discover that you're throwing away a lot of food, this may also indicate financial waste. It's important to just dump your money in the trash if you spend money on food that you don't use. Planning your meals is an excellent method to handle this. You can save money by organising your meals for the week, then going through your cabinet to see what you have and what you need to make those meals. You don't always have to batch cook everything at once.
If you simply go to the store blindly and buy random items, you might not be able to prepare meals with them or you might realise that you're buying things that you won't use. One benefit of meal planning is that you may freeze extra items or leftovers for a day when you need a quick dinner and use them as lunch the following day. This indicates that the things you produce don't go to waste and may be used much more effectively. Even vegetable scraps and potato peel can be used to make compost or stock for soups and stews. To save money, you can also manufacture your sweets. 
Choose frugal fun 
For families, entertainment and vacations are two major money drains. Stop overthinking; it's one of the simplest methods to cut costs on family spending in these areas. Travel and entertainment don't have to be expensive to be enjoyable and memorable. We believe that if it doesn't include this or that, our children won't have fond family memories, but in reality, children only want to be kids. Family-friendly money-saving ideas include substituting a trip to the cinema or an amusement park with a bike ride or a museum visit on a day when entrance is free.
Try a cheap staycation at home if you don't have the money for an expensive getaway. Put up a tent in the backyard or visit your hometown as a tourist. Along with museums, state parks and historical sites frequently charge little to free entrance, and you may save even more money by bringing your lunch rather than eating out.
Increased savings 
Once your budget has been established, you can start looking for methods to reduce your expenditure and perhaps set aside a small amount each month to start saving for you or your child. Saving this extra money could serve as a cushion during parental leave or as a contribution toward larger future purchases. It is worthwhile to look around for a savings account that can maximise your family's resources.
Make Use Of Vouchers And Coupons
When you're trying to save money, you start to pay attention to where and when vouchers are offered. Vouchers can be found in supermarket brochures, magazines, and mail-order booklets, as well as online at sites like NetVoucherCodes.co.uk. Even if the savings are long-term, looking for coupons and even merely reduced-priced items can help you save money. If you come across an incredibly affordable toy, you can decide to buy it and put it away for the subsequent birthday or Christmas. If you discover that there is a lot of meat available, you can purchase it and freeze it. There are numerous strategies for maximising offers and freebies.
Look Out For Freebies And Samples
There are ways to receive free products, such as samples that may be supplied on various websites or in stores. People may also sell free goods on sites like Facebook Marketplace or Freecycle if they no longer require or desire them. Offering it for free so that someone may come and pick it up saves on the headache of getting rid of it because they are typically in decent condition and simply something that people don't want anymore. 
Track Your Spending
Examining and keeping track of your monthly outlay expenses is another approach to seeking ways to save money. You can find some items that you might have needed to cancel but haven't gotten around to doing when you construct a list of everything you pay out. To immediately save money, you can cancel any subscriptions that you no longer require or anything else that was automatically charged each month but that you just forgot about. Additionally, consider how much you are spending on items like energy and the internet. After a set period, these usually return to a conventional form of a tariff. These are typically much more expensive. Therefore, you might discover that you can save money right away by just calling your provider and asking if they have any cheaper rates or shopping elsewhere.
Keep toys to a minimum 
Infants and young children frequently choose to play with the box and wrap paper over the carefully chosen toy within. Therefore, if you're short on money, start with cutting less on toys. Instead, consider assembling a basket for your child out of commonplace goods like spatulas, hairbrushes, and empty kitchen roll tubes. They'll have a blast, and your bank account will appreciate it.
Put the name tag aside
Numerous goods, including herbal teas, vitamins, and cosmetic items, are marketed as being "for pregnancy." However, it doesn't follow that a conventional version won't function just as well. It's worth investigating whether a less expensive substitute can provide the same results, provided you make sure the materials are safe. Other things can be modified from how they were intended to be. Some nursing-friendly pregnant clothing is also available, and a breastfeeding cushion is useful both before and after delivery.
Either borrow or purchase used 
Baby items don't degrade quickly and are frequently utilised for short periods. Purchasing used items can frequently result in significant savings (not to mention doing your bit to save the planet). Look through Facebook local selling pages or National Childbirth Trust sales in your area. Inquire if any friends or family members who have children older than yours have any things they no longer need that you might use, buy, or even borrow. This advice also holds when purchasing items for older kids, such as gifts, clothes, or school supplies for teenagers.