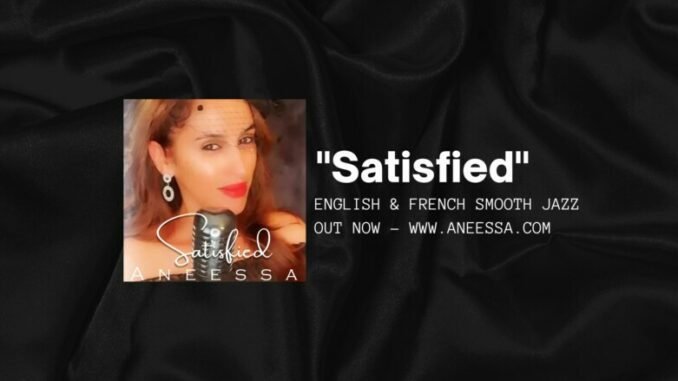 In an alluring display of her ingenuity in the sound of smooth urban jazz music, the Sound of L.A. sensation ANEESSA has yet released her latest single dubbed "Satisfied".
Exclusively available now for purchase off her website and pre order on all streaming service, the single will remind you of those love ballads that got people hooked onto their cassettes back in the 60s.
Delivered in a bilingual style, "Satisfied" features in languages French and English. This is ultimately a dedication from Aneessa to her true love. The almost six minutes of the song can be described as pure heaven as the L.A. songstress chants ironically about the title that seemingly checks out to have the same meaning as her name in Hebrew and Greek; Aneessa (Anissa).
"Satisfied" is that perfect fanciful song that can refresh you after a long day's work.
The single is produced by Michael B Sutton. Michael B Sutton is a veteran Motown music producer that has worked on several singles that have topped jazz charts all over the globe.
Relax and enjoy while you drench in the laudable lyrics of Aneessa's mollified vocals on this new single.
Hurry now and listen to Satisfied!
https://sndo.ffm.to/qy3kar7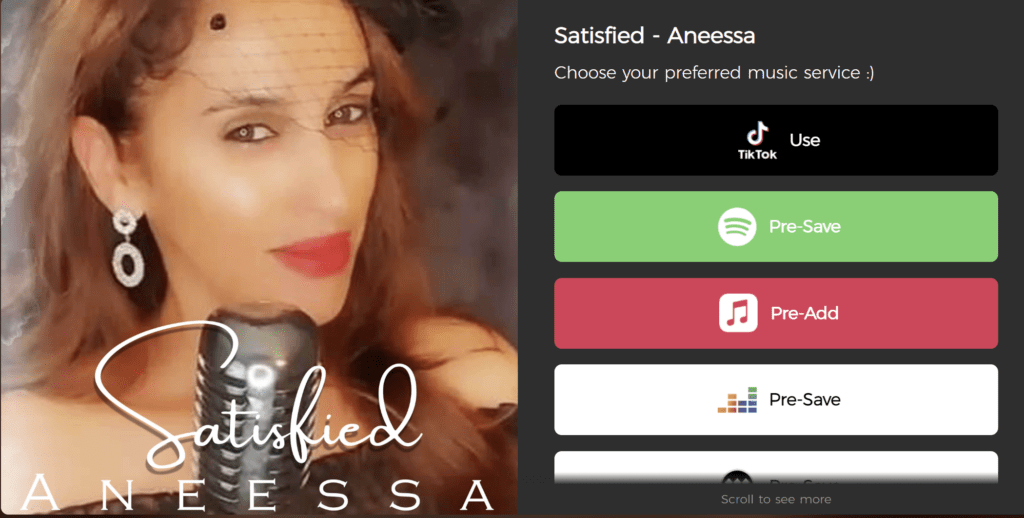 pre save https://sndo.ffm.to/qy3kar7
So Satis.. So Satisfied
Your love can be just right for me
You really put my mind at ease
Life ain't so bad when you're around
True love with you is what I found
That's why I'm
So Satis.. So Satisfied
I got a thing for you
You got a thing for me
And it feels so right
I want you morning noon and night
Everytime I feel I want you babe
Everytime I feel I need you babe
You're here for me
You really put my mind at ease
That's why I'm
So Satis.. So Satisfied
Everytime I'm moving close to you I just want to make sweet love to you
So satisfied
Everytime I'm moving close to you I just want to make sweet love to you
So satisfied
La vraie satisfaction commence par moi-meme
Si je le peux pour moi
Je le pourrai pour nous
Si je m'aime avant tout
Alors je peux aimer pour deux
So Satis.. So Satisfied
Click on this link>>https://sndo.ffm.to/qy3kar7 to pre save "Satisfied"
So Satis.. So Satisfied
Your love can be just right for me
You really put my mind at ease
Life ain't so bad when you're around
True love with you is what I found
That's why I'm
So Satis.. So Satisfied
I got a thing for you
You got a thing for me
And it feels so right
I want you morning noon and night
Everytime I feel I want you babe
Everytime I feel I need you babe
You're here for me
You really put my mind at ease
That's why I'm
So Satis.. So Satisfied
Everytime I'm moving close to you I just want to make sweet love to you
So satisfied
Everytime I'm moving close to you I just want to make sweet love to you
So satisfied
La vraie satisfaction commence par moi-meme
Si je le peux pour moi
Je le pourrai pour nous
Si je m'aime avant tout
Alors je peux aimer pour deux
So Satis.. So Satisfied