Here at Pump It Up Magazine, we are excited to guide you through the top 5 must-see attractions in Baltimore, Maryland. We'll also shine a spotlight on the upcoming live performance by the legendary Freda Payne at the iconic Keystone Korner Jazz Bar. Whether you're a local seeking new adventures or a visitor planning your trip, these recommendations guarantee an unforgettable experience in Charm City.
1. Baltimore Museum of Art: A Cultural Gem
Nestled in Charles Village, the Baltimore Museum of Art is a cultural treasure trove. With a remarkable collection featuring works by renowned artists like Andy Warhol and Vincent van Gogh, it's the perfect place to immerse yourself in Baltimore's thriving art scene. Don't miss the opportunity to explore this artistic gem during your visit.
2. Waterfront Cruise: Scenic Views Await
For a unique perspective of Baltimore's picturesque Inner Harbor, embark on a waterfront cruise. Various boat tours offer breathtaking views of the city skyline, historic ships, and the iconic Fort McHenry. Whether you opt for a daytime cruise or a romantic evening sail, you're in for a visual treat.
3. National Aquarium: An Aquatic Wonderland
Located in the heart of the Inner Harbor, the National Aquarium is a mesmerizing attraction for all ages. With thousands of aquatic creatures from around the world, interactive exhibits, and immersive displays, it's a fantastic family-friendly destination where you can get up close and personal with marine life.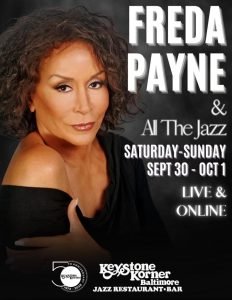 4. Freda Payne Live at Keystone Korner Jazz Bar: A Musical Journey
Now, let's dive into the main event! Keystone Korner Jazz Bar is a legendary jazz club in Baltimore, and it's where you can witness the enchanting Freda Payne perform live. Her soulful voice will transport you to another world in the intimate setting of this iconic venue. Be sure to check the schedule and secure your tickets in advance for an unparalleled musical experience.
Freda Payne Live at Keystone Korner Jazz Bar – September 30th and October 1st. This event promises to be an unforgettable experience for jazz enthusiasts and music lovers alike!
About Keystone Korner Baltimore: Where Jazz Thrives
Keystone Korner Baltimore, led by NEA Jazz Master Todd Barkan and renowned Chef Robert Wiedmaier, stands as Baltimore's premier live jazz venue and restaurant. It's not just a place where jazz is preserved; it's a place where jazz is celebrated with unwavering passion and dedication. Here, you can expect the best music in the world at affordable prices, all within a welcoming and loving environment.
What sets Keystone Korner Baltimore apart is not only world-class jazz on its stage but also the culinary artistry of Michelin-starred Chef Robert Wiedmaier. His "retro refined Americana" cuisine features beloved classics like iceberg wedge salad, deviled eggs, and baby back ribs, elevated to gourmet perfection.
So, while we invite you to join us for a show, remember that we're delighted to welcome you anytime for exceptional food and drink.
Todd Barkan's Enduring Legacy: Jazz Advocate Extraordinaire
Todd Barkan, an NEA Jazz Master, has played a pivotal role in shaping the jazz landscape. His commitment to nurturing and showcasing jazz talent is legendary. As he aptly puts it, "Take care of the music, and the music will take care of you." His influence in the jazz community is immeasurable, and his work continues to inspire musicians and jazz enthusiasts worldwide.
Keystone Korner's Historic Significance: A Jazz Sanctuary
Keystone Korner's history speaks volumes about its significance in the jazz world. It served as a home away from home for countless musicians and music aficionados during its heyday in the 70s. The club was celebrated for its diverse and passionate audience, including iconic figures like Angela Davis, Robin Williams, and Don Cherry, who would gather to witness remarkable performances by jazz legends.
The club's contribution to jazz history includes hosting live recordings by legendary artists such as McCoy Tyner, Dexter Gordon, and Bill Evans, among others. Keystone Korner holds a special place in the hearts of jazz enthusiasts.
5. Fells Point: Historic Charm and Delectable Cuisine Experience the historic charm of Fells Point, a waterfront neighborhood known for its cobblestone streets, eclectic shops, and mouthwatering seafood restaurants. As you stroll along the waterfront, indulge in local crab dishes and immerse yourself in the unique atmosphere of this captivating district.
In Conclusion: Baltimore's Cultural Richness Awaits
Baltimore offers a wealth of experiences, from its vibrant arts scene to its historic neighborhoods and captivating waterfront. However, the highlight of your visit should unquestionably be witnessing Freda Payne's live performance at Keystone Korner Jazz Bar. This musical journey is a testament to Baltimore's cultural richness and should top your list when planning your visit to this remarkable city. So, pack your bags and get ready to explore Baltimore's finest attractions, with a jazz-filled night you'll cherish forever.
Photo 1  by Rohit Potdar: https://www.pexels.com/photo/photo-of-people-walking-near-building-2716795/
Photo 3 Photo by Chris: https://www.pexels.com/photo/people-in-aquarium-18132641/