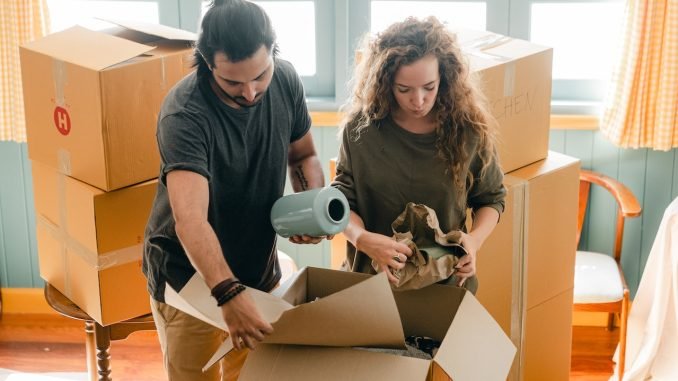 Relocating to a new home in the same town can be challenging enough, but moving long-distance across state lines or across the country requires extra planning and preparation. The logistics involved in long-distance moves are far more complex, especially when moving away from an extreme climate that can impact the moving process. For example, when moving from a very hot location like Dallas, Texas, where average summer temperatures exceed 90°F, hauling heavy boxes and furniture in the sweltering heat can become a safety hazard.
Properly preparing for a big interstate move takes extra time, organization and forethought. By following these tips, you can make your upcoming long-distance move from Dallas or any other city as smooth and stress-free as possible.
1. Choose the optimal moving timeframe
One of the first steps when planning a long-distance move is picking the ideal timeframe to make the transition based on weather, holidays and other timing factors. This is especially crucial when moving from an area prone to seasonal extremes like Dallas, Texas. With its hot and humid summers where temperatures frequently exceed 100°F, relocating during the cooler spring and fall months can make heavy lifting and outdoor work far more manageable.
However, Dallas falls right in the middle of "tornado alley" and sees more frequent tornadoes during the springtime. The potential for severe weather can cause dangerous conditions for transporting belongings long distances. Hiring reputable long distance movers in Dallas can help navigate timing a move to avoid extreme heat while also dodging peak tornado season. They will be familiar with the climate patterns and challenges specific to the region.
2. Purge and donate items
In the months leading up to a long-distance move, be proactive about going through all possessions room by room to decide what should be donated, sold, or disposed of. Moving across state lines or across the country provides the perfect opportunity to purge clutter and pare down to just essentials. Make decluttering a priority well in advance, so you have time to thoughtfully evaluate each item. Anything not used in the past year, clothing that no longer fits, or items that are broken or unusable should be removed right away. Be ruthless about only keeping belongings that bring value and joy to your life. The less you have to pack and move, the easier the transition will be.
Create an ongoing donation pile and make regular drop-offs at local charities. Selling gently used furniture, electronics, accessories, and other items in good condition can earn extra cash to put towards moving expenses. Be sure to stage rooms nicely when photographing pieces to sell online. Scheduling pickups for larger donated items is recommended so they are removed from the house prior to the movers arriving. Moving cross-country gives people permission to lighten their load, simplify their lifestyle, and focus on only the essentials they truly need in their new home.
3. Obtain moving quotes
After deciding on a moving timeframe, the next vital step is researching long-distance moving companies and obtaining quotes. Look for companies with excellent reputations, verifiable licensing and insurance, and at least 5 years of experience with cross-country moves. Check reviews on Google, Yelp, and the Better Business Bureau to view feedback from past customers. Get recommendations from trusted friends, realtors, or colleagues who have moved long distances before.
Reach out to a minimum of three top-rated movers to have them provide complete written estimates. Be as accurate as possible about your moving timeline, the items being moved, and your destination address. Make sure to disclose any specialty items like a piano, pool table, or other challenging pieces. Quotes should cover all costs, including materials, labor, mileage, weight limits, and insurance. Obtain binding estimates that lock in the rate if using that mover. Moving companies can vary widely in cost, so shopping around and comparing several quotes is key to finding the best value.
4. Reserve movers
After carefully comparing moving companies and quotes, choose the mover that best fits your needs and budget. Be wary of estimates that seem too good to be true, as quality service often costs more. Visit the mover's office in person if possible, to make sure operations are professional and organized. Once satisfied, reserve your chosen long-distance mover right away, as reputable companies book up very quickly. Put down a deposit to lock in your moving dates. Ask lots of questions to understand the complete process and timeline.
Since movers are transporting your life's possessions, protecting your valuables should be a top priority. Inquire about the company's level of insurance coverage, damage claims process, and options to purchase additional protection. Itemizing high-value belongings with photos is also recommended. Taking these steps will provide peace of mind that your irreplaceable items will arrive safely at your new home across the miles.
5. Arrange pet travel
For families moving long-distance with pets, extra preparations are required to get furry friends to the new home. First, contact airlines about their pet policies and fees. Some may allow small pets in the cabin, while larger dogs and cats may need to fly in cargo. Airlines have restrictions around pet carrier sizes, so measure your pet to ensure their crate meets guidelines. Booking pet flights in advance is essential as the room fills up quickly.
Alternatively, you can hire a professional pet transport service to relocate animals by ground. Compare companies and read reviews to vet their safety and reliability. If driving your own pets, plan pet-friendly stops every few hours for potty breaks and exercise. Pack a bag with food, bowls, leashes, and medication. Place updated identification tags on pets with your new address and phone number. Also, update microchip registration with new contact details in case your pet gets lost during the move.
6. Ship vehicles
Decide if driving or shipping household vehicles to the new residence. Driving allows you to securely transport personal belongings but requires more time and gas costs. When opting to ship vehicles, hire an auto transport company in advance since they book up quickly. Remove all personal items and disable toll devices from cars being shipped. Measure vehicle dimensions to ensure they fit on the transport trailer. Larger trucks and SUVs often cost more to ship.
On moving day, check the car carrier truck arrives as scheduled and drivers load vehicles professionally using straps and chains. Do a thorough inspection for any existing damage and take photos to document the condition. Sign the bill of lading after verifying the details. Tip drivers for exceptional service. Shipping cars separately allows you to focus on relocating without the stress of a long drive. Just be sure to coordinate arrival times with the movers unloading your household belongings on the other end.
Conclusion
Moving long distances requires careful preparation, but staying organized and planning ahead makes the transition much smoother. Give yourself plenty of time to handle logistics like choosing movers, consolidating belongings, and redirecting services. Strategic packing, cleaning, and purging, streamlines moving day. With the right long-distance moving plan in place, you'll be settled into your new home before you know it!