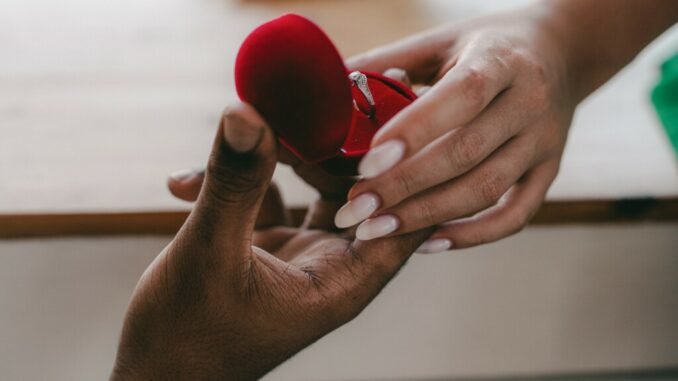 Engagement rings can often be expensive. Whether you're choosing a ring for a partner or choosing your own ring, it's important that you weigh up all the important factors such as the size, the style and the cost. Below are just some of the most common mistakes that people make when shopping for an engagement ring and how to avoid them. 
Buying a ring that's too small
Many people end up buying a ring in the wrong size. A ring that is too big is usually not too much of a problem – many rings can be easily scaled down. Making a ring larger is much more difficult and often more expensive. For this reason, if you're unsure as to the size, it's better to guess too large than too small.
Of course, if you can find out the ring size beforehand, you can avoid the need to resize the ring at all. If you're choosing a ring for yourself, you can simply visit a jeweler to measure your finger for you. If you're buying a ring for someone else, there are other tricks you can use to find out their size as listed here at How They Asked.
Overlooking metal allergies
Some people have allergic reactions to certain metals. This tends to be metals like nickel rather than metals like gold or silver, however some gold and silver rings can still contain traces of other metals like nickel.
If you have a metal allergy or the person you're buying for has a metal allergy, you may be better off opting for a ring made of a hypoallergenic metal such as platinum. Other metal options include titanium, tungsten carbide and palladium. 
Sticking to high street stores
High street stores have their advantages – you can inspect rings in person and even try them on if you're choosing for yourself. However, rings tend to be much more highly priced than rings you may find online.
Shopping online at stores like Brilliant Earth could save you money. There are also other benefits such as the option of exploring a much wider range of styles, as well as the option to customize your ring in some cases.
Failing to gather hints as to the style
If you're choosing a ring for yourself, you'll likely know which style is right for you. If you're buying for someone else, you need to consider what their preferred style is likely to be.
Some partners will drop hints as to the style they want, but others may not. If you don't want to ask them directly, consider asking friends or relatives to do some prying for you. This can prevent you from buying a ring in the wrong style. Of course, you can always buy a cheap placeholder ring and let them choose the actual ring after you've proposed.  
Leaving ring shopping to the last minute
If you've planned a proposal event such as a meal or a night away, make sure that you've sorted out the ring long in advance. Don't wait until the week before to go ring shopping as you may not have enough time to thoroughly shop around. Online rings may not even be able to be delivered on time and custom rings typically require a month to manufacture and deliver. By starting ring shopping early, you can give yourself more options and increase the chance of finding the perfect ring.