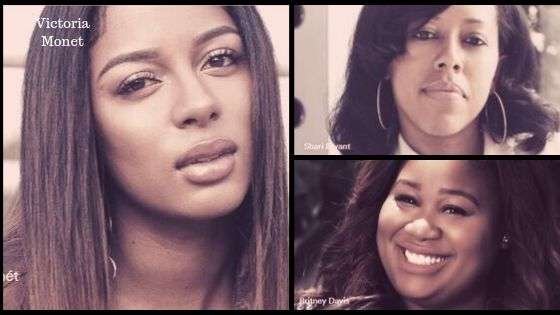 Artist/Songwriter Victoria Monét, Roc Nation's Shari Bryant and Capitol Records' Britney Davis To Be Recognized at 11th Annual ASCAP Women Behind The Music, October 9 In Los Angeles
Annual Event Presented by ASCAP Rhythm & Soul Department Honors Female Leaders in Entertainment
LOS ANGELES, September 16, 2019—The American Society of Composers, Authors and Publishers (ASCAP) has announced the honorees for its upcoming 11th annual ASCAP Women Behind the Music event, slated for October 9 in Los Angeles. This year, ASCAP will recognize artist/songwriter Victoria Monét (Ariana Grande, Mary J. Blige, Chris Brown), Roc Nation Co-President Shari Byrant and Capitol Records Vice President of Artist Relations Britney Davis as major forces in the industry who continue to make an impact on entertainment culture.
The event takes place at Bardot in Hollywood (1737 Vine St.), beginning at 7:00 pm on October 9. It is free and open to the public on a first-come, first-served basis, no RSVP required. Bardot has limited capacity.
Presented by the ASCAP Rhythm & Soul department, ASCAP Women Behind the Music was established to recognize and encourage women in the music community and honors not only songwriters and artists, but also female executives in all facets of the entertainment business including managers, attorneys, label executives and music publishers.
Victoria Monét is a recording artist, songwriter, vocal producer and performer from Sacramento, CA. Monét studied under acclaimed Grammy-winning songwriter LaShawn Daniels (Brandy & Monica's "The Boy Is Mine," Destiny's Child's "Say My Name," Michael Jackson's "You Rock My World"). She has vocal produced, written for and been featured on songs with GOOD Music, Normani, Mary J. Blige, Chris Brown, T.I., Nas, Fifth Harmony, Little Mix and more. She recently earned her first #1 Billboard Hot 100 singles, co-penning "thank u, next" and "7 rings," two career-defining songs for Ariana Grande, leading to back-to-back #1 records (and the first of Grande's career) within three months of each other. Monét has written over 30 songs in Grande's discography, including half of the chart-topping thank u, next album. In June 2019, she graced the cover of Billboard Magazine for its "The New Hitmakers" issue. She currently has 180 million combined lifetime streams and over 2 million monthly listeners on Spotify alone. Monét is now gearing up to release her new project, marking a long-awaited new era of her career.
Shari Bryant is currently the Co-President of the Roc Nation Label. Bryant began her career in the early '00s as an intern and later a product manager working on records like Nas's Hip Hop Is Dead and JAY-Z's The Black Album at Roc-A-Fella records, the legendary boutique label co-founded by Damon Dash and JAY-Z. She went on to more success in roles at Def Jam (Product Manager), Atlantic Records (Vice President of Marketing) and Warner Bros. Records (Sr. Vice President), and she served as the General Manager/Partner at Alamo Records. At Roc Nation—which also houses artist management, music publishing, touring and film and TV divisions—Bryant's priorities are boosting the music label's talent roster as well as developing new opportunities for current artists. Possessing a hybrid of deep-rooted experiences and unrelenting curiosity, Bryant champions a combination of traditionalist and futurist principles. She also founded the company PinkestLuv, which is dedicated to helping young women live up to their "pinktential."
Britney Davis is currently the Vice President of Artist Relations, Marketing & Special Projects for Capitol Music Group (CMG). She leads marketing, development and artist relations efforts on a broad array of CMG artists, particularly those associated with Motown Records and Quality Control Music, including Lil Baby, City Girls and Queen Naija. Prior to joining CMG in 2018, Davis spent seven years at Phase Too Inc. where she handled management, marketing and A&R duties for the company's roster. Davis worked as day-to-day management for Grammy award-winner Chris Brown, while working alongside him and Phase Too founder Tina Davis to develop CBE Records and overseeing the songwriting and artist development for Sevyn Streeter, Kevin McCall and Joelle James. She worked closely on Brown's Grammy award-winning album F.A.M.E and helped the client roster garner placements for artists such as Ariana Grande, Brandy, Mary J. Blige, Justin Bieber, Joe Jonas, Alicia Keys, Furious 7 and more.
Previous ASCAP "Women Behind the Music" honorees have included: hip-hop legends Salt-N-Pepa, musician/singer Sheila E., Grammy-nominated singer/songwriter Jazmine Sullivan, songwriter/artist Priscilla Renea, actress and Sister Circle co-host Rashan Ali, singer-songwriter Sevyn Streeter, prominent music executive and author Shanti Das, André "3000" Benjamin EVP New Business Development  Eufaula Garrett, Roc Nation VP Publishing Dominique Dunn, singer/songwriter K. Michelle, Billboard Senior Editor Gail Mitchell, Motown Records' Vice President of Creative Relations Myisha Brooks, General Manager of Tree Sound Studios Mali Hunter and CEO of Mizay Entertainment Debra Atney.
About ASCAP
The American Society of Composers, Authors and Publishers (ASCAP) is a professional membership organization of songwriters, composers and music publishers of every kind of music. ASCAP's mission is to license and promote the music of its members and foreign affiliates, obtain fair compensation for the public performance of their works and to distribute the royalties that it collects based upon those performances. ASCAP members write the world's best-loved music and ASCAP has pioneered the efficient licensing of that music to hundreds of thousands of enterprises who use it to add value to their business – from bars, restaurants and retail, to radio, TV and cable, to Internet, mobile services and more. The ASCAP license offers an efficient solution for businesses to legally perform ASCAP music while respecting the right of songwriters and composers to be paid fairly. With more than 720,000 members representing more than 11.5 million copyrighted works, ASCAP is the worldwide leader in performance royalties, service and advocacy for songwriters and composers, and the only American performing rights organization (PRO) owned and governed by its writer and publisher members. Learn more and stay in touch at www.ascap.com, on Twitter and Instagram @ASCAP and on Facebook.
###