Photo by Anna Yatskevich
In honor of Women's History Month, we had the pleasure of speaking with Alexa Tarantino, an award-winning jazz saxophonist and woodwind doubler who has established a remarkable reputation in the predominantly male field of jazz.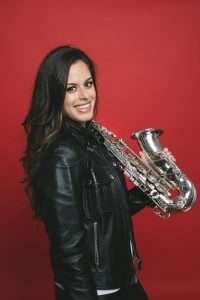 Having performed and toured with renowned artists such as Wynton Marsalis, Cecile McLorin Salvant, and having a 5-year association with The Verve Jazz Ensemble – including recording on their 2018 number one JazzWeek album, "Connect The Dots" – Alexa has graced some of the world's most prestigious venues and collaborated with a diverse array of top-notch musicians. All of this, while she was completing her Master's Degree in Jazz Studies at The Juilliard School, which she completed in 2019.
Alexa is a rising star in the world of jazz. We spoke to her about her association with the Verve Jazz Ensemble, her experiences as a woman in the industry, her outstanding musical career and achievements, and her aspirations for the future of jazz as an art form
You made your debut with the Verve Jazz Ensemble on "Connect The Dots" back in 2018. What was your attraction to the group when you were originally approached to join the band by trumpeter Tatum Greenblatt and its leader, drummer Josh Feldstein?  Why did you like the VJE's music?
Tatum Greenblatt has been a great friend of mine for years now. We first connected through our work on faculty at Jazz at Lincoln Center's Education Programs. When Tatum comes to me with an idea, I know it's going to be a good one. So when he explained his musical relationship with Josh and VJE, of course I was happy to participate and make music with this new group. Tatum and Josh always choose great repertoire and put together a group of great people.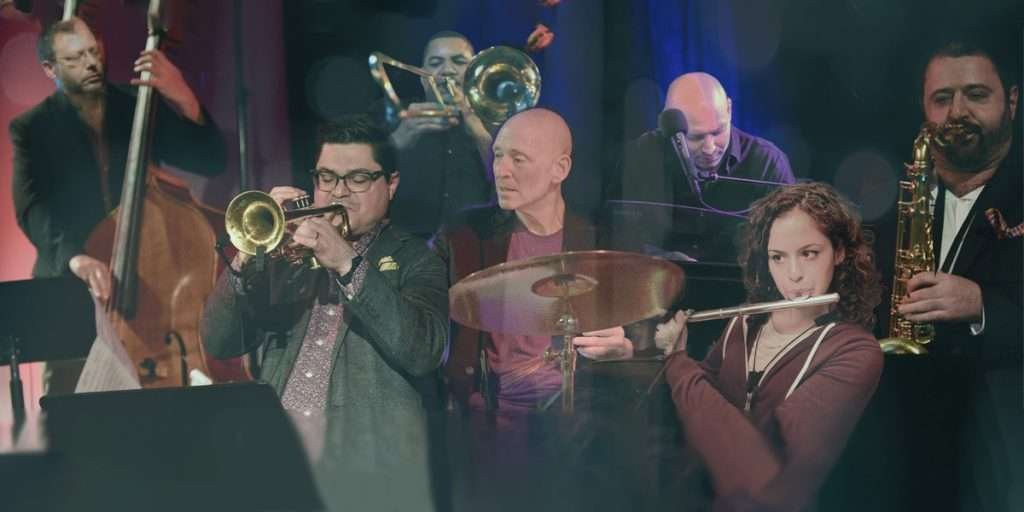 You've recorded 3 records with the VJE over the past 5 years, including their newest album, "All In," in which you are prominently featured.  This is a band that has its roots in Hard Bop and also plays a lot of Latin, like the work of composers such as Antonio Carlos Jobim.  What has been your experience recording with the VJE?  What are your views on the new album's music, and specifically any of your notable contributions to the album?
I love recording in general and am always happy to record for other people's projects because it puts me in a position of learning, growing, and helping someone's vision come to life. Recording for VJE is no different. I appreciate that Josh and Tatum feature me on both alto saxophone and flute, and that they offer me spaces to be featured as a soloist. Every band has its own vibe and trajectory. It's been great to experience their musical choices over the years and to see how the group has developed over time.
As a saxophonist and woodwind doubler, you've collaborated with a wide variety of ensembles and musicians, from the wonderful DIVA Jazz Orchestra to Arturo O'Farrill & the Afro-Latin Jazz Orchestra, and of course your own wonderful projects. How have these many collaborations allowed you to express your unique musical voice? What have you learned from working with such an assortment of talented musicians?
It's an honor to collaborate with so many different artists. Each one of them has been an amazing mentor to me. I learn about the history of the music, the importance of staying true to yourself, and the importance of community every time I play.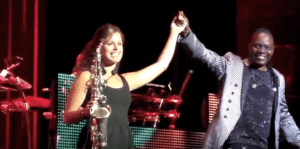 You've had the opportunity to perform at some prestigious venues in your career, including the Kennedy Center and the Hollywood Bowl. What has it been like to achieve such success at such a young age, and how do you stay grounded while pursuing your artistic aspirations?
I love to travel and I love to play new venues and new countries. It's something that will never get old. I am consistently humbled by the opportunities that I've had and by the kindness and love that I receive from the people I have met along the way. Plus as a musician you've never "made it", you are always striving to grow and explore something new.
The Verve Jazz Ensemble has been motivated by a desire to help the mainstream listening audience relate more passionately to a wide range of jazz, from standards to big band, to Bop, to Latin, to contemporary jazz. How has your affiliation with the VJE affected your vision of bringing jazz a wider listening audience?
The wide range of repertoire and styles recorded by VJE has encouraged me to play whatever music moves me, and to hopefully move others in return. I think when we genuinely play what we love, the audience feels that and appreciates it.
Jazz has historically been a male-dominated field, but you've achieved remarkable success as a female jazz musician. What unique challenges and opportunities have you faced as a woman in jazz, and how have these experiences shaped your approach to music?
When you are the "only" one in a particular setting, there are often feelings of insecurity, doubt, fear, and comparison that can come along with that. My challenge to anyone experiencing this now is to look at your strengths and what you bring to the table.
How is this community better for having you in it? What do others bring to the table and how can you learn and grow from that? At the end of the day, my motto has always been to forget about the superficial things, put the time in and do the work, and then just get up on stage and play. Nobody can question that you deserve to be there if you work hard, love to play, are kind, and if you are a positive contributor to that environment.
Women's History Month is about commemorating and encouraging the study, observance, and celebration of the vital role of women in American history. Who are some of the female jazz musicians who have inspired you, and how have they impacted your own approach to music?
Sherrie Maricle, Maria Schneider, Renee Rosnes (and all the women of ARTEMIS), and Terri Lyne Carrington are all present-day role models for me in terms of women in jazz. I also look up to many women who are not necessarily onstage but are behind the scenes producing festivals, venues, and bringing opportunities to artists. All of these women have inspired me musically and personally. They show us all that there is a place for everyone in this music. It's always inspiring to look back and think about all that women such as Lil Hardin Armstrong, Mary Lou Williams, Melba Liston, and Vi Redd did to move the music further and represent for women in this music.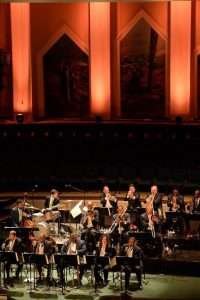 What does Women's History Month mean to you personally, and how do you hope to use your career to celebrate and uplift women in music and in life more broadly?
Women's History Month inspires me to think about how I can contribute to my community and the world more deeply. I hope to inspire all young students – and specifically young female-identifying students – to follow their dreams, whether that's to play jazz or not. I believe that we all have unlimited potential and I look forward to hearing the next generation of young jazz musicians.
How do you think we can better support young musicians who are interested in pursuing careers in jazz?
Listen listen listen! To as many records and live performances as possible. Soak up everything that your teachers share and never be afraid to ask questions. Your peers will teach you more than you know.
For more information about Alexa Tarantino, please visit: https://alexatarantino.com/
Unleash Your Inner Warrior: Get Inspired with the Latest Print Edition of Pump It Up Magazine – A Special Women's Edition!
Available March 8th
https://linktr.ee/pumpitupmagazine
Digital $2.60 – Print $12.50