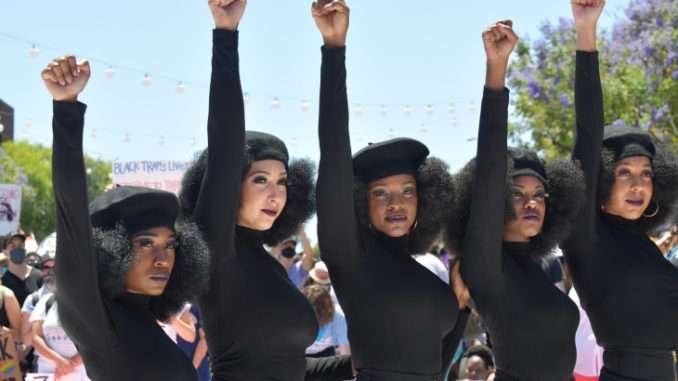 Christine Ziemba contributed to this story.
With the many, many protests still happening throughout Los Angeles and the growing support for defunding the police, Juneteenth feels more significant this year than usual — and we don't take the significance of the end of slavery in the United States lightly. Several companies have even made Juneteenth a paid holiday.
Whether you want to celebrate the day with other people, out in the world or at home, you've got options.
Leimert Park Rising
The 11th annual Juneteenth Festival doubles as a celebration and a rally for Black independence. The festival's special honorees are educator Ben Caldwell, artist Lauren Halsey, food advocate Olympia Auset and musician Dom Kennedy. Guests can enjoy entertainment on three IRL stages while shopping from Black businesses and enterprises. All people and all ages are welcome. Masks are required.
Friday, June 19, 11 a.m. – 7 p.m.
COST: FREE with RSVP; MORE INFO
Juneteenth Verzuz Battle
The latest installment of the Instagram music battle series pits musicians Alicia Keys and John Legend against each other for a special Juneteenth edition. The online series was started at the beginning of the coronavirus pandemic by hip-hop producers Swizz Beatz (who also happens to be married to Keys) and Timbaland.
Friday, June 19, 5 p.m. PST
COST: FREE; MORE INFO
SummerStage Juneteenth Celebration
SummerStage usually hosts free IRL concerts in NYC's Central Park but now that they're virtual, we can all watch. Tune into SummerStage's YouTube channel at 4 p.m. EST to hear a panel discussion led by Hope Boykin of the Alvin Ailey American Dance Theater, followed by a tribute performance of Hanging Tree, featuring Jamel Gaines Creative Outlet Dance Theatre, vocalist Marcelle Davies-Lashley and poet Carl Hancock Rux.
Friday, June 19, 4 p.m. PST
COST: FREE; MORE INFO
The Cookout
Log into Zoom for a celebration of Black excellence showcasing Black artists, poets and musicians. The event will raise money for @numaade cafe, a Black-owned business in DTLA that was destroyed during the recent protests. For every $50 raised, the event organizers will donate a week's worth of groceries to a family in need (while supplies last).
Friday, June 19, 5p.m. – 8 p.m.
COST: FREE; MORE INFO
Pies For Justice
This is an online charity bake sale hosted by Gather For Good. Log on to the website at 9 a.m. to purchase sweet and savory pies from a selection of pastry chefs, bakers, restaurant owners and farmers. The site allows you to filter by location because you'll need to pick up your purchase. All proceeds go to Black Lives Matter Los Angeles and The Gathering for Justice.
Friday, June 19, 9 a.m.
COST: TBD Ddepending on what pie you buy; MORE INFO
Juneteenth Venice Skate-Bomb
This skate protest against racial violence will start at the 3rd Street Promenade and end at the Venice Beach Skate Park. Bring you own wheels — bikes, scooters and skateboards welcome. Masks are encouraged.
Friday, June 19, 3 p.m.
COST: FREE; MORE INFO
All Flavor No Grease's Inaugural Juneteenth Celebration
Local taco truck All Flavor No Grease hosts a peaceful march down 108th Street in South L.A. Attendees are encourage to celebrate Black businesses. Food trucks and local vendors including Blue Kitching, Happy Ice and HJB Cream will provide refreshments. Speakers, including councilmember Herb Wesson who helped introduce a motion to cut $150 million from the LAPD's budget, will talk about freedom, unity and justice.
Friday, June 19, 10a.m.- 6 p.m.
COST: FREE; MORE INFO
Million People March
Activist group Fight For Power is organizing a march through downtown Los Angeles to "honor the power of the black dollar and fight for black justice and equity." The location is secret. Once you sign up, you'll receive an email with the plan.
Friday, June 19, 12 p.m.
COST: Free; MORE INFO
Defend Black Lives Event
This demonstration will start at Pasadena's City Hall. It will be a rally to defund police, invest in Black communities, and get President Trump to resign.
Friday, June 19, 5 p.m.
COST: FREE; MORE INFO
See eh-tee-en's other Tweets
Run For Freedom
The two-mile protest run, starting at L.A. High Memorial Park (4625 West Olympic Blvd.), will be followed by a picnic. Organizers urge participants to wear black and bring food for the post-run festivites.
Friday, June 19, 4 p.m.
COST: FREE; MORE INFO
LACCD March For Our Lives
Los Angeles Trade-Technical College invites other community college students, faculty and staff to join them for a march from Flower and Washington to Grand Park. Face masks are required.
Friday, June 19, 10 a.m.
COST: FREE; MORE INFO
Juneteenth Celebration With Free Food Distribution
Food will be provided for community members on a first-come, first-served basis. Oraganizers ask that everyone wear masks. Programming provided by SCOPE L.A.Friday, June 19, 12 p.m. – 2 p.m.
COST: FREE; MORE INFO
Juneteenth Jubilee March For Equality
Marchers will start at Pershing Square and end at City Hall. Features speaker Jody Armour, a USC law professor who wrote N*gga Theory: Race, Language, Unequal Justice.
Friday, June 19, 4 p.m.
COST: FREE; MORE INFO
El Segundo For Black Lives Juneteenth Rememberance Ceremony
The newly formed El Segundo For Black Lives will host this memorial for Black Americans who have died at the hands of police. The ceremony will include names, spoken word tributes and community stories. Meet at El Segundo Library Park.
Friday, June 19, 3-5 p.m.
COST: FREE; MORE INFO