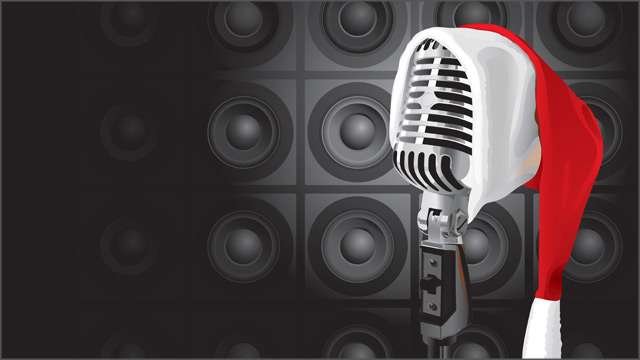 Imagine receiving airplay and earning income from a song year after year and having that same song be recorded by multiple artists over a span of decades. That is what can happen with a holiday-themed song. For many songwriters and music publishers, landing a holiday recording that becomes the next "White Christmas," "Jingle Bells," or "Rudolph, The Red-Nosed Reindeer," is the greatest gift they could hope for.
While Christmas is likely the first thing that comes to mind when you think about holiday songs, there have been successful songs that relate to other holidays, as well. It would hardly be New Year's Eve without Auld Lang Syne, and there are Valentine's Day songs, songs played on Cinco de Mayo, Chanukah favorites, and St. Patrick's Day songs, such as those recorded by the Irish Rovers and other artists from the Emerald Isle. There are also songs that are associated with patriotic holidays, and of course, birthday songs.
Michael Jackson's recording of "Thriller" is sure to be heard toward the end of every October, as is "The Time Warp," from the soundtrack of "The Rocky Horror Show." But the song most closely associated with Halloween is the "The Monster Mash" (written by Bobby Pickett and Leonard Capizzi and recorded by Bobby "Boris" Pickett and the Crypt-Kickers). Peaking at #1 when it was released in 1962, the song has charted three subsequent times since its initial release and has been covered by artists including Sha Na Na and the Beach Boys, continuing to generate income for decades.
Trivia buffs might enjoy knowing that legendary songwriter and recording artist Leon Russell played piano on the original recording of "The Monster Mash." Other Halloween perennials include Danny Elfman's "This is Halloween" (from "The Nightmare Before Christmas") and Warren Zevon's "Werewolves of London," (Zevon, Leroy Marinell, Robert Wachtel).
Lee Greenwood's signature song, "God Bless the U.S.A." (written and performed by Greenwood) was first released in 1984, peaking at #7 on Billboard's Hot Country Singles chart. Greenwood's recording of the song was re-released and gained a bigger audience during the Gulf War and following 9/11. The recording charted a second time, reaching #16 on the Billboard Pop chart and #12 on the Adult Contemporary chart, amassing sales of more than one million copies.
American Idol's Season 2 finalists recorded a cover version of "God Bless the U.S.A." that reached #4 on Billboard's Hot 100 chart and was certified "Gold" for selling more than 500,000 copies. Numerous artists, including Beyoncé, have released or performed versions of the song, establishing it as a true holiday standard, and Greenwood's version receives extensive airplay and live performances during every patriotic holiday, such as Veteran's Day, the 4th of July, and Memorial Day, as well as at political rallies. Miley's Cyrus' recording of "Party in the U.S.A." (written by Claude Kelly, Dr. Luke and Jessie J) is likely to receive airplay on the 4th of July and New Year's Eve for many years to come.
Some radio stations alter their formats and play only Christmas music from Thanksgiving through New Year's Day. Billboard magazine lists the popularity of Christmas songs on a U.S. Holiday Song chart. Songs on these playlists can generate royalties for their writers and publishers for a lifetime, but there is a benefit for the recording artists, as well.
Artists who record the first version of a holiday song that becomes a standard ensure that they will receive annual airplay, and remain in the public consciousness for years–possibly even decades–after their non-holiday releases are no longer included on current playlists. These artists can extend their careers and earn musical immortality by doing annual Christmas concerts and by performing the song closely associated with them on holiday television shows.
Perennial chestnuts such as "Silent Night" and "Deck the Halls" have been part of the Christmas soundtrack for decades, but more recently, songs such as Faith Hill's recording of "Where Are You Christmas," Darlene Love's "Christmas (Baby Please Come Home)," Alabama's "Christmas in Dixie," and Elvis' rendition of "Santa Claus is Back in Town" can be found on Christmas playlists throughout the world.
I spoke with Justin Wilde, owner of Christmas and Holiday Music which is the number one music publisher of original Christmas, Chanukah, Halloween, and other holiday songs. Wilde's company represents more than 240 songwriters and has secured holiday releases with artists including Paul McCartney, Barbra Streisand, Glen Campbell, Anita Baker, Toby Keith, Ray Charles, Loretta Lynn, Johnny Mathis and many more, as well as a long list of television and film placements.
Wilde stated that it has always been difficult to get Christmas and other holiday songs recorded because only a small percentage of releases fall into these categories. Most of the songs on Christmas albums are artists' versions of standards. In some instances, there are no new, original songs included at all. Typically there are not more than two or three original songs included, and with the advent of more artists writing or co-writing the few original songs on their holiday releases, securing these recordings has become even more daunting.
When asked what writers and publishers can do to increase their odds, Wilde responded, "To maximize your chances of a placement, write mid- or up-tempo songs. There are probably ten ballads out there for every mid-tempo song." While he acknowledges that he has placed a small number of sad holiday songs, he stressed that most listeners don't purchase or listen to Christmas songs to hear sad messages, such as "My baby left and I'm feeling so blue" or songs about the homeless. Positive, happy songs tend to be easier for him to place. He added, "Appeal to your listeners' senses with lyrics they can see, taste, and smell. Include at least one great, fresh, original line in each verse." He also mentioned that in terms of genres, country music typically has the most artists releasing Christmas releases, followed by pop and R&B. So those writing and representing songs in those styles will have the most opportunities to secure placements.
With there being so few slots for original holiday songs, it becomes even more important for writers to find fresh, unique angles and imagery to separate their work from the pack. For example, if you rely solely on cliché Christmas images such as the stockings hung by the fire, the presents under the tree, the carolers, and decorations, it is unlikely that your song will compel an artist to bump his or her own song from the album in order to include yours. Avoiding references to specific geographic locations and keeping your lyrics gender neutral (when applicable) expands the number of casting possibilities.
Hit songwriter and publisher Steve Leslie of SNG Music also stressed the importance of finding fresh, new images to include in holiday songs. In his song "Candy Cane Christmas," (written by Steve Leslie, Frank Rogers and Darius Rucker, and recorded by Darius Rucker) the lyric includes references to tiny little boots covered in snow, apple cider warming on the stove, and kids twisting like little tops in their beds.
"It's easy to write trite, but that's not what we want," said Leslie. He continued, "We need a new twist on an old theme. For 'Candy Cane Christmas,' Frank Rogers (who produced the song) wanted an idea that would be about a physical object, like a Christmas tree or silver bells, but something that hadn't been done before. I Googled 'Christmas objects.' As I looked down the list I saw "candy cane" and I liked the alliteration of 'Candy Cane Christmas,' and the payoff line, 'sweet as it can be,' knocked it out of the park."
Legendary songwriter and songwriting educator Marty Panzer (collaborator on many of Barry Manilow's biggest hits, Kenny Rogers' "Through the Years," and more than 100 Disney placements) echoed the importance of bringing a unique element to songs for the holiday market, as well as to all songs. Panzer shared, "It was Barry Manilow's idea to write "It's Just Another New Year's Eve" (written by Marty Panzer and Barry Manilow/recorded by Manilow) for his Uris Theatre run, which was being recorded for his first Live album. We wrote the song on Monday… it was orchestrated on Tu
esday… and recorded on Wednesday.
As with all songs we wrote together or separately, the most important point, was to write something that hadn't been said before. Though New Year's Eve is generally thought of as a celebration of the coming new year, it is for many, if not most, a time of introspection and looking back over the year (or years) that have passed. It's often a time of regret, anxiety, and an acute sense of loneliness. There was no song we knew of that addressed any of that."
Panzer continued, "Barry wanted to write a song of comfort and encouragement for those people who were possibly hurting on New Year's Eve, more than they were celebrating. Happily, "It's Just Another New Year's Eve" turned out to be just that song. Its uniqueness, Barry's extraordinarily warm and moving performance, and the grace of God, have made it a perennial
t radio, where it's gotten great airplay, for all these years. Barry Manilow Live was Barry's first Number 1 album. 'It's Just Another New Year's Eve' was the only single from the album. Barry performed the song on Dick Clark's Rockin' New Year's Eve TV special, for probably the next 10 years."
When asked whether there are special melodic considerations for holiday songs, Justin Wilde stated, "Melodic simplicity is probably more important for a holiday song than for a non-seasonal recording. You probably want something the average person can hum along with, not something that only a professional singer can sing. For example, songs with a two-octave range or octave interval jumps that are so challenging, vocally, that you're not going to hear it by carolers or in school productions." He suggested, "Write those Great American Songbook-style songs that stand the test of time and work in various genres. Songs that can be arranged and recorded in a variety of styles–as opposed to songs that rely primarily on a current-sounding musical track to hook the listeners–will have the best chance of becoming a perennial favorite.
Wilde added, "If I listen to your song three times and I can't sing back at least half the melody, it's not a song that can be a standard." He stated that the repetition of a short (i.e., two to six note) melodic or rhythmic motif helps a melody to be memorable. By weaving the rhythm or the interval established in that melodic phrase throughout the fabric of the song, the melody becomes embedded in the listeners' brains.
A technique sometimes used in holiday songs is to weave in melodic snippets of classic holiday songs that are in the public domain. An excellent example of this can be found in Barry Manilow's "It's Just Another New Year's Eve" (written by Manilow and Marty Panzer), which includes melodic phrases of "Auld Lang Syne."
When asked what the biggest mistake is writers make when writing the Christmas and holiday songs they submit to him, Wilde stated, "Failing to workshop a song; not getting professional feedback and failing to rewrite their song before demoing it." When asked about placing Christmas and other holiday-oriented songs in television shows and movies, Wilde shared, "For holiday-themed television and movies, songs are like audio props or set decorations. For example, when you open on a Christmas episode on TV you want to see Christmas trees or decorated shopping malls that tell you that it's Christmastime. Songs for Christmas episodes have the same function. They need to help establish that this is a Christmas episode. If it's an original song the public will not recognize it as a Christmas song unless the lyric includes many mentions of Christmas and Christmas images upfront and throughout."
The first step in pitching holiday songs is to learn which recording artists, and film and television productions, are seeking this type of material. This information can be gleaned from tip sheets (such as RowFax, for those who are focused on the Nashville market) and through establishing relationships with A & R executives and music producers, as well as film and TV music supervisors. While Justin Wilde's Christmas and Holiday Music publishing company specializes in holiday songs, any successful publisher should have the necessary contacts to learn which artists are looking for holiday songs, and should have access to the decision makers.
Traditionally, the best time to pitch Christmas music has been from January through July, with most artists' holiday projects being finished by or before mid-August. This was necessary to allow sufficient time for physical product to be pressed, album covers to be designed, and copies to be shipped to distributors and placed in stores. But in today's world of digital releases, artists who are releasing material only in a digital format might record and release a holiday single only a few weeks prior to the holiday.
Whether your goal is to write and place the next holiday stan
dard or to have a non-seasonal smash hit, the keys to success remain a combination of exceptional, fresh melodies and lyrics with persistence. Justin Wilde estimates that he pitched one particular song more than 2,000 times over a period of twelve years before finding it a home with an artist.
Wishing you a wonderful holiday and hits and happiness in the coming year!
Jason Blume is the author of 6 Steps to Songwriting Success, This Business of Songwriting, and Inside Songwriting (Billboard Books). His songs are on three Grammy-nominated albums and have sold more than 50,000,000 copies. One of only a few writers to ever have singles on the pop, country, and R&B charts, all at the same time—his songs have been recorded by artists including Britney Spears, the Backstreet Boys, the Gipsy Kings, Jesse McCartney, and country stars including Collin Raye (6 cuts), the Oak Ridge Boys, Steve Azar, and John Berry ("Change My Mind," a top 5 single that earned a BMI "Million-Aire" Award for garnering more than one million airplays). Jason's song "Can't Take Back the Bullet" is on Hey Violet's recent EP that debuted in the top-10 in twenty-two countries and reached #1 throughout Scandinavia and Asia. He's had three recent top-10 singles and a "Gold" record in Europe by Dutch star, BYentl, including a #1 on the Dutch R&B iTunes chart.
Jason's songs have been included in films and TV shows including "Scrubs," "Friday Night Light
s," "Assassination Games," "Black or White," Disney's "Kim Possible" "Dangerous Minds," "Kickin' It Old Skool," "The Guiding Light," "The Miss America Pageant," and many more. Jason is in his twentieth year of teaching the BMI Nashville Songwriters workshops. A regular contributor to BMI's Music World magazine, he presented a master class at the Liverpool Institute for Performing Arts (founded by Sir Paul McCartney), served as a consultant on the state of the music business for CNN International, and teaches songwriting throughout the U.S., Australia, New Zealand, Norway, Ireland, the U.K., Canada, Bermuda, and Jamaica.
After twelve years as a staff-writer for Zomba Music, Blume now runs Moondream Music Group. For additional information about Jason's online interactive critiques and webinars, latest books, instructional audio recordings, and workshops, visit www.jasonblume.com