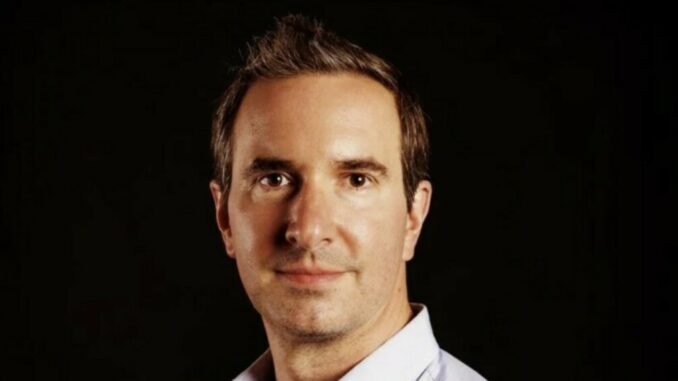 Napster has operated under various guises and owners during its 20-year history.
This week saw Napster's newest owners, Hivemind and Alogrand, double down on their plans to expand the Napster brand into Web3, revealing that former Roblox Global Head of Music Jon Vlassopulos is joining the platform as its new CEO.
Vlassopulos guided Roblox's music strategy between August 2019 and April 2022, and during his tenure there, the platform struck partnerships with labels, publishers, management companies, artists, brands and startups.
At the same time, it became a prominent player at the intersection of music, gaming and Web3, hosting virtual performances by artists like Lil Nas X, 21 Pilots, David Guetta (in partnership with Warner Music Group), and 24KGoldn.
Now, Vlassopulos has been hired by Napster to guide its own Web3 ambitions.
Vlassopulos is confident that he'll be able to drive this new phase in Napster's evolution.
He tells MBW that Napster plans "to use the same Metaverse playbook that we created [at Roblox] and work with the same players to create new mainstream lighthouse examples that the Web3 music industry can adopt and follow".
He adds: "While there already are some great early examples to point to, this is not going to happen overnight. However, I feel confident that we can get music to be on par with Web3 gaming over the next 2-3 years."
In addition to Vlassopulos' appointment as CEO, Napster also announced this week that it's raised new financing to fuel its push into Web3, and will be looking for startups to acquire in the space.
Vlassopulos tells MBW the value of the funding is "eight figures", and adds that the company isn't disclosing the final amount, "as the round is still technically open with new investors keen to join".
WE'RE NOT RULING OUT THE POSSIBILITY OF RAISING A MUCH LARGER ROUND IN 2023 TO FUEL OUR GROWTH AND FINANCE ACQUISITIONS TO MAINTAIN A LEADERSHIP POSITION IN THIS SPACE."

JON VLASSOPULOS
Commenting on opportunities for Napster in the Web3 space, Vlassopulos says that this is just "the beginning of a massive multi-billion dollar market, so we're not ruling out the possibility of raising a much larger round in 2023 to fuel our growth and finance acquisitions to maintain a leadership position in this space".
Napster was originally launched on June 1, 1999 by co-founders Shawn Fanning and Shaun Parker as an online file-sharing site that later became the licensed streaming music service that operates today.
By June 2002, Napster had filed for Chapter 11 bankruptcy protection in the US, and in September that of year its assets and brand were acquired by Roxio. In September 2008, Napster was acquired again by US electronics retailer Best Buy in a US $121 million deal.
In December 2011, Napster was merged with Rhapsody, becoming the international brand of the firm's licensed music streaming service. In August 2020, Napster had been sold to UK-listed virtual reality concerts company MelodyVR in a $70.6m deal that closed in April 2021.
In May 2022, the platform was acquired yet again, by its current owners Hivemind and Alogrand, with plans to expand the Napster brand into the Web3 space.
Here, Napster's new CEO tells MBW why he decided to join Napster, how his experience at Roblox will inform his leadership at the platform and what his predictions are for Web3 in the music industry.
---
WHAT ATTRACTED YOU TO THE IDEA OF JOINING NAPSTER AS CEO?
There are 4 main reasons:
First, I love the brand. I have a long history with Napster dating back more than 20 years. Back then, I was part of a small team at Bertelsmann, along with colleagues like Oliver Schusser who now runs Apple Music, that were tasked with conceiving what a legitimate version of Napster would look like and trying to get it licensed with the industry.
We couldn't get the licensing done, which is a story for another time but from a product perspective, I still feel that what we came up with back then is better than anything else that has been launched since. We had a community of more than 60 million people who are now 30 – 55 years old, which is a sizable audience to work with from a brand reach perpsective. Napster captured pop culture mainstream back then and we have the chance to do so again.
"AT ROBLOX I WAS ABLE TO HELP BUILD A WHOLE NEW CREATIVE AND COMMERCIAL INDUSTRY IN THE METAVERSE FOR ARTISTS AND FANS. I FEEL I CAN NOW LEVERAGE THAT PLAYBOOK WORKING WITH INDUSTRY COLLEAGUES TO HELP TAKE WEB3 MUSIC TO THE MAINSTREAM."
Secondly, Napster has 20 years of history, relationships, and know-how with major rights holders around the world with unique and direct relationships with the indies. My feeling is that for Web3 music to be taken mainstream it has to be a hybrid proposition with all the music and artists you love plus next-gen Web3 only artists. It is going to be hard or near impossible for a pure-play Web3 music company to obtain and be in a position to manage all those rights so that gives us a major competitive edge.
Thirdly, at Roblox I was able to help build a whole new creative and commercial industry in the Metaverse for artists and fans. I feel I can now leverage that playbook working with industry colleagues to help take Web3 music to the mainstream. Gaming and Metaverse platforms will continue to engage with music as a hobby but given the fact that Napster is private and independent, we have the opportunity to go all in on music whilst others turn their attention to audio services like audiobooks and podcasts.
Finally, I really like the investors. My decision to take up this role came at the end of what was a long courting process during which I had the chance to really get to know the key investors including one of my old friends Mike Troiano at G20 Ventures. They are a super smart and deep-pocketed group who are supportive of the vision that we are going after. Their Web3 experience and relationships will be incredibly valuable as we move to make Napster a central player in the Web3 Music ecosystem.
All of this, along with a great team and millions of loyal users made this an opportunity I couldn't pass up.
---
TELL US ABOUT HOW YOUR EXPERIENCE AND SUCCESSES AS ROBLOX GLOBAL HEAD OF MUSIC WILL INFORM YOUR LEADERSHIP AT THE COMPANY?
When I started at Roblox, there was no playbook to work from and we built everything from scratch. We ideated, convinced, educated, inspired, and closely collaborated with our internal teams, labels, artists, publishers, developer partners, and brands to make concerts and virtual music worlds successful in the Metaverse.
"WHEN I STARTED AT ROBLOX, THERE WAS NO PLAYBOOK TO WORK FROM AND WE BUILT EVERYTHING FROM SCRATCH."
It took everyone working collectively to create lighthouse examples that the rest of the industry could then adopt and follow. This is what led to us being able to create immersive music experiences that reached and engaged more than 100 million fans around the world and generated tens of millions of dollars of net new revenue for artists.
It was, and is, all about fandom, bringing artists and fans closer together to unlock new commercial and creative opportunities. It is the same promise with Web3 music but it feels the industry is back where we were in 2019.
---
NAPSTER IS ALSO LAUNCHING NAPSTER VENTURES. WHAT WILL THE FOCUS BE?
The fund will focus on fostering, investing in, and acquiring the best Web3 music startups that can help the company accelerate development of key technologies and services faster than if the company was to do this on their own.
---
WHAT WILL NAPSTER LOOK FOR IN THE STARTUPS IT PLANS TO ACQUIRE?
Talent and technology that can help us get where we want to be faster than if we were to build on our own.
---
WHAT ARE YOUR LONG-TERM PREDICTIONS FOR THE WEB3 SPACE?
Web3 is going to fundamentally change the creator economy for the better allowing artists to own a direct relationship with their fans and be able to monetize that relationship across many creative outlets beyond just music. Fans will not be locked into blackbox platforms and revenue will increase and payments will become more transparent.
We will, therefore, move away from solitary consumption of music to a more collaborative, creative, social, and interactive enteraiment community, in the process making entertainment more fun and social. I don't, however, believe that everything will be decentralized.
"THE MUSIC FAN EXPERIENCE IS INHERENTLY GAMIFIED SO IT LENDS ITSELF PERFECTLY TO WEB3."
Consumer brands will still be important in Web3 to aggregate audiences, help discovery, and streamline tech adoption by helping to educate and onboard mainstream fans. More specifically to music, the Web3 space is under-invested and under-focused, compared to other sectors like gaming.
However, I feel music has an equal or greater commercial potential. The music fan experience is inherently gamified so it lends itself perfectly to Web3, making it very likely to be the first real consumer service to be based on utility and not just on collecting NFT's. I am excited for Napster to be that catalyst to rival gaming and other segments and hopefully be that poster child for what a real Web3 consumer service should look like.
---
NAPSTER IS ALSO LAUNCHING AN ARTIST DEVELOPMENT FUND. WHAT ARE THE PLANS FOR THIS FUND?
It's hard for artists to get their project seen and discovered and even harder to break through the noise. Therefore we want to work with artists who are working in the Web3 space to help them bring their projects to larger audiences and get the technical support that they are looking for. I feel it is important to showcase these projects to help educate and create momentum in the market, which will speed up adoption of Web3 in the music industry overall.
---
WHAT ARE NAPSTER'S AMBITIONS FOR HOW IT WANTS TO BE POSITIONED IN THE MUSIC INDUSTRY OVER THE COMING YEARS?
As a brand, Napster brought unprecedented change and innovation to the industry 20 years ago by charting a new way of doing things materially different to anything done previously.
It kick-started the digital era of streaming which has grown to be the mainstream music market we have today. I genuinely feel we are at another unique window of innovation and revolutionary change for the industry. It is going to be tough for the major incumbents to drive this new era of business as they need to focus on delivering quarterly revenue and profits to shareholders.
"[NAPSTER] KICK-STARTED THE DIGITAL ERA OF STREAMING WHICH HAS GROWN TO BE THE MAINSTREAM MUSIC MARKET WE HAVE TODAY."
They will do this by broadening into audio services, e.g. podcasts and audiobooks, that deliver better margins. We want Napster, on the other hand, to be the brand that is only centered around music and the independent artists. We want to get genZ excited and hope to foster a connection between them and artists to unlock new creative and commercial opportunities. We hope to be able to give artists a much broader palette with which to paint beyond just putting out songs. And finally we want to make music social and not just a commodity.
Music is the most important aspect of youth culture, it defines us, connects us, lifts us up. It is how we relate to other people, how we spend our free time and disposable income. Hopefully Napster can be the trusted, independent partner of artists and fans to help usher in and establish this exciting new era of the music industry!Music Business Worldwide